I'm here with Chase McMichael, the CEO and Co-Founder of InfiniGraph. He recently provided me with a content engagement analysis report regarding content marketing and automation titans. Through the published post, we have discovered some unexpected leaders and insights that all marketers should comprehend.
Tell us more about InfiniGraph and what your tool does to help content marketers create higher quality content.
Thank you Murray! InfiniGraph is like the Comscore for engagement performance. Google has made some major changes with Penguin/Panda, and now even press releases are not good with back links. What does this all mean? It's about quality content and being consistent! Think about the millions of posts being created over 1,000's of categories. We had to simplify mass unstructured data and extract trending content themes because brand mangers and marketers just don't have time to "figure it out." They needed timely insights to make smarter content marketing decisions that would result in higher engagement. Recently we ran a report as you mentioned on Marketo, Adobe, Oracle, and Salesforce, and all have a competing marking cloud offering. The goal was to see what's working and who is driving the most relevant engagement.
That's amazing! So I see you scored all the content coming from these brand and compared then to each other. What's the main take away?
The biggest challenge brands face is knowing what's relevant to their customers. Most brands are self optimizing versus looking outside themselves. The challenge with SEM/SEO for brands is first creating the right content the right way. You have to understand what the customers find relevant and is engaging first—developing content without insights is like trying to breath in a vacuum. Brands need to know what's trending in their own industry. It's clear from the report that Marketo creates higher quality content and with greater consistency—they really get it. Marketo is loved and their customer support and service are used to drive more engagement. The take away is understanding that many brands are competing for the same customer and it comes down to how well you can engage with them.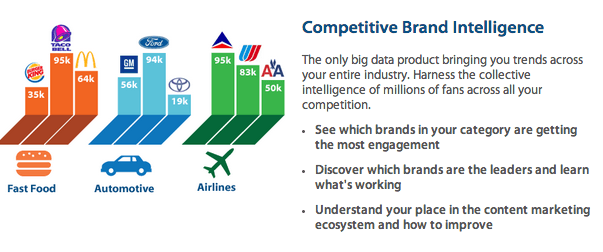 How are brands using these content trends and insights to drive engagement?
Brands must have the right insights at the right time. Not a ton of data, but condensed down to specific points of actions to take. Using industry trends gives brands a clear view on what's working and types of content themes the consumer finds effective. Think about looking at 50 or 100 brands simultaneously in one industry—this creates a massive virtual focus group when you measure the cross-content engagement performance, the brands nail the strategy. It's that simple. From a search perspective you have to focus on quality or content and consistency. We see daily what types of content and themes consumers engage with and are willing to share.
You're saying if brands don't up their content marketing game, the ones that do will rank higher in search?
Yes—we're seeing this now and brands are freaking out. The number one most asked question from the CMO/VP of Marketing is more content, more engagement. Many brands need to have a data-driven marketing strategy and they have to base it on consumer behavior. If a competitor releases a product or post that's relevant to your industry, and are able to gain traction, you need to know about it and leverage that content in a more real-time way. Real-time marketing is such a buzz word, but brands have to have a data-driving plan around content. If they don't, they should be prepared for disruption and playing catch-up is brutal in this business.
Where can brands see their own industry insights? Can anyone get access to a brand analysis?
We provided the analysis over the Marketing Cloud and Automation. Just click on the right side on each brand name in the report and you can search on your own brand or click on a pre-created industry report found under "Industries."