This is a sponsored post written by PRnews.io. The opinions expressed in this article are the sponsor's own.
If you produce content and really want to generate traffic, then running a content promotion campaign is a must. There are numerous articles describing this subject. So why is this post any better than the rest of them?
Through trial and error, Prnews.io has been able to figure out which tactics work and which techniques one needs to avoid:
Let us guide you through five of the most successful strategies in driving traffic.
5 Subtleties of Successful Traffic Acquisition
Is there a prescribed recipe for bringing new users on board? Probably not.
But are there any sure-shot strategies that can drive traffic to your site? Yes, there are.
As Andy Crestodina put it, "Where there's traffic there's hope." Let's hop in!
1. Using Quora & Reddit
Both communities are great sources of new users, especially for a relatively small site.
For instance, in the screenshot below you can see that Remoters.net (project belonging to an illustrious Aleyda Solis) receives a fair number of users from Reddit: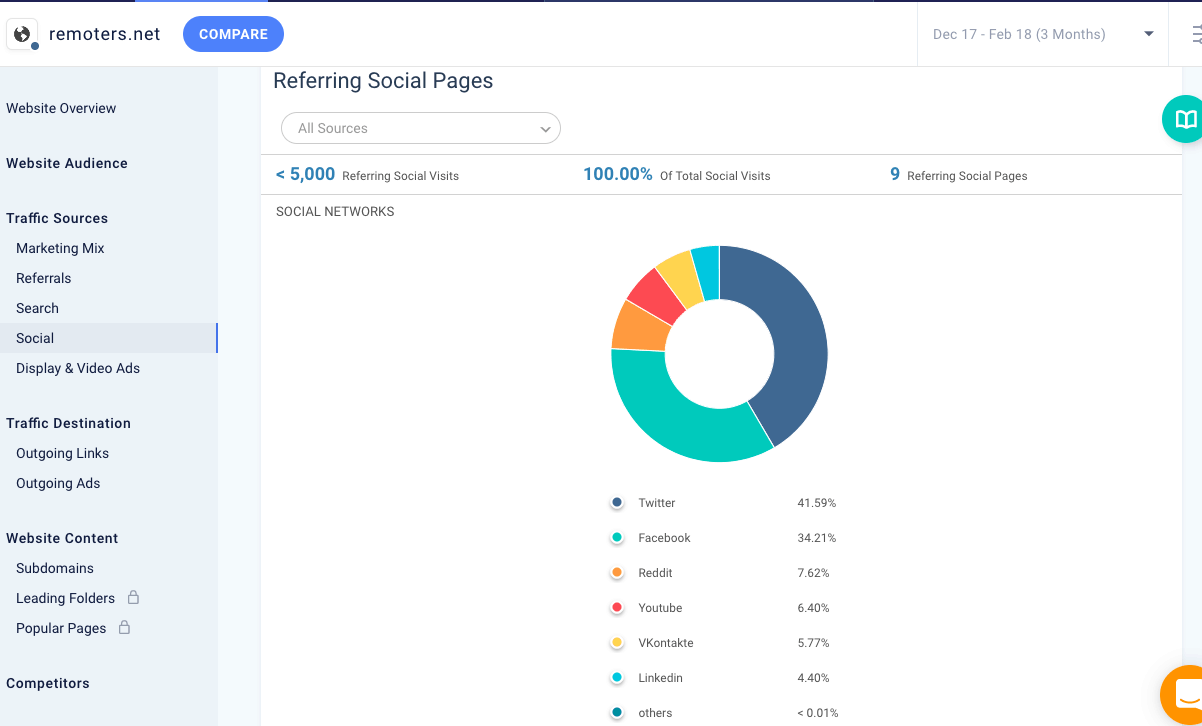 To help you get motivated and inspired, I'd like to share a couple of real-life cases of successful networking and communication on Reddit and Quora.
Reddit: Success story 1
An influential expert, Joe Youngblood, once shared his thoughts about the changes that were happening to Facebook's algorithm. Then, a blogger visited the thread and asked Youngblood if he would be OK with her using Youngblood's conclusions in her own post.
After Youngblood agreed, she promptly published her article with a link to Youngblood's post within the same thread on Reddit. Here's what happened:

Reddit: Success story 2
Another example is a little more straight to the point, but it seems to work well, too.
You can share something valuable without selling anything.
In this post, a user shares information about his free tool. This brought him a decent number of new users:

Quora: Success story
One of Quora's discussion board mentioned link building tools.
Among all comments, there was one that contained a meaningful question from a guy who also skillfully and subtly managed to talk about himself. His comment has a link to a post that attracts a lot of visitors on a monthly basis:
Unlike Reddit, Quora allows you to bring traffic from your profile page because profile pages on Quora are designed for this task. So if you're active on Quora, then your own profile page can become a traffic magnet.
2. Guest Posting
If you want to use guest posting to acquire new users, then you should know that this tactic requires some die-hard determination.
However, if you can handle it, then you're hitting a jackpot! We're talking 500 new users coming to you all at once.
The most common mistake is to target popular sites and blogs. Such sites can only bring value to your SEO performance because receiving links from them is extremely valuable.
If you still don't believe me, then take a look at the screenshot below. These are the leading referring domains of one of the websites we analyzed: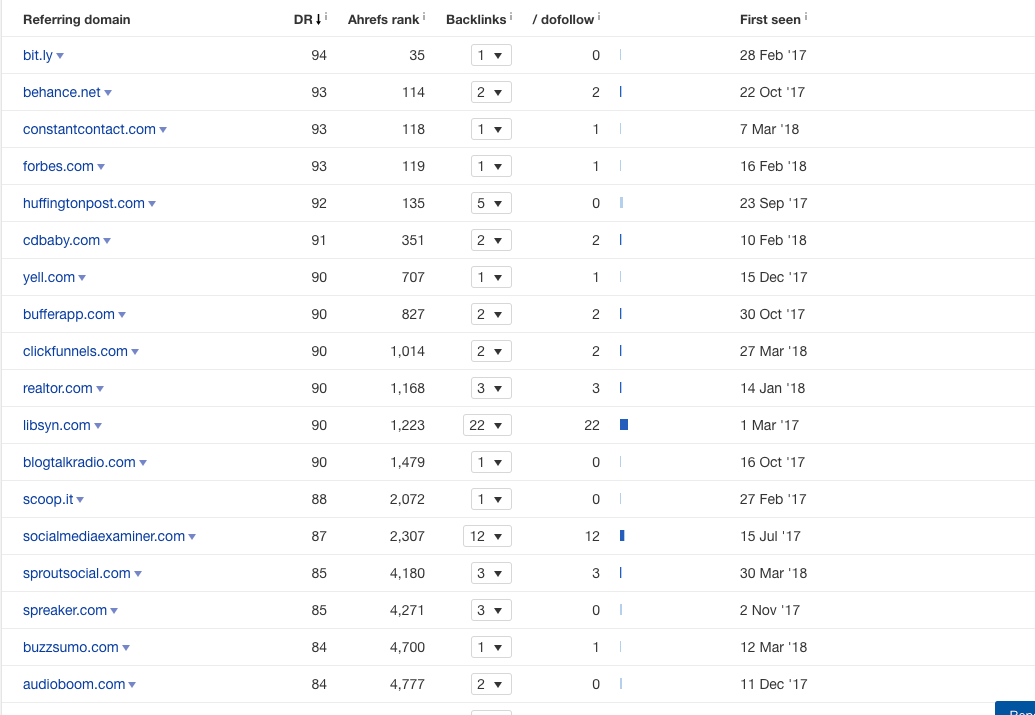 We can see blogs like Forbes, Buffer, and Social Media Examiner. But what if we check whether any of these referring domains are actually sending traffic to this site?
We can do it by simply matching data from Ahrefs with SimilarWeb's report that tells which sites are bringing users to the same domain we analyzed: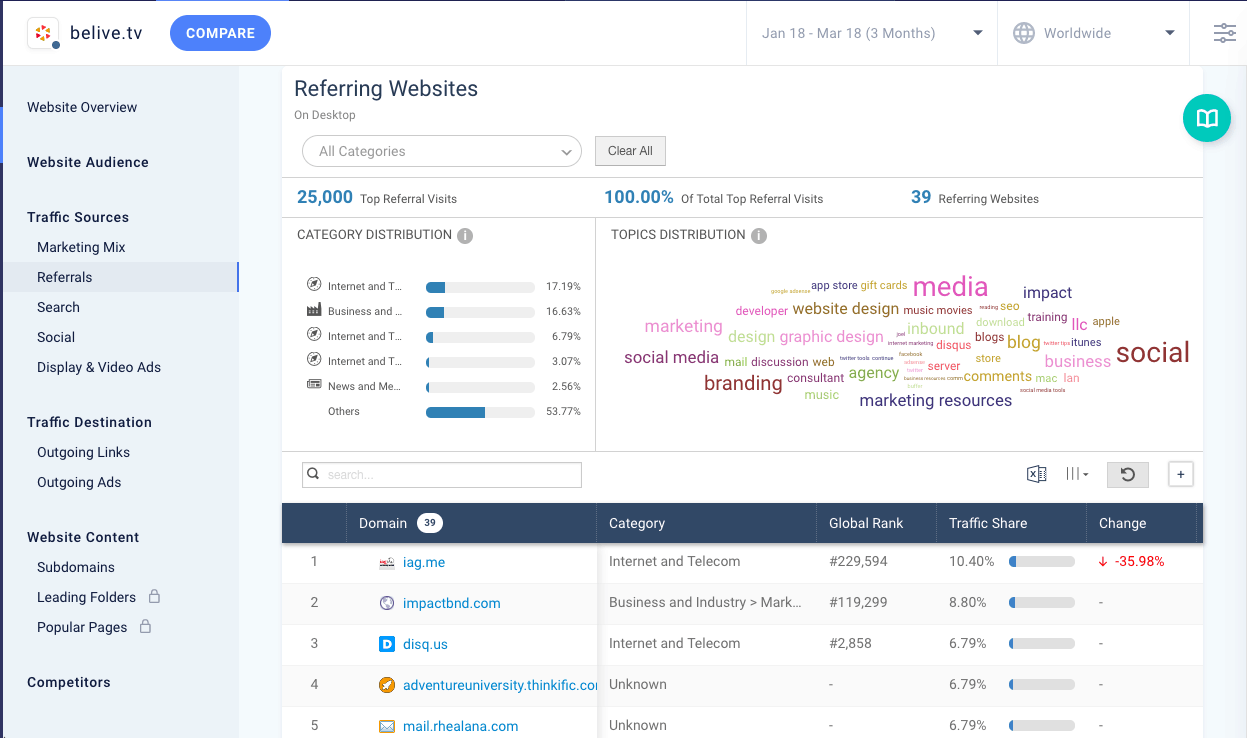 After matching the data we got from both Ahrefs and SimilarWeb, we receive the following results: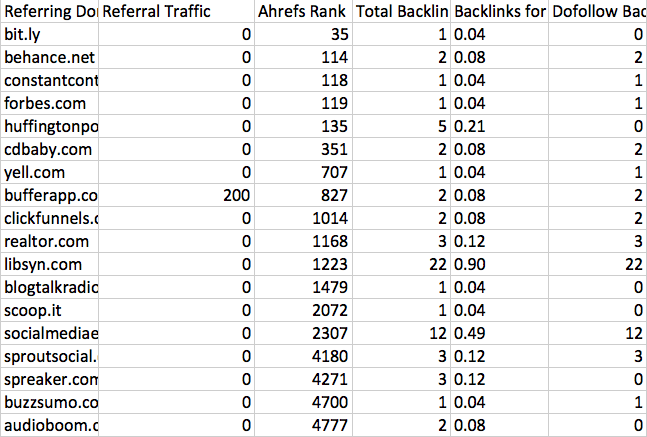 Numbers don't lie. They demonstrate us that big sites with mind-blowing traffic like Forbes (125 million monthly visitors) or HuffPost (166 million monthly visitors) won't bring you new users: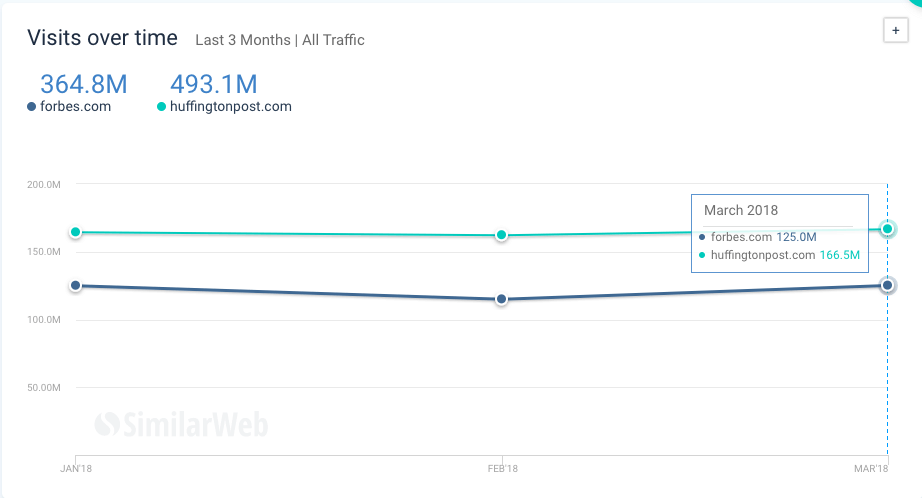 So Where Do I Go to Find Traffic? We're Glad You Asked!
Your best bet is to search for smaller blogs where users directly engage with content.
Here's what you can do to find these blogs:
1. Use tools like SimilarWeb that allows you to spot which resources bring referral traffic to websites related to yours. And they are also relatively small businesses. Most likely, you're going to see something like this:

2. You need to figure out what kind of pages are sending traffic. You can use Ahrefs to find which pages of a particular site have links: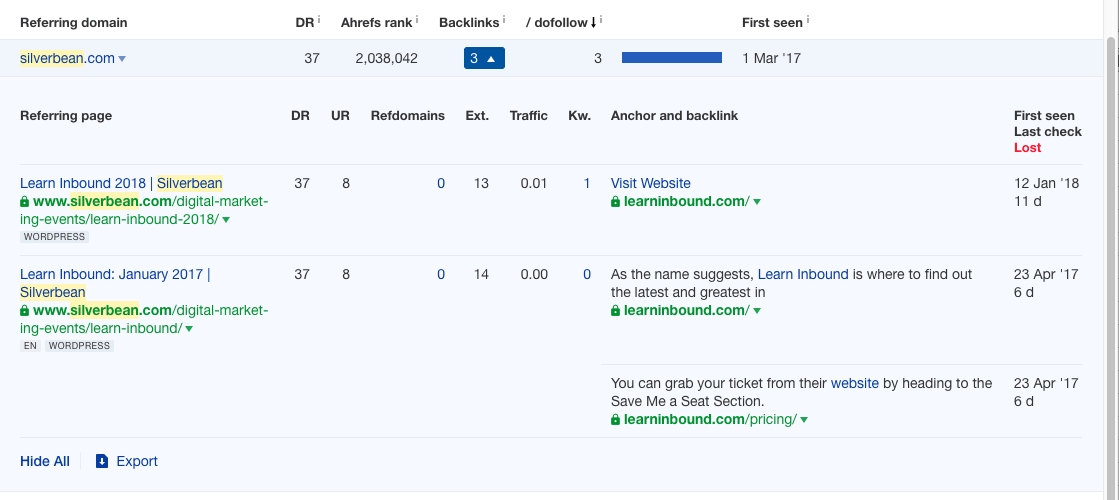 3. As your final step, you need to find the reason why a site is sending referral traffic to another site: is it their active community, or is it because a URL is ranking well in organic results? SEMrush is here to help: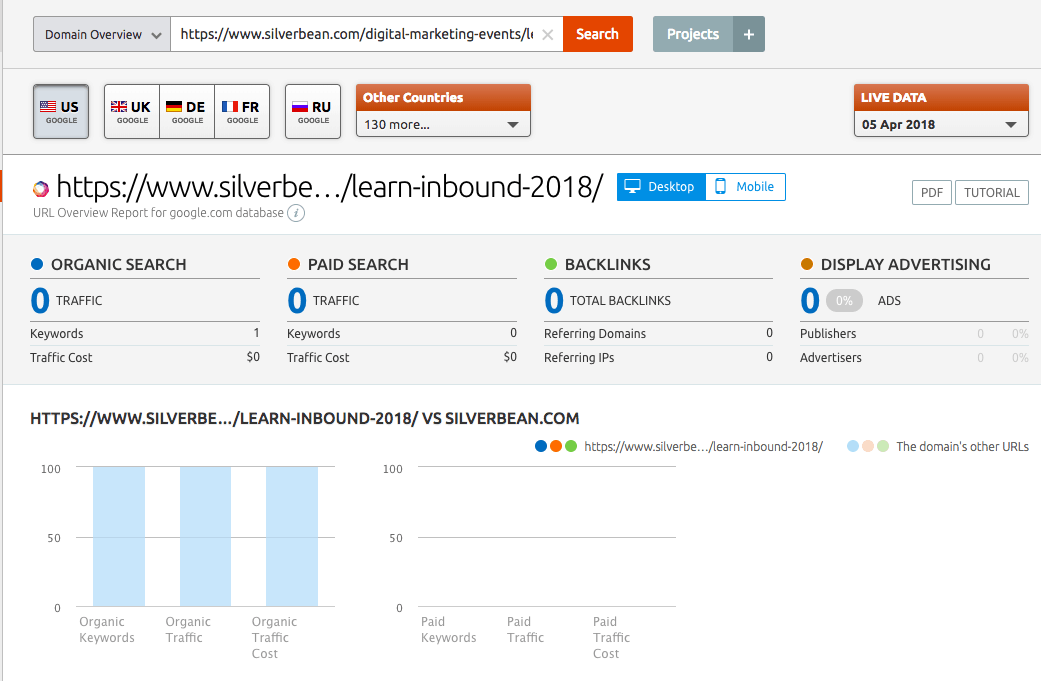 Our example demonstrates that visitors of the domain we've been researching continuously interact with its content, and this is exactly what we needed to know.
But what's important is that if the referral traffic comes from organic search results of the URL you're examining, it might take months for your URL to get to the top of SERPs.
This is a long-term investment that is irrelevant in this particular case. We don't need sites that are bringing referral traffic through organic channel.
3. Sponsored Posts
As it was mentioned above, guest posts are the essence of hard work: you need to research those relevant resources that will bring you traffic, and then to convince the editors to accept your content.
Even with smaller blogs, it takes a while for the process to move to its final stage. So don't hold your breath to see your post published the next day after you created it.
Sponsored posts, on the other hand, can offer you a lifeline because you won't have to wait too long. Platforms that offer sponsored posts are always passionate about customer satisfaction. Some of these sites will even include an email blast to maximize the efforts, free of charge.
So we recommend considering sponsored posts. Getting nearly as many new visitors on your own will take you longer than if you simply purchase a sponsored post.
It's a matter of simple math. If you need to spend more than 20 hours of your time to get 100-200 conversions, and an hour of your time costs $100, then the overall cost of attracting this traffic is $2,000.
But then you have a platform that offers the exact same results for only $1,000. The problem with the market of sponsored posts is the fact that it's complicated, and you need to spend who knows how long to understand the prices and to contact different blogs that publish sponsored posts.
This is when sites like Prnews.io come to the rescue.
Prnews.io has already collected all possible options to choose from, and they even organized this information by adding traffic numbers: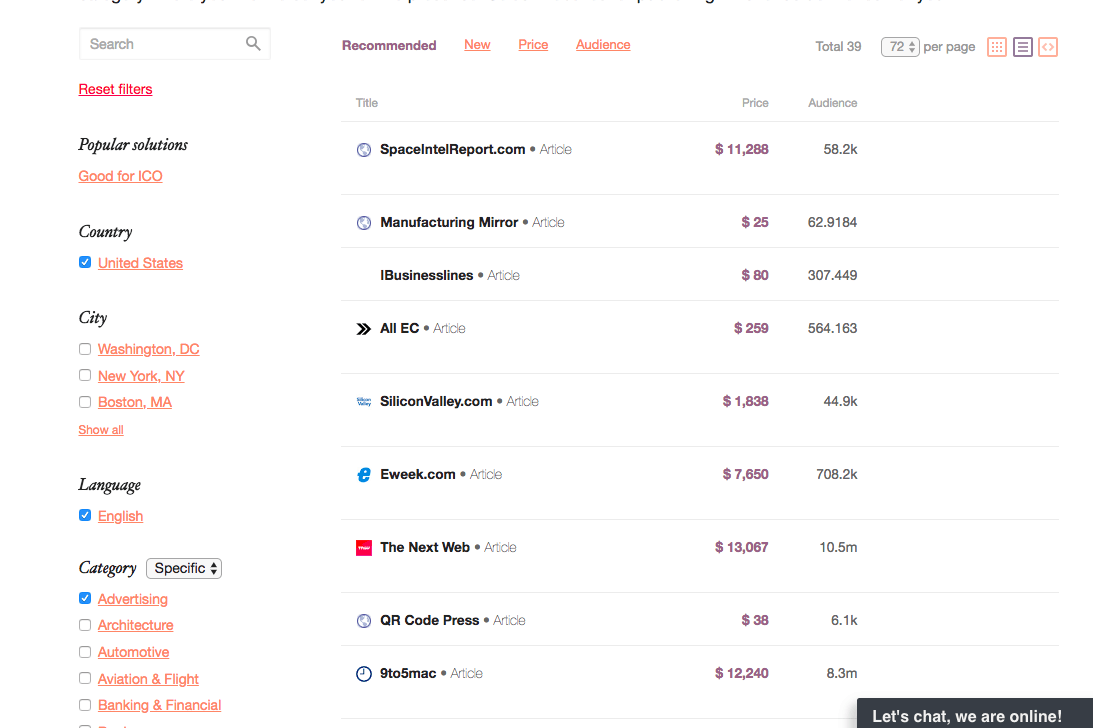 Another great thing about Prnews.io is that it takes care of all negotiations involved in the process. All you need to do is to come up with good content, sit back, and relax.
As you are waiting for the article to get published, you can spend some time promoting your content through other channels.
4. Slack Channels
We're sure most of you thought of Slack as a way to talk to your coworkers.
Yes, but there's a variety of Slack channels you can join to network with industry experts.
However, Slack groups aren't initially for content promotion.
So if you wish to use this strategy, stay active in selected groups and bring value to the group you're contributing by sharing posts of other authors.
There's a great way to research new and interesting Slack channels. You can find them using SimilarWeb's Referral Traffic report.
5. Social Media Promotion
Social media promotion mostly depends on the size of your online audience.
Here's what we think: This tactic will only pay you off if some of your users with established communities around them will do you a favor of supporting your post.
By the way, that's the reason why roundup posts are among the most popular types of content. As a result, you can generate around 100 to 200 new visitors from social media channels.
However, in case you don't have any roundup posts of your own, you can always quote your industry experts that have thousands of followers.
We have our own example when experts who were mentioned in our article called "Forbes Most Viral Content, And Who's Responsible For It" contributed to its distribution across major social networks using their own communities for spreading the news.
Thanks to them, Prnews.io was able to increase the volume of traffic coming to our blog. Most of Prnews.io's channels aren't performing that well, but social media promotion attracted a lot of new users.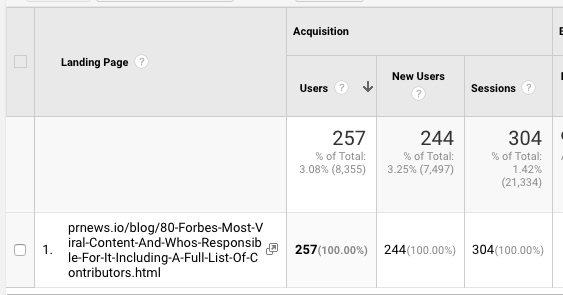 Another option is to share your content with industry groups on Facebook. In order to find private Facebook groups that will bring you traffic, you can use SimilarWeb.
To find these Facebook groups, you can also use SimilarWeb and analyze which Facebook groups drive traffic to your rival's websites: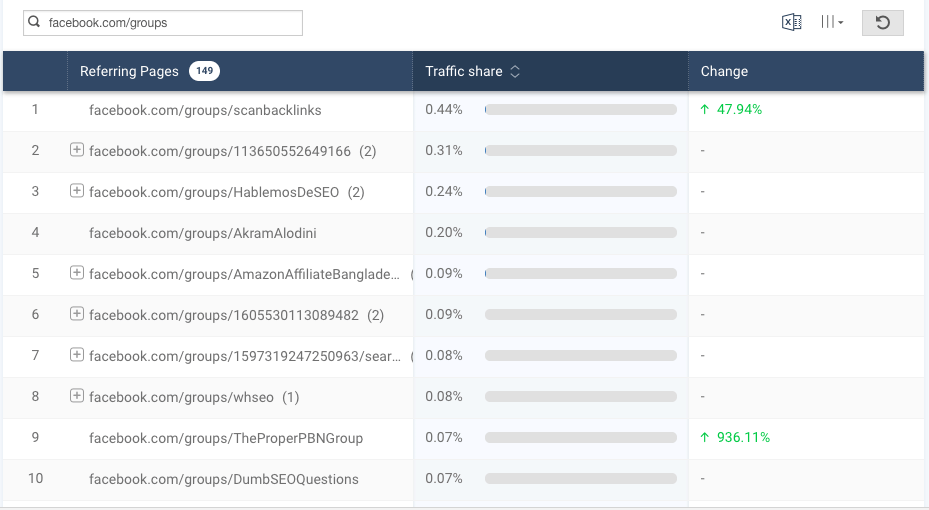 It's Time For Action
We hope that one of these strategies help you improve your traffic volume. They are easy to implement and some other people like Youngblood have managed to take advantage of them.
But regardless of the platform you choose, or the kind of content you want to create, if your content sucks – nobody is going to care about your product.
---
Image Credits
Featured Image: Image by PRNews.IO. Used with permission.
In-Post Photos: Images by PRNews.IO. Used with permission.