Are you looking to hire a marketing agency or consultant but unsure what your budget should be? Are you a marketing agency or consultant thinking about raising your rates to be more at par with the rest of the industry? Worry not because we've got pricing insights for you!
Credo, a company that matches businesses with marketing consultants or agencies, released the results of its latest survey on digital marketing industry pricing. The survey was sent out to 184 respondents across 19 countries and results were grouped as: worldwide, US only, and UK only.
Here are four key takeaways from the digital marketing industry pricing survey results. It's also worth reading the full report on Credo for a more comprehensive view.
Key Takeaways on Pricing in the Digital Marketing Industry
1. Individual consultants have consistent pricing across hourly, monthly minimums, and one-time project fees.
In the US, consultant rates increase with years of experience. It's interesting to note, however, that those with one to three years of experience charge the highest hourly rate: $275. Consultants new to the industry may still be unsure of how to price themselves, or they may just want to cover themselves as they're starting.

The UK does the same as the US, with UK consultants charging slightly more per hour but having minimum project sizes that are smaller than those in the US.

Worldwide SEO consultant rates follow the trend of charging hourly and minimum rates based on years of experience. For those with 1-3 years of experience, they charge almost $88, with those that have over 10 years of experience charge almost $189.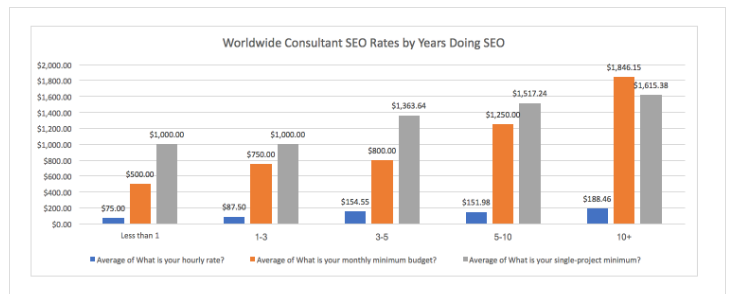 Individual consultants with more years of experience have a lesser hourly rate on average than less experienced consultants, but their minimum projects tend to be bigger.
2. While individual consultants price themselves consistently, there is no rhyme or reason to how agencies compute their rates.
Based on the chart below, pricing seems arbitrary and there's no actual trend. Agencies in business from 2 to 5 employees and 6 to 10 employees actually charge more on average than those that have 11 to 20 employees.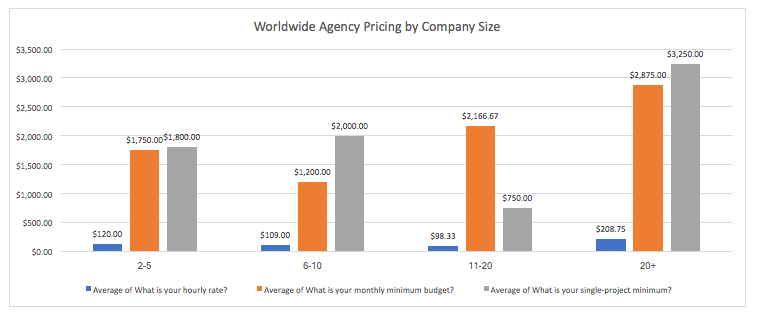 SEO agencies are also still unsure how to price themselves, as there are more variations. Depending on years of experience, hourly rates range from $145 to about $181.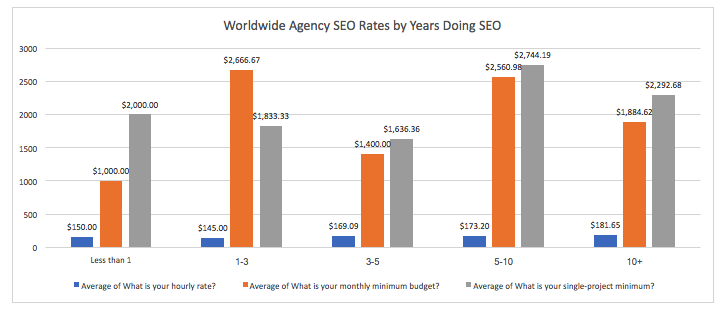 It may be best for agencies to calculate their rates based on years of experience and the types, number, and sizes of projects they have taken on, then raise their prices accordingly.
3. US agencies and consultants charge more than their UK counterparts.
It's cheaper to hire agencies and consultants from the UK than the US, though it may also be worth hiring someone from your country if culture fit is a deciding factor.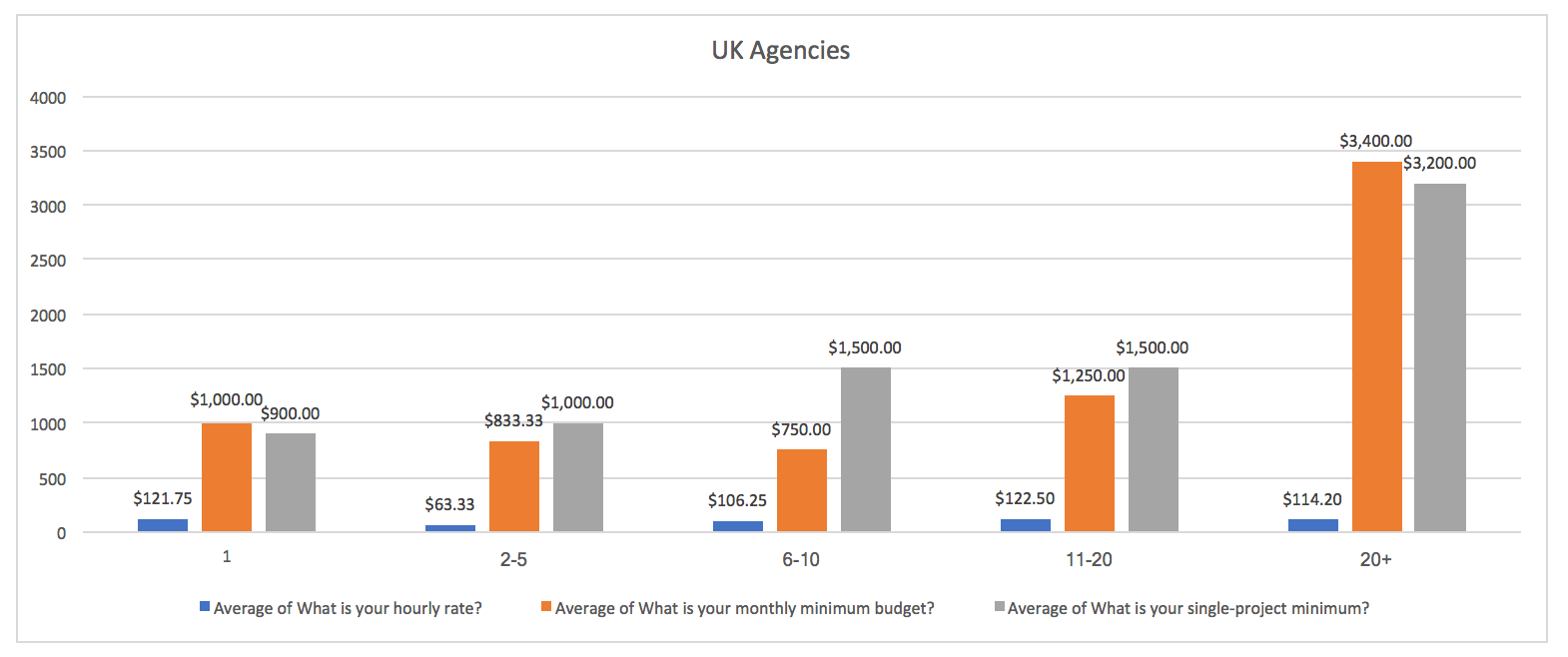 4. Agencies and consultants who focus only on strategy charge higher rates than those who only do services or even those who provide both strategy and services.
Hourly rates, monthly minimums, and single project minimum rates are highest for either strategy only or services and strategy worldwide.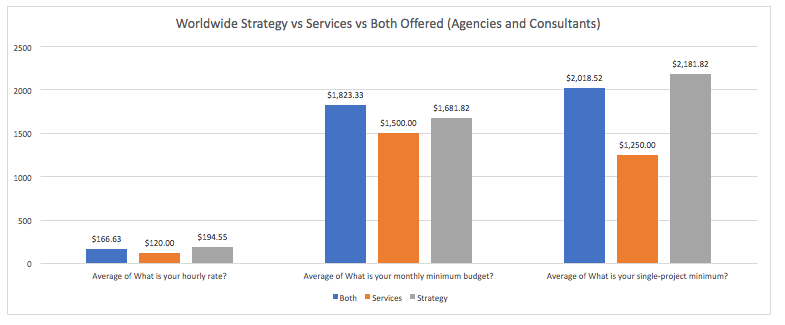 For agencies across the globe, those offering strategy dominate the hourly and minimum rates.

This is also true for consultants around the world, with a higher hourly and single project minimum rate for strategy only, and a higher monthly minimum for both services and strategy.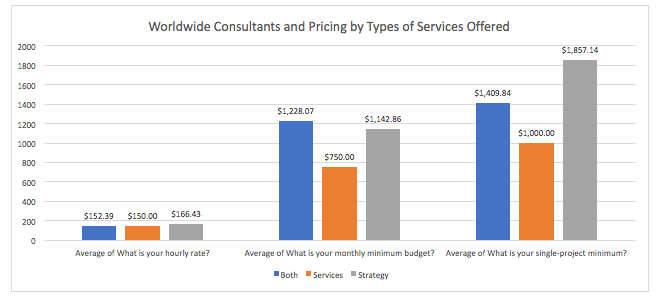 For consultants and agencies, it may be worth looking into offering strategy only, or including strategy to your services.
Conclusion
The results of this survey should hopefully get you thinking about your budget and rates. If you're in the process of hiring a marketing agency or consultant, these insights can help you make a better decision on what to expect in terms of pricing and setting up your budget accordingly. If you're an agency or consultant, this should encourage you to evaluate your rates based on the value you provide and put them in line with industry standards.
Image Credits
Featured Image: VIZAFOTO/DepositPhotos
In-post Images: Taken from Credo's 2017 Digital Marketing Industry Pricing Survey Results