As SEM managers, account optimization is ingrained as a core competency, but what does it look like to actually grow an account? If an account can spend a given budget each month while maintaining a goal ROI, growing an account means increasing budget incrementally (even doubling) while maintaining the same ROI.
Any good account manager can maintain the same media spend while remaining efficient — but great ones can grow an account. And to grow an account, a strong management approach is essential.
Purpose of a Management Approach
Rather than jumping in an account to simply lower CPA, a strong management approach can yield numerous benefits:
Long-term and consistent performance with growth and scalability
Strategic direction
Prioritization assistance
Innovation
The Beginning of a Management Approach
When managing an account, first find what works well. This may be a set of keywords, a specific campaign, or a combination of tactics.
The next step? Dialing in enough to dominate and completely capitalize on what is working well.
From there, it's all about integration. In PPC, this could be integrating your front-end data with third-party data sources. It could also mean integrating your team's efforts with advanced business intelligence. Once you've found what's working, capitalize on it — and integrate.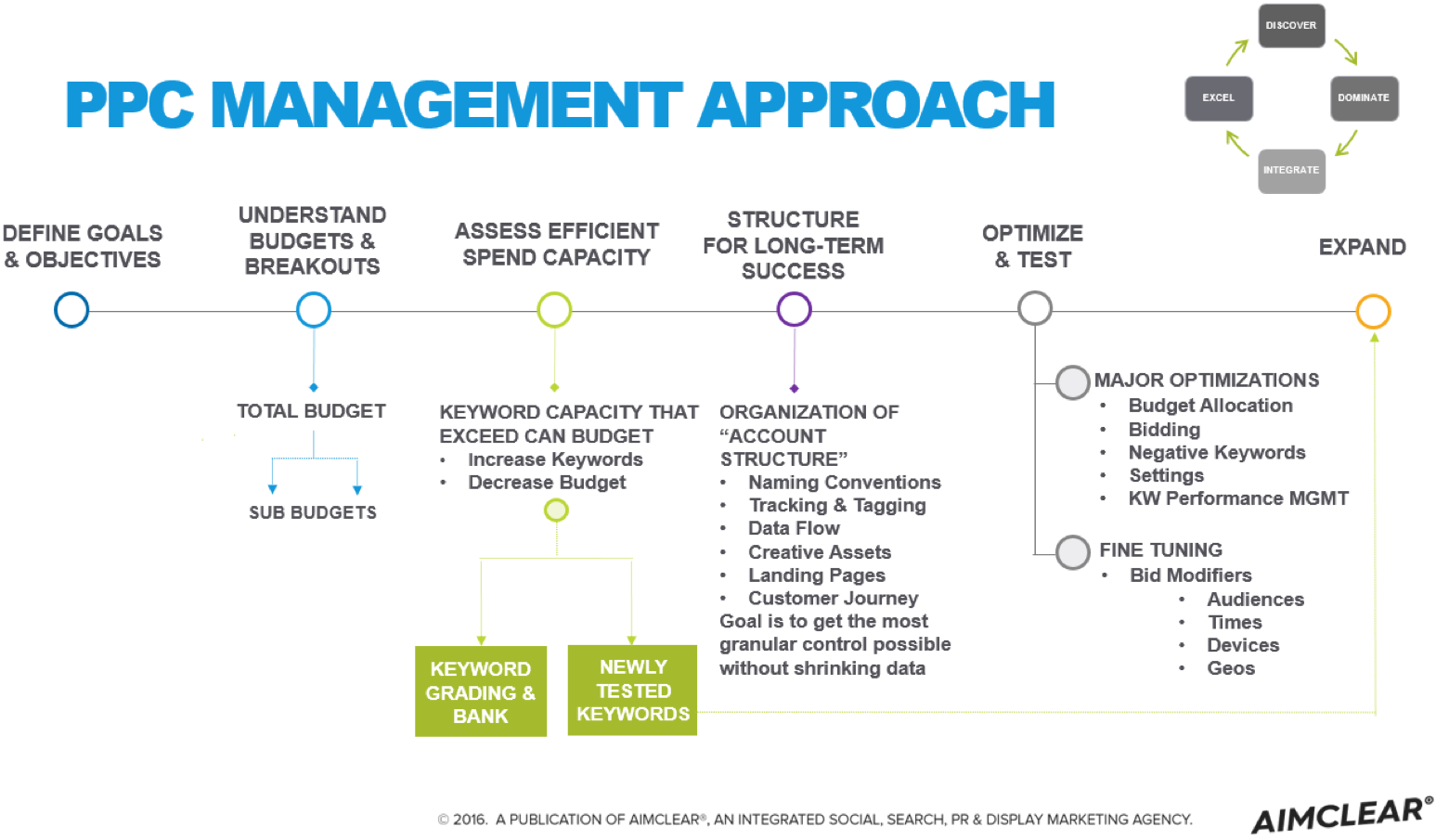 Define Goals & Objectives
Communicating with your stakeholders on goals and objectives is the first — and most vital — part of a management approach. Find out what your team is actually responsible for and to what capacity.
Identify areas of current success for advertising and sales teams. Once you align with your team on your responsibilities, you are set to move forward.
Understand Budgets & Breakouts
Within overall budgets, it's common to have multiple services or products that must be promoted. It is at this point that budgets should be structured to define goals. By allocating specific amounts of budget by product group/service, ROI, CPA, or ROAS, goals can then also be attributed to each group.
Once individual goals are set based on the nature of business, an overall CPA goal can then be backed into. Defining budget breakouts and goals not only aids in performance but also in communication with stakeholders, as there is now an open dialogue about how each product/service group contributes to (or hinders) overall performance goals.

Assess Efficient Spend Capacity
Efficient spend capacity is the amount of budget an account or keyword set can spend given a specific CPA goal. There are many facets of efficient spend capacity (e.g., what is an affordable CPA goal, the quality of current keyword sets, budget size, as well as seasonality and market trends).
When approaching an account given a finite budget, it is important to maximize spend through brand keywords and best non-brand keywords. The below example dubs this group as the account's 'A-Level' keywords. Many times A-level keywords end up being strong target + bid RLSA candidates.
In most cases, an entire budget cannot be siphoned through these keywords alone, so the next best keywords will need to be introduced ('B-Level'). These keywords may have an average CPA above the goal CPA, but never fear: The average across all keyword groups will remain below the goal CPA due to the volume generated from brand and A-level keywords.
Lastly, we may have to introduce some fairly expensive keywords to test and exhaust budgets. These are labeled 'C-Level' keywords.
In instances of budget influxes/reductions or aggressive CPA goals, efficient spend capacity can be improved by increasing the amount of budget spent through Brand, A-Level, and B-Level keywords. The more budget funneled through those keywords sets the capacity of spend at, or under, your CPA goal.
Understanding the concept of efficient spend capacity will help in explanations of the relationship between amount of budget spend and efficiency in your account to stakeholders. At the end of the day, account growth is essentially an increase in efficient spend capacity.

Structure for Long-Term Success
This can be a scary term for anyone working in and around an account. Many people think that 'restructuring' refers to complete revisions in an account. This is all but true and can be a counterproductive approach to increasing efficient spend capacity.
Structure, in this case, refers to setting up an account in a way that allows proper flow of data for true optimization.
In the end, the goal is to have everything tracked and tagged correctly. From there, a seamless flow of data will inform both reporting and optimizations.
What is most crucial, however, is not breaking out the account so granular that data is limited. The most common example: breaking out a campaign so far that it lacks data, either due to data splitting between assets or lack of budget allocation. If not enough data is available to work with, it will be difficult to optimize or report. So set thresholds and decide which level of granularity works with your business.
Optimize & Test
This is a day-to-day effort. However, it's easy to completely waste time optimizing and testing if the previous steps have been neglected.
For example, if goals aren't considered when you realign, it's possible to optimize everything to a goal completely out of alignment. Even worse, KPIs could be different than what is actually being measured, which could completely change the account.
Expand
Expanding the account is the last and most important goal of a management approach. Expansion ultimately comes from expanding efficient spend capacity, which is increased by testing new keywords and targeting types.
This alone won't do the trick — make sure to have proper account structure and setup to give a true flow of data. From there, continuous, quality optimizations and tests will make keyword and target testing more successful.
Nothing truly great happens overnight. It takes time, work, and strategy. This is especially true for SEM accounts. Developing a strong management approach will set you up for growth and success not just for the next few months, but for the lifespan of the account.
Learn more about Aimclear's search and integrated marketing capabilities.
---
This is a sponsored post written by Aimclear. The opinions expressed in this article are the sponsor's own.
Winner of the 2016 U.S. Search Awards Young Search Professional of the year, Mitch Larson is the Ad Operations Lead at Aimclear®, a 5x Inc. 500/5000 digital marketing agency dominant in audience targeting and customer acquisition. Since 2007, the agency has pioneered cutting-edge creative strategies and psychographic audience targeting to track and convert laser-focused audience segments from introduction to conversion for its clients. Aimclear has offices in Duluth and St. Paul, Minn. For more information, visit Aimclear.com or follow via Twitter @Aimclear.
Image Credits
Featured Image: maxsattana via Shutterstock. Image provided by Aimclear.
All images by Aimclear. Used with permission.