In the ongoing saga of attribution and the eternal question "Which model is right for us?", businesses can get so focused on the model and miss basic steps to help answer their real questions.
For example:
What is the longer-term value of customers from different channels?
What did they do later?
How can I make sure I stay in front of them in a compelling way?
How can I better coordinate my paid media efforts to be user-centric instead of session-centric?
While there's no definitive answer to these questions, there are some simple things you can do to at least start getting some insight.
Bonus: it doesn't require anything fancy or a separate platform that will make you go cross-eyed trying to implement.
The most common places businesses spend their dollars are Facebook Ads and paid search, but the advice below can apply to a multitude of platforms.
1. UTM All the Things!
Most of the accounts I take over have shockingly little in the way of UTM tagging for their Facebook ads.
They rely on Analytics to figure out the traffic, or have it simply labeled as Facebook CPC.
Why stop there?
The other UTM parameters can help you more meaningfully organize and bucket traffic.
This used to be kind of a big pain-in-the-rear with Facebook because you had to manually tag things. These days they offer dynamic tagging, which can save you a lot of time!
When you go deeper on tagging or strategize it as a marketing tool, you can leverage efforts in one platform on another like Google Ads.
How you do this should be thought about and planned.
2. Strategize Your Customer Buckets & Messaging
Let's use a real-life example of a jewelry client that specifically focuses on diamond jewelry.
For the holiday season, they have an interactive gift-giving guide on their site that highlights product types and price points.
Simplistic setups would dictate that you send top of funnel traffic to the gift guide and then retarget.
Yawn, y'all. Major yawning.
Throw some gasoline on that fire:
Send top of funnel users, UTM tagged as a gift guide interest cohort. In our example, we could use the content UTM and tag the clickers as utm_content=giftguide.
But once they get to your site, they do more than that, right?
Why not fracture that audience into "engagement rings" versus "earrings" and things of the like?
There's a vast difference between users searching for an engagement ring versus those looking for a necklace or earrings as a gift for their gal.
Now you have a larger pool of Gift Guide users amassing in Analytics, and smaller pools based on what was viewed.
Are you saying "so what?" Good…
3. Import Those Audiences into Google Ads
You have campaigns for engagement rings, right?
Pull that audience in as a bidding layer, or even set up a separate ad group for them to tailor the messaging.
Wouldn't an ad like this be a lot more compelling than the same ol' you're showing to everyone who searches "engagement ring?
You'd be showing something like this: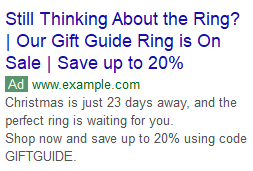 Instead of something like this: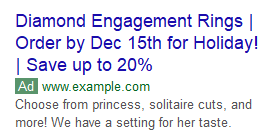 4. Tailor Remarketing to Keep Helping the User
If they visited the gift guide, that's great, because it leaves a lot of interpretation open on what to show someone.
Since you know they looked at a certain set of earrings, don't rely just on dynamic product ads to sell the customer. Maybe they hated the ones in your guide?
Instead, get creative with how you continue to help them shop!
Use more robust ad units, such a Collection Ads in Facebook, to highlight several different kinds of earrings that may be of interest, hitting a few price points.
Use it as another opportunity to mention return policy, guarantees, and the deadline for ordering to ensure holiday delivery.
5. Evaluate Effectiveness & ROAS
With that audience as a separate entity, you can view what it did in a nice post-holiday analysis.
Pop into Analytics and start segmenting to your heart's content within the Attribution panel: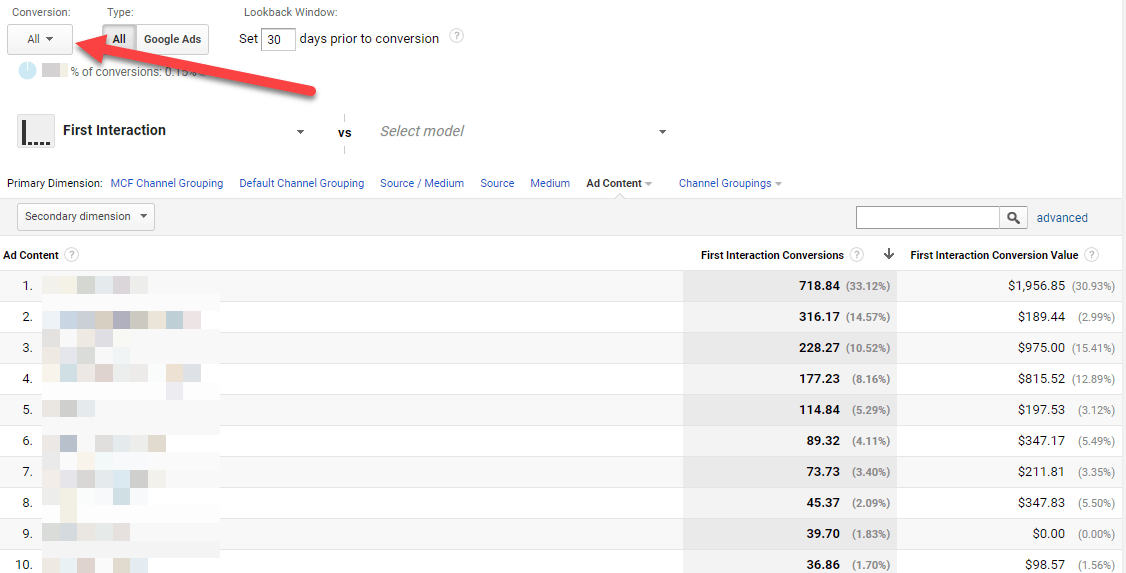 You can get many insights about how those initial touches on the cold audience impacted their actions later. This allows proper attribution to efforts that culminated in the last-click Analytics gave the credit to!
Don't neglect to do this because, in addition identifying what secured the win, you'll see what didn't move the needle.
Heading into subsequent holidays or testing of any kind, save yourself the time of repeating those lackluster efforts.
Also of note: check out the red arrow. You can filter this by Conversion type, so not only can you look at sales, you could also look at things like newsletter opt-ins.
Actions like that mean lift in other channels, such as email marketing, and longer term profitability since you now have a direct line to that user's inbox.
Now we're thinking like marketers!
Multi-Touch Means Multi-Strategic Approaches
The advice given here is a living, breathing strategy that evolves over time.
The way it looks at the outset is often very different after a few months, because you'll be able to identify where these overarching strategies have won and lost.
Scale happens more efficiently, because you're no longer just pushing money through Facebook and twiddling your thumbs to see what ultimately happens.
Many businesses know they have to think about how to connect the dots on platforms, but lack a cohesive way of doing it. While far from perfect, the strategy outlined here can start the gears turning.
Don't expect to start with perfection, but you do have to start somewhere. It doesn't have to be overwhelming or complicated!
So here's to a compelling upcoming holiday season – may your UTMs be strong, and your profits mighty.
More Paid Search Resources:
---
Image Credits
All screenshots taken by author, September 2018