With so much important private information we store at our computers and send to our co-workers, secure browsing is very important.
For us, search marketers, there is another benefit of seeing online security flags while we browse: this works as an additional help for SEO diagnostics because security flags can easily be the reason of low rankings.
So this post lists four tools that insert security report right within Google SERPs for you to see if there are any issues even before clicking through:
LinkExtend FireFox Addon
LinkExtend provides aggregated ratings for computer safety, child safety, company ethics, and popularity. Safety results come from eight online services giving you a safer browsing experience.
Google search results include:
Safety (WOT, SiteAdviser, Browser Defender, Web Security Guard, Norton Status) – Informs you if a web page is malicious, sends spam, contains spyware, identity theft, etc.
KidSafe (WOT, Alexa, Browser Defender, Web Security Guard, Google SafeSearch, ICRA status) – Alerts you about unsafe sites for kids and erases them automatically from your history
Ethics – Rates a company's ethical behavior including social responsibility, environmental impact, etc.
PageRank – Represents how important a webpage is, according to Google link analysis algorithm
SiteTraffic (Alexa, Quancast, Compete, Statbrain) – Shows you how popular a site is, based on its page views and visits
Visited – Tells you when you last visited a site, what pages you accessed, and more
SiteTools (link to the detailed report) – Page age, site reviews, contact details, previous versions, etc.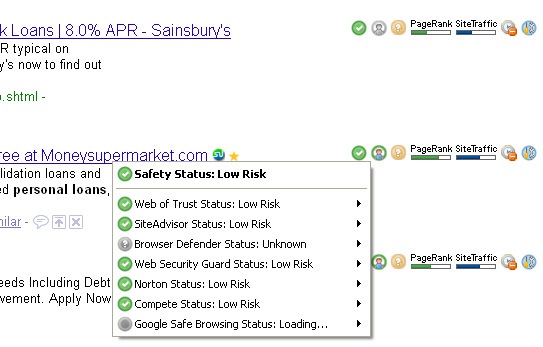 Best feature: Aggregated results from numerous sources.
SiteAdvisor FireFox Plugin
SiteAdvisor also integrates with search results and displays each listing security icon:
Green check mark = this Web site has been rated safe to view
Yellow exclamation mark = not fully rated, use at your own peril
Red X mark = this Web site should not be visited.
Meanwhile, SiteAdvisor also takes into account the linking behavior of a site – does it link to sites that are known to be dubious?
Best features:
Examines links to other pages each site has;
Reports on spammy tactics (spammy mails, etc).
WOT (Web of Trust)
WOT is the community-based safe surfing tool.
WOT rates all sites based on the complex combination of metrics and scores:
Trustworthiness: A poor rating may indicate identity theft potential, Internet scams, credit card fraud, phishing, lottery scams, viruses, adware, or spyware.
Vendor reliability: A poor rating indicates possible fraud or a bad shopping experience.
Privacy: A poor rating indicates spam, adware, or spyware.
Child safety: A poor rating indicates the presence of age-inappropriate material (content that is sexually oriented, hateful, or violent in nature).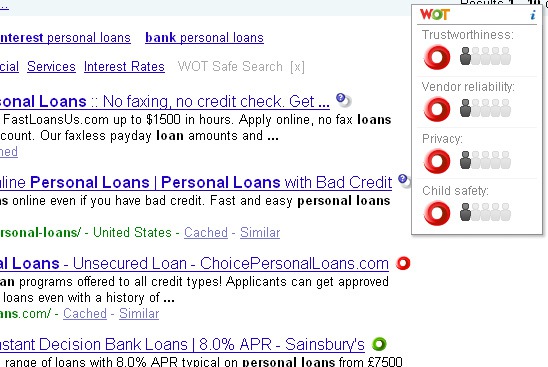 Best features:
Supports Google, Yahoo!, Bing, Wikipedia and other popular sites;
Displays users' comments (on the detailed site report)
Browser Defender
Web sites are tested for what we believe are excessive pop-ups, "phishing" and other fraudulent practices, and browser exploits. Downloads are tested for viruses and bundled adware, spyware or other possibly unwanted programs.
Browser Defender places an icon within SERPs. When you hover over an icon, you are presented with security overview. "More info" link takes you to the browserdefender.com site to generate a detailed report.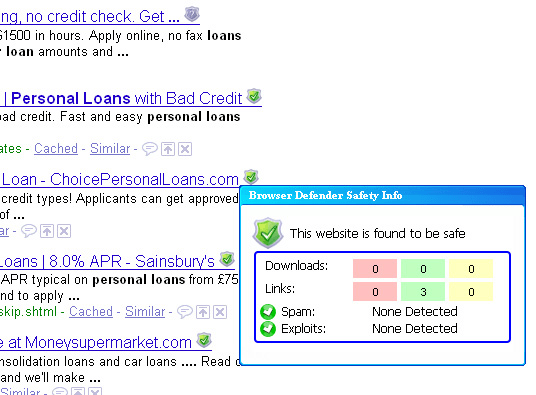 Best feature:
The detailed report also analyzes the site "affiliations", i.e. how secure the pages the site is linking to appear to be: