We have had quite a few searching tools reviewed previously – but we can never have enough of them, can't we?
So in this post I am sharing a new one that you can't afford not to try.
Omnibar is the FireFox addon the main feature of which is actually combining the address bar and the search bar. Besides that, it also shows search and URL suggestions and has auto-complete option.
Switch between search engines
With Omnibar you can switch between the search engines right from the address bar (just click on the search engine icon in the location bar):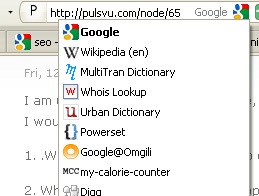 Besides that, you can use search engine identifiers (aka "smart keywords") to switch between search engines:
For example, to search Constitution at Wikipedia you can use the following types of query (either as prefix or suffix):
@w Constitution
@wiki Constitution
Constitution@w
Constitution@wiki

Use wildcard (*)
Omnibar supports wildcard search – which is one of my favorite features.
For example, on Windows [c:\Doc*\*\App] should list the contents of "c:\Documents and Settings\[usernames]\Application Data"

Whereas, [keyword *] will force to list all URLs from your browsing history and all search suggestions (powered by Google) that start with that keyword, e.g. [search *]:

Play with options
Options can be accessed by going: TOOLS -> ADDONS; find "Omnibar" there and click Options (or just right-click on the search engine icon in the location bar).
Via options you can set the number of suggestions shown and the style of suggestions: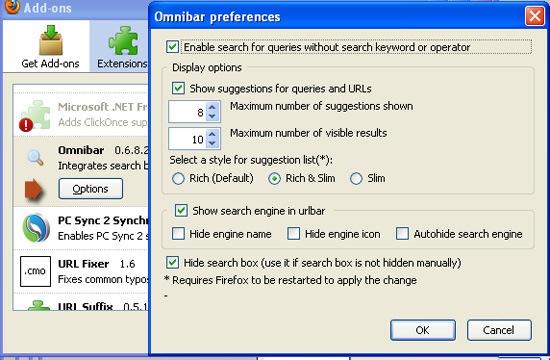 Your choice?
With such a variety of search tools and hacks, it is not easy to find your way. However, with this one I have pretty good experience. I've installed it and have no plans to remove it so far – and this is a very good sign. Please try it and let me know your thoughts!