Keyword research is the long multi-step process that involves finding possible keyword phrases, synonyms and related terms, estimating the keyword difficulty and potential, and even researching competitors' tactics as for keyword selection and promotion. This post looks at only one tiny, yet very important aspect: investigating the whole scope of possible keyword phrases and extensions (i.e. words that can be used together with the core term).
Onelook is the perfect tool for that – especially its wildcard (*) search that offers numerous ways to play with.
Onelook interprets a wildcard (an asterisk) as an substitute for any number of characters AND words (unlike Google that uses a wildcard as placeholder for any sequence of words).
Let's see how this can be useful for our keyword research. Let's say you want to research any possible phrases with the word "diabetes", so all we need is to type [diabetes *] in Onelook search box to find all phrases in the database starting with "diabetes". From there you can:
Change the vocabulary preferences (choose to search for words, phrases or both);
Browsing through the results you can even see some clusters.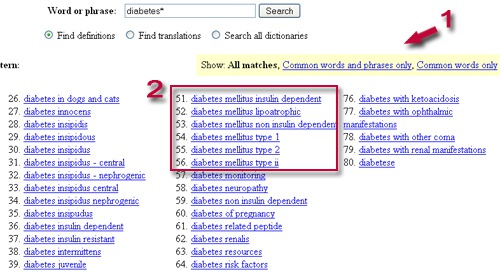 Now, imagine you want to research phrases for both "diabetic" and "diabetes" – so what you need to search for is [diabet*]
Or let's say you want to research all phrases: where words both proceed and follow the core term – in this case we will need two asterisks: [* diabetes *]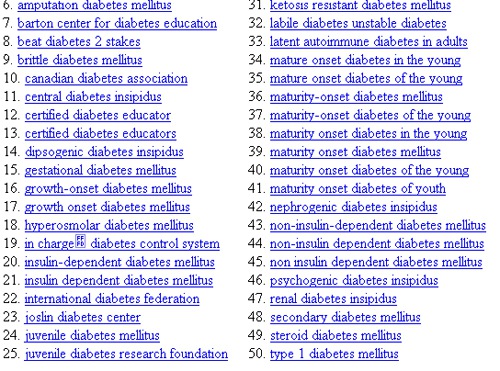 One final note: Onelook is an awesome tool that has many possible uses, so I recommend installing its search plugin (just navigate to the page, click on your search plugins and choose "Add OneLook Dictionary Search") and play with it to your heart's content.