A new report from eMarketer reveals the trends that that will shape email marketing practices throughout 2020.
Here's what should remain at the top of mind for marketers, especially retailers, who will be utilizing email marketing next year.
Personalization
Personalization has been identified as a leading trend across marketing communications, however, most emails are still not tailored to the person receiving it.
Cross-channel personalization software firm SmarterHQ, which has been tracking retail emails for a study, found that out of 25 emails received by Walmart in August, just one was personalized based on behavior.
By comparison, Target sent 23 behaviorally personalized emails out of a total of 41 for the month of August.
Michael Osborne, CEO and president of SmarterHQ, speaks on why retailers are so behind on personalization:
"Either they find it difficult, or they're addicted to the way that they've always done it. Every extra dollar of revenue counts, even if it's detrimental in the long term for their customer base and loyalty."
Consumer Privacy Regulation
The recent round of consumer data regulations like the EU's General Data Protection Regulation (GDPR), and the California Consumer Privacy Act (CCPA) in the US, is sure to have an impact on email marketing programs in 2020.
This is especially true when it comes to the previous section on personalization, as it affects the level of consent needed to send personalized email communications.
Further, if marketers are measuring the results of their email program by tying an individual's metrics to that same individual's data across other channels, they would also need consent for that.
Frequency
Customers want more control over email frequency, but just 10% of retailers say they're meeting that expectation.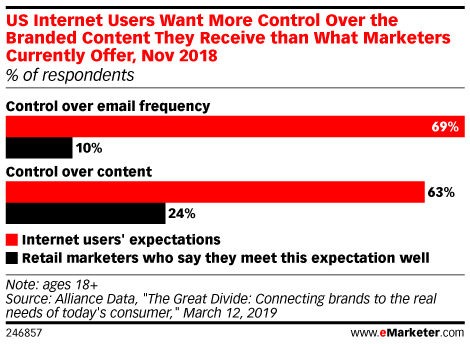 According to interviews contained in the report, most email marketing practitioners determined messaging frequency through some type of data-driven approach.
In general, marketers tend to agree that fewer emails work best. Although leaving the frequency up to the individual customer sounds like it would improve satisfaction overall.