Pinterest is upping its ecommerce game and wants to become the go-to social shopping platform. Here are the four new shopping features Pinterest has introduced to help businesses boost their online sales.
1. Pinterest Expands Buyable Pins To The Web
Pinterest is bringing Buyable Pins to the web. Introduced a year ago, Buyable Pins were initially only available to iPhone and iPad users.
Eighty percent of Pinterest's users are mobile, but Pinterest realizes that people don't just shop and purchase on mobile. With 10 million products available for sale on Pinterest, you can expect to see a lot more buttons with blue prices in the search results, related Pins and business profiles.
To get access to Buyable Pins, you have to use one of the following platforms: BigCommerce, Demandware, IBM Commerce, Magento, or Shopify.
2. Pinterest Upgrades Visual Search
Speaking of search, people conduct more than 130 million visual searches every month on Pinterest. Building on the success of In-Pin visual search, which was introduced in November, Pinterest users have a new way to discover products from within a Pin.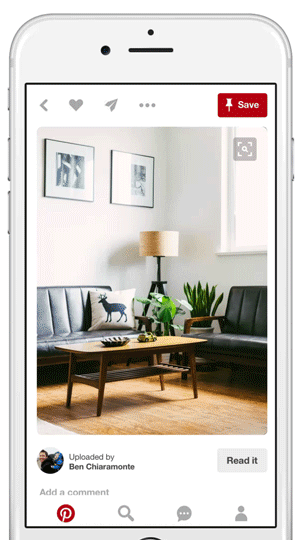 Clicking on the visual search icon will bring up a few dots, which users can then click on to explore similar pins. Say, for example, you're looking at a Pin of a living room. After clicking on visual search, you could do a visual search for anything in that image, whether it's a lamp, pillows, or a sofa.
Pinterest accomplishes this with automatic object detection, which you can read about in greater detail in this blog post.
3. Pinterest's Got A Brand New Shopping Bag
Pinterest will now let users add multiple products from different merchants to their virtual shopping bag, no matter how they access the site (web or app). This is similar to how Amazon lets you buy products from multiple sellers but pay for all the items in one order.
4. New Pinterest Merchant Profiles
New profiles will make it easier to discover new products that highlight what's new, what's on sale, and what's popular. Here's an example: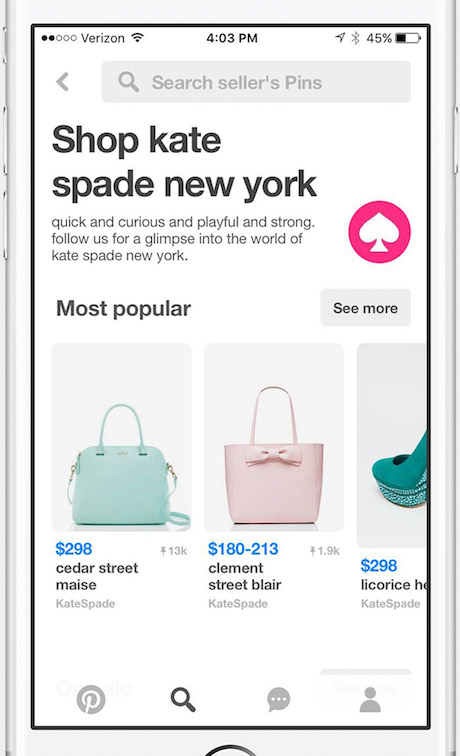 Image Credits: Pinterest