Google continues bringing classic features to the new Search Console, recently adding a Links Report that combines two popular reports.
Links Report
One of the defining characteristics of the new version of Google Search Console is streamlined reports.
Related reports which would previously exist in their own sections are being combined into one. That makes it easier for users to access the data they need without navigating back and forth to multiple reports.
Google continues this trend with the new Links Report, which combines the functionality of the "Links to your site" and "Internal Links" reports of the old Search Console.
Here is an example, provided by Google: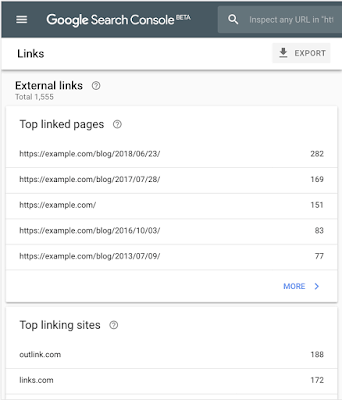 In Google's official announcement, the company also added details about some classic features that were added last week.
Mobile Usability Report
With mobile usability being its own ranking factor, it's crucial that site owners regularly check for errors using the Mobile Usability Report.
Now it's possible to do so in the new Search Console. Not only can users check the Mobile Usability Report, but they can notify Google when an issue has been fixed.
This is one of the key benefits that the new Search Console offers over the old version.
Many error reports in the new version of Search Console allow users to submit validation and reindexing requests directly to Google.
Site and user management
Lastly, in a small but welcome upgrade, users of the new Search Console can now add and verify new sites, and manage a property's users and permissions.
These controls can be accessed from the newly added settings page.