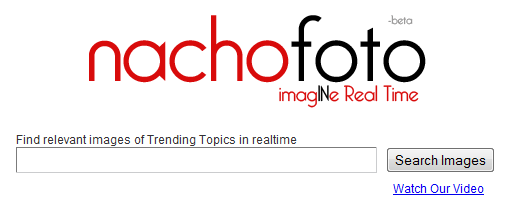 You may have noticed the past year that both Google and Bing are doing real-time searches that are including tweets and other information. This is extremely useful when keeping up with trending topics. I wanted to give you a quick run down on this new real-time image search engine called NachoFoto that I came across. When searching images in this, you'll find that the results are directly correlated to the trending topic and news that has recently occurred. For instance, the recent Times Square bomb scare- NachoFoto Search Results.
When searching in Google, you might see something like, Google Search Results when searching for the same Times Square bomb scare. They also have "hot topics" and "trends" which you can find only in text, on their trending topics page.
As I mentioned before, you can also see trending topics that people are searching, image wise. It's almost like going into Twitter and clicking the trending topics there to see what people are saying. On NachoFoto you can see the same, however, it's in images. Another feature that is unique to this search engine is that static words, such as "golden gate bridge" will most likely not yield a result, because nothing significant changes over time. It would become on the map when a huge event is trending in regards to that particular topic.
The "NachoBot", as it's so fondly referred to, crawls and indexes images on the web using a "load spreading" technique. By doing so, it will reduce the strain that occurs on the server when being indexed. It's very light. You can also choose to exclude the NachoBot from crawling and indexing your page in your Robots.txt file how it's written below-
robots.txt example: Include this in your robots.txt file:

User-agent: Nachobot Disallow: /

Robots META tag example:

Include this in the head section of your web-page:

<meta name="robots" content="noindex,nofollow">

Nachobot META tag example:

Include the following in the head section of your web-page:

<meta name="robots" content="noindex,nofollow">
There isn't really too much to say at the moment, as this is just coming out and becoming well known. Keep your eye on it though because it has a great idea behind it and it fills a need that we've been lacking from Google, Bing and Yahoo!. Hopefully they will all follow suit and implement something like this. Do you think we'll need to start marketing differently if we want our images to show up there? How does their algorithm work, and how can we push to rank in the forefront of the search results? I guess this will all come to surface as time goes by and it becomes more mainstream.
Check this out and let me know what you think. Is this something that you're excited about?