Influencers have been a part of the marketing world for a while now, but influencer marketing has come a long way since Michael Jackson sang about Pepsi.
Nowadays, social media is the place for influencers to collaborate with brands and promote their products.
In recent years, we have witnessed many strong influential women taking over the spotlight on social media and elsewhere.
Women are topping the Billboard charts, winning Nobel Prizes, and changing legislation across the world.
The most recent American elections saw a record number of women elected to take seats in the House of Representatives.
Social media is somewhat of a reflection of what's going on in society: from hashtags that start social movements to individual tweets that change opinions of millions of people.
And they do listen: with one tweet, Kylie Jenner was able to significantly damage Snapchat's market value.
That's the true power of an influencer.
sooo does anyone else not open Snapchat anymore? Or is it just me… ugh this is so sad.

— Kylie Jenner (@KylieJenner) February 21, 2018
However, there's one caveat with influencer marketing, and it's identifying real influencers.
Vanity metrics, such as the number of followers, are often deceitful.
Even social media platforms themselves understand that and try to eliminate "fake followers and paid activity."
That's why, to find the most influential women, we'll look at several factors that may contribute to a person's influence.
I've decided to focus on the number of followers and engagement as the most important metrics.
Let's start with the most frequently (ab)used metric: the follower count.
Most Followed Women
My first step was identifying the most followed women on Twitter with the help of Awario.
Top 10 most followed women on Twitter are:
| | |
| --- | --- |
| Name | Followers |
| Katy Perry | 108,507,901 |
| Rihanna | 96,775,176 |
| Taylor Swift | 86,067,705 |
| Lady Gaga | 81,367,892 |
| Ellen DeGeneres | 80,188,301 |
| Ariana Grande | 73,792,580 |
| Kim Kardashian West | 64,945,009 |
| Selena Gomez | 61,054,182 |
| Britney Spears | 56,142,246 |
| Demi Lovato | 55,983,866 |
For most people this metric would be enough: the more followers you have, the more loyal and passionate members of your audience there are, right?
That makes sense.
But as I said before, the number of followers can be a misleading metric.
I wanted to go beyond it and dive deep into social data to find out who the most influential women on Twitter are, and what marketers can learn from them.
To find out their real influence, we need to see:
How people engage with an influencer.
How much they talk about them.
How they react to their social posts.
An engaged audience is a loyal audience: these people are more likely to be impacted by influencer marketing when making purchase decisions.
That's why I decided to calculate an "engagement score" for each account first.
Engagement Score
Firstly, I used Awario to find the most popular (i.e., most talked about) women on Twitter. I selected the top 25 women from this list for further research.
Then, I used native Twitter analytics to get more engagement data.
Here are the metrics I used in my calculations:
The average number of retweets for the last 50 tweets.
The average number of replies for the last 50 tweets.
The average number of likes for the last 50 tweets.
I chose to pull the metrics from a certain number of tweets and not from the tweets from a certain period of time to make the research fairer: some influencers tweet much more often than others.
Then I calculated the Engagement score using the following workflow:
For each metric, I found the highest number and assigned to it the value of 100%.
Then I cast the value for other influencers in relation to 100%. For example, since Taylor Swift has the biggest average number of retweets (27,850), I assigned 100% to this number and then calculated Lady Gaga's retweets value by dividing her number of retweets by Taylor's.
I did this for each of the three metrics: retweets, likes, and replies.
Then I summarized the three final values for each influencer, divided it by three, and got an 'x out of 100' score.
I hope I didn't bore you with all this math. But now we have the results!
Top 10 most engaged with women on Twitter are:
| | | | | |
| --- | --- | --- | --- | --- |
| Name | Engagement Score | Average RT | Average Likes | Average Replies |
| Taylor Swift | 100 | 27,850 | 201,690 | 6,800 |
| Lady Gaga | 58 | 18,360 | 130,900 | 3,030 |
| Ariana Grande | 49 | 8,810 | 89,940 | 4,840 |
| Britney Spears | 43 | 13,790 | 9,7570 | 2,177 |
| Kim Kardashian West | 35 | 11,915 | 102,870 | 692 |
| Rihanna | 34 | 9,420 | 89,510 | 1,553 |
| Selena Gomez | 20 | 5,370 | 4,4370 | 1,280 |
| Kylie Jenner | 16 | 3,436 | 53,670 | 535 |
| Miley Cyrus | 11 | 3,660 | 25,840 | 503 |
| Katy Perry | 10 | 2,348 | 17,680 | 811 |
As you see, the most followed woman barely got into the top 10.
But can we truly call the women that get the most engagement the most influential?
Final Top 10
The engagement and social media buzz you generate is undoubtedly very important.
However, the follower count shows how many people want to consistently interact with you on social media and keep up with your updates, so maybe I was too quick to discard this metric.
There must be a golden mean, so I decided to include the number of followers in my formula to calculate the ultimate Influence score.
And now we have our final list!
Most Influential Women on Twitter
As you can see, the most followed account on Twitter (not just out of women, but in general) doesn't get that much engagement, which placed Katy Perry at the seventh place on our list.
But why does the seemingly logical assumption that the more followers you get the more engaged members of your audience there are proves to be wrong?
Mystery Behind the Follower Count
Now we know that the number of followers doesn't always indicate real influence.
There might be a few reasons for that.
Bots
The first thing that comes to mind is fake followers and bots which blow up the follower count.
Despite Twitter's numerous efforts to purge spam on the platform, scrolling through Katy Perry's followers, you will come across a lot of profiles like this: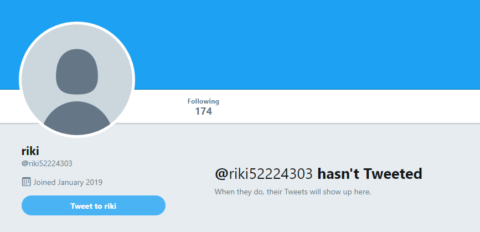 But before you light your torches, Katy Perry might not be the one to blame here.
Bots and fake accounts usually follow the most popular accounts automatically, so it's doubtful that Katy Perry is paying for more numbers in her follower count.
It's much more likely that bots are just naturally drawn to her account.
Time
Fame can be quite fleeting. Katy Perry might have been all the rage in 2013 when the number of Twitter users was growing rapidly (as some other celebrities such as Jennifer Lopez), but she's not anymore.
So the account is left with thousands of followers who are no longer actively using Twitter.
Who Are the Top 5 Most Influential Women on Twitter?
After discovering the real influencers, let's figure out how they managed to build such a dedicated and passionate audience.
The first thing you notice is that most women on the list are pop artists, with a few exceptions, but all of them come from the entertainment industry.
The average age for women on the list is 30 years, and they are all American.
So what does make these women so popular?
And does high engagement and high follower count means that they are actually liked by people?
To answer these questions, I've decided to dive deeper into our top 5's social media presence.
Which of their tweets evoked the most responses?
What are people saying about them on social media and how they feel about them?
I went through their latest 50 tweets and selected those that gathered the most engagement.
I also used Awario, a social listening tool (disclosure: I work at Awario) to analyze the sentiment on social media around each of the women and build topic clouds with expressions most commonly used along with their names on Twitter.
1. Taylor Swift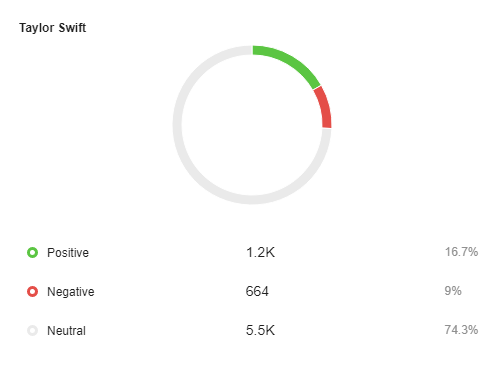 Lately, Taylor Swift has mostly been tweeting updates on her music, and she hasn't been active posting less than one tweet a week on average.
However, she knows how to be successful on social media, which is confirmed by her place in this rating.
In her tweets, she shares her daily life and expresses her opinions, making an authentic connection with her audience.
She posts pictures of her cats, her baking, and asks for advice, treating her followers as her friends.
One of her most successful tweets is a picture of herself lounging at home, which basically says "even though I'm a pop star, I drink my self-isolation wine just like everybody else."
🍷 🐍 biiig isolation 🐍 🍷 pic.twitter.com/MJbhD8Bau1

— Taylor Swift (@taylorswift13) May 7, 2020
The topics most often discussed in relation to her include her fans, other celebrities.
The two clusters that stand out are related to the Black Lives Matter movement and Burger King.
The first one is easily explained by her tweets about police brutality which generated a lot of conversation.
I'm absolutely devastated and horrified by the senseless, cold blooded, racially motivated killing of Ahmaud Arbery. #JusticeForAhmaud

— Taylor Swift (@taylorswift13) May 7, 2020
The second, ironically, is more complex.
A fan of Taylor asked the official Burger King's account on Twitter what their favorite song of hers was, to which they sarcastically replied "the one about her ex" (now deleted).
That prompted the fans to start hashtag #BurgerKingIsOverParty and demand apologies from the brand.
That goes to show how one tweet from an influencer (or about an influencer) can generate a lot of buzz.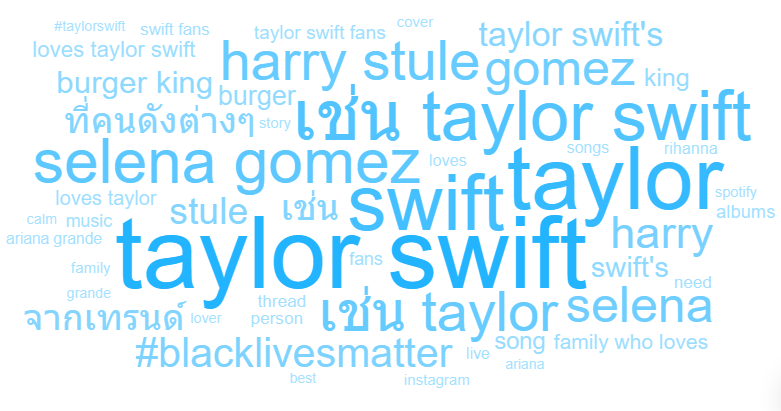 2. Lady Gaga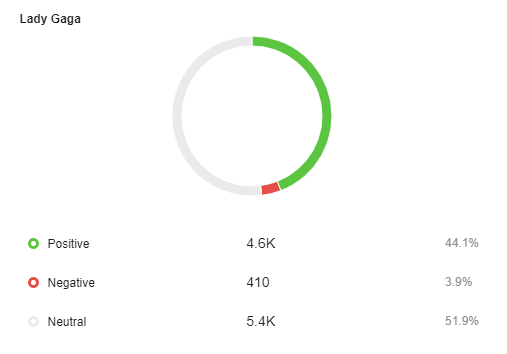 The overwhelmingly positive sentiment around Lady Gaga is likely tied to the release of her new single.
After all, one of her most retweeted tweets is her music video release.
Besides promoting the album, she also shares her creative process and speaks directly to her fans explaining the lyrics and origins of her songs.
She also jokes and shares memes related to the album release: an amazing tactic to make promotional social media posts fun and entertaining.
IF YOU WERE UP ALL NIGHT DRINKING WINE ON CALLS W UR FRIENDS LISTENING TO #RainOnMe U BETTER WAKE UP AND GET SOME COFFEE FOR THAT HANGOVER CUZ THE VIDEO IS OUT

— Lady Gaga (@ladygaga) May 22, 2020
Her topic cloud is expectedly all about the new album. We could say that Lady Gaga and her fans are on the same page when it comes to their Twitter interests.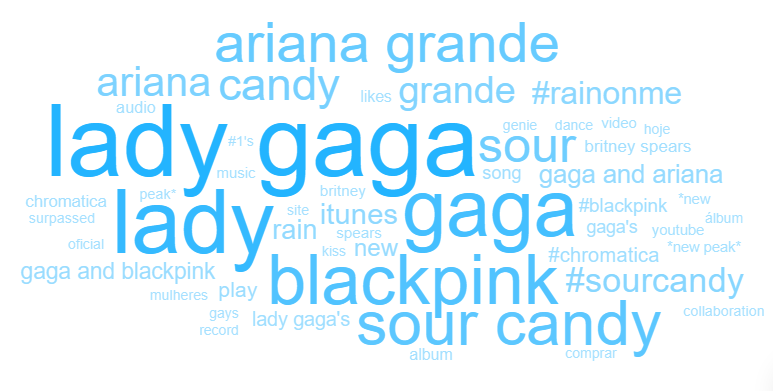 3. Ariana Grande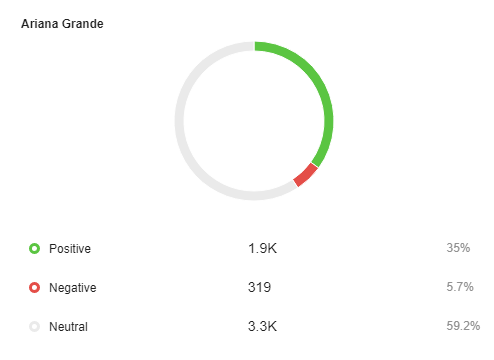 Ariana Grande is one of the most successful singers of our time, but it isn't what takes her to the third place on our list.
If we take a look at her Twitter, there is one thing that separates her from the other women on our list:
She doesn't shy away from interacting with people.
And not just other celebrities – she talks to her fans all the time.
— Ariana Grande (@ArianaGrande) June 9, 2020
Influencers that engage with their audience naturally build stronger relationships with them and, as a result, have a stronger influence on them.
So when choosing an influencer to work with, take note of how often they interact with their audience.
You'll notice that Lady Gaga's and Ariana's Topic clouds are quite similar.
That's because the latest conversation about her on Twitter is defined by her collaboration with Lady Gaga on her new album.
Other women influencers are also mentioned a lot.
4. Rihanna
The sentiment around Rihanna is surprisingly negative, but looking through the tweets found by Awario, I pinpointed several reasons for that:
One of her nicknames is "Bad Girl", so the tweets that mention it are automatically identified as negative.
Her personal relationship drama is discussed a lot on Twitter.
She often comes up in the conversations around racism. For example, her speech about solidarity with the oppressed groups is the hottest topic of discussion on Twitter.
Remember when Rihanna said, "This is their problem too."
Reminder: tell your friends to #PullUp #BlackLivesMater pic.twitter.com/ddgWp75czC

— 𝓔𝓵𝓲 (@feisty_rihanna) May 28, 2020
Rihanna is also a singer, but you might not guess it from her current Twitter feed.
Instead of music, she uses Twitter to highlight her business: makeup, lingerie, and accessories.
One of her most popular tweets, however, is a casual selfie: authenticity wins once again!
first selfie of the year doe. #2020 pic.twitter.com/TJxarwWeXI

— Rihanna (@rihanna) January 6, 2020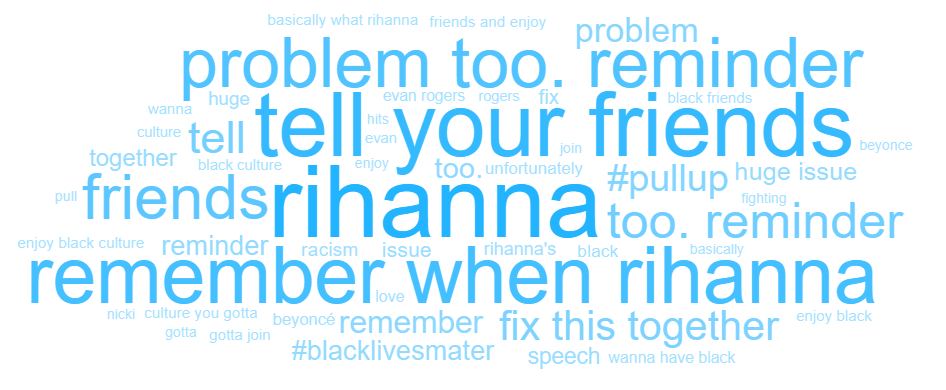 5. Britney Spears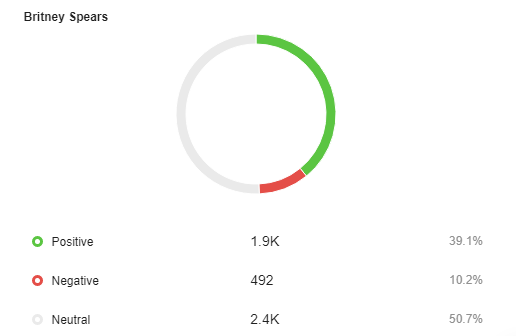 Britney is another musician so it's only natural that she tweets a lot about her music, however, the way she does it is quite interesting.
She often goes back to her older music to talk about it and tweets videos directly addressing her fans.
One of her most successful tweets is this one, which talks about self-isolation in a funny way.
Enough said 😜🧼🧼🌸🌸🌸🌸 and thank you to all of the healthcare workers tirelessly working to keep us safe during this time !!!! #WorldHealthDay #ThanksHealthHeroes pic.twitter.com/L8EctjHwAG

— Britney Spears (@britneyspears) April 7, 2020
The combination of humor and relevant issues is what generated so many retweets and replies to this tweet – take notes!
As you see, the buzz around Britney is mostly tied to her music: Twitter users are talking about her new single "Mood Ring" and where to stream it.
They are often using the word "emergency" to highlight the importance of the release, like in this tweet.
🚨🚨 GAY EMERGENCY 🚨 🚨

It appears Britney Spears is officially releasing Mood Ring on all streaming services at midnight. It is already out in Australia and New Zealand right now. pic.twitter.com/2JcTpdOTmd

— Britney Fan (@BritneyHiatus) May 28, 2020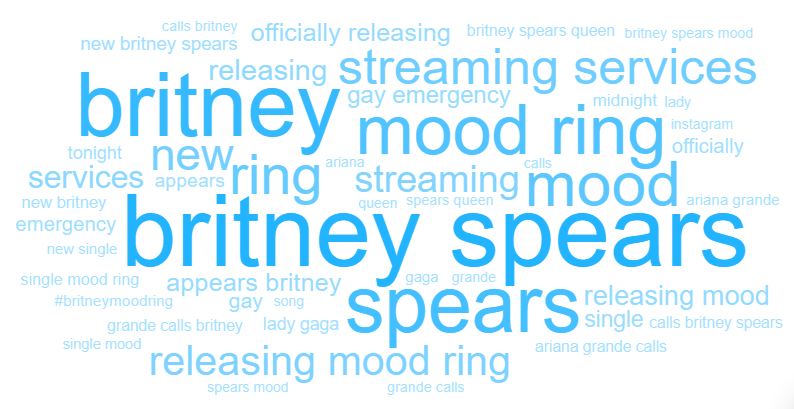 Marketing Takeaway
So now we are certain: vanity metrics, such as the number of followers, do not reflect the real influence.
To win over new customers through influencer marketing, you need an engaged and loyal audience: bots are not going to buy your product.
As with everything on social media, there are trends for influencers.
For example, Ariana Grande may not have as many followers or interactions as some other women on our list, but she is one of the most talked-about and loved women on Twitter.
By using social listening, you can identify how much buzz an influencer has around them, and, therefore, predict how much buzz your social media campaign will generate with them.
There are many tactics that can help you build your audience:
Consistent engagement with your followers.
Relevant and funny content.
Staying on top of trends.
Etc.
Perhaps the most important lesson of all is to be authentic.
Sometimes a look behind the scenes is much more appreciated than a thought-out campaign.
Take a lesson from our influencers and use it to achieve success on social media!
More Resources:
---
Image Credits
In-post Images/Screenshots: Created/taken by author, June 2020