Yolink is a nice new tool that searches through the content linked from the current page (available to both FireFox and Google Chrome users). Basically, it works as follows:
(1) You find a page which links to some other pages (let's call them "linked pages")
(2) You open the tool in the sidebar and provide the search term;
(3) The tool will look for the provided term on the linked pages and show you the summarized content.
I found the tool especially useful for various SERPs research.
Let me show one example: let's say my main keyword is [diabetic diets] and I want to research which (and how many) pages found for its core term [diets] mention [diabetes] or [diabetic]. My steps would be:
1. (With Yolink installed) I search Google for [diets];
2. I click the Yolink icon in the address bar to toggle the tool sidebar; In the sidebar I provide my second keyword [diabetic] and choose one of the options (exact match, "best" match, match one of the search terms, match all the search terms):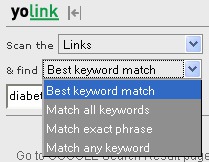 3. Now I can watch the tool generate snippets from the linked pages and highlight my search term:
The listing number represents the link on the base page (which is Google SERPs in our case);
If there are several extracts containing the search term within one listing, they will be marked with letters;
When you hover over any listing in Yolink results, you will be able to see its number on the base page: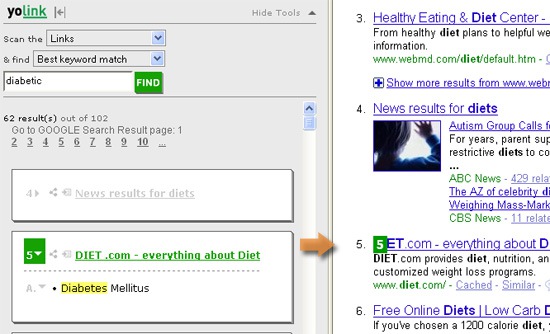 4. Now just scroll through results to see which pages contain your term and how they use it: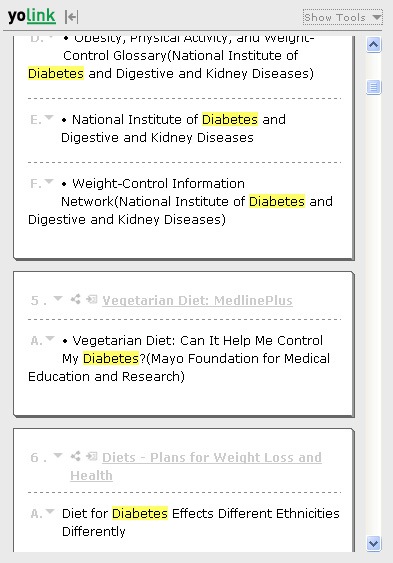 Isn't it useful?
More things you can do with Yolink:
Scan the current page links or text;
Send results directly to Blogger, WordPress, Facebook or Twitter.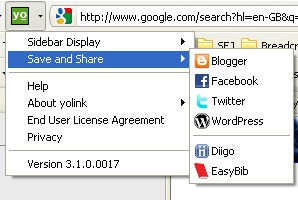 Do you see yourself using this tool? Please share your thoughts!
The tool was reviewed under SEJ policy.