Sites that use tables on their web page may lose traffic for searches related to their own websites. John Mueller recommended against using tables when optimizing for voice search. Tables and pages that are full of links don't translate well to voice search.
Voice search queries and featured snippets are related in that featured snippets are spoken during a voice search. If someone searches for information from your site that is displayed primarily in tables or links, another page may rank above yours in a featured snippets.
In the Google Hangouts discussed in the above cited article about voice search SEO, John Mueller specifically mentioned the use of tables and a list of links as something that doesn't work well with voice search.
"…that's not possible if you have a question and the answer is a big thing or a table or a list of links. That's not something that really works with voice…"
Is this a Pricing Page Bug?
The bug is happening when someone searches for a brand name plus the word, Pricing. What happens is that when the web page belonging to the brand consists of a table or a page of links, Google will show another web page in the featured snippets. There may be other search queries that are similarly affected.
I was able to replicate this across a multitude of search phrases, where another site ranks in the featured snippets instead of the brand name being searched.
The Importance of User Experience in Mobile Index
Google's goal is to show the search results that satisfy the most users. If someone is searching for a brand name, the obvious result should be the website of the brand. But in this case it is not.
The reason Google may not be showing the brand page as the featured snippet is because the brand web pages consist primarily of tables or a page of links. This means those pages are incompatible with voice search. The reason they are incompatible is because information contained in tables are awkward for voice search. It is a poor user experience to read a long list of prices.
Why do the brand pages not rank?
The answer may be because it is a poor user experience for Google Voice Assistant to from a table or a page of links. Google's John Mueller stated this in a Google Hangout when he answered a question about voice search optimization, as noted above.
This presents a situation where the most useful page to show is the brand name being searched on. But because the brand name web page is created with a table, Google is deciding that it's a bad user experience (for Featured Snippets and/or Google Voice) so it's displaying another website instead.
Examples of Pages are Losing Featured Snippets
Searches for brand name + pricing that display a featured snippets tend to display this bug when the brand name web page consists primarily of tables or links.
Bluehost Pricing is a phrase where you would expect the brand name signal to be strong. But as you can see below, another website ranks in the featured snippets: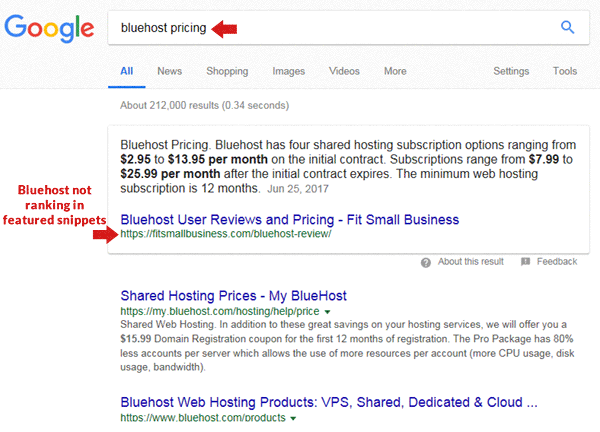 The Bluehost page pricing information is contained in tables: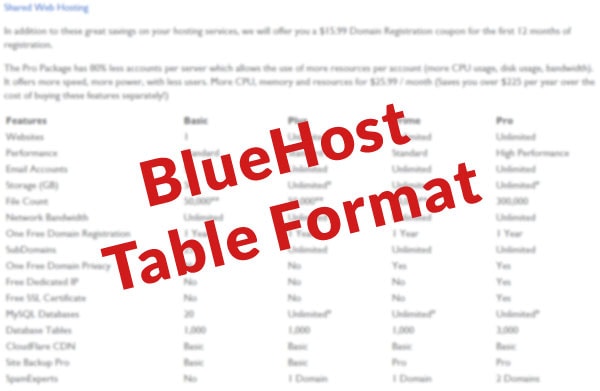 Example of the keyword phrase Constant Contact + Pricing:
The Constant Contact pricing information is communicated with tables: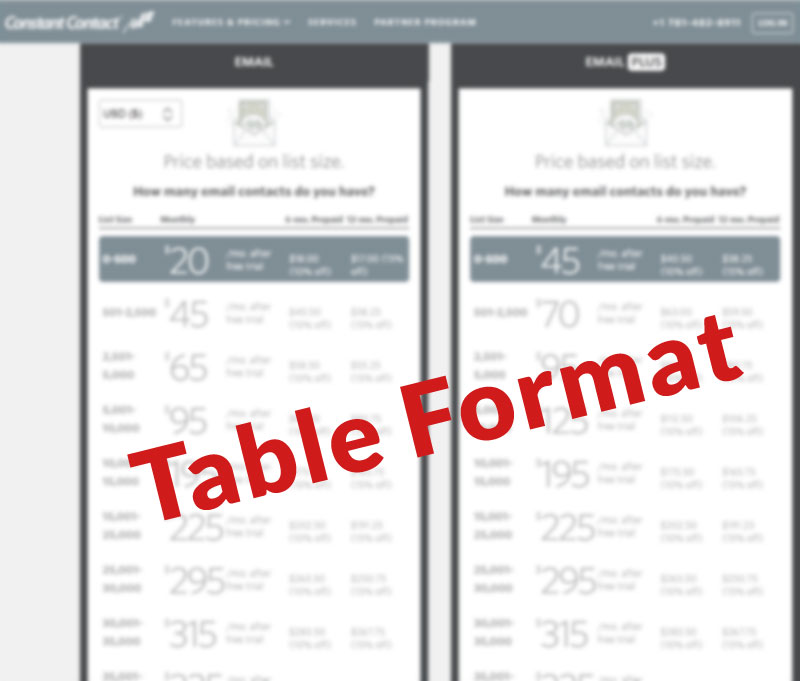 TAKEAWAY 1 – Summarize
The obvious takeaway is to be careful about using tables for communicating important information. You may wish to communicate the information in a manner that can be easily spoken. This means summarizing your information in three short paragraphs.
The information in tables are important for your site visitors. It's important to keep that there because it's useful. But for the sake of ranking for featured snippets, as of this writing, you may want to summarize the infromation in the tables so that it fits into three short paragraphs. Then place this summary where you feel it best serves the user.
Takeaway 2 – This May Not be Just About Pricing Tables
I've only explored search queries focused on brand names and pricing. It is likely there are other similar search queries. So it may be useful to evaluate the use of tables on web pages and create summaries for those tables in order to help those pages rank for featured snippets, if that is appropriate.
Hat tip to Th3Core Forums for noticing this issue!
More resources
Featured Image by Shutterstock, modified by Author
Screenshots by Author