Microsoft is opening up its responsive search ads beta to all advertisers.
Advertisers without a dedicated Microsoft Ads account team can join the beta by filling out this form.
Responsive search ads, first introduced by Google, automatically adjust themselves according to the search query. This allows advertisers to test thousands of combinations of headlines and descriptions without creating multiple campaigns.
Advertisers provide up to 15 headlines and 4 descriptions, and Microsoft does the work of serving the most optimal combinations to each searcher. Ad combinations can contain up to three titles and two descriptions.
Microsoft also does the work of identifying the top performing ad combinations, which are compiled in a report for advertisers. Underperforming ad combinations are not shown again.
Microsoft emphasizes the following benefits of using responsive search ads:
Reduce bulky operations and save time
Serve the right message to the right user at the right time
Improve ad performance
Advertisers are advised to provide as many headlines and descriptions as possible, as it increases the chances of an ad being relevant in any given ad auction.
The ad strength widget, shown below, will estimate how well a responsive search ad may perform and provides recommendations to improve performance.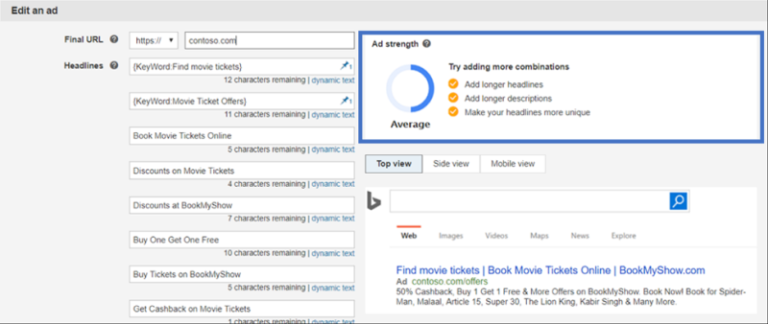 Lastly, Microsoft lists these as the best practices for responsive search ads:
Create responsive search ads in the same campaigns with your current expanded text ads.
Provide at least 8-10 unique headlines and at least 2 distinct descriptions with a clear call-to-action message.
Review performance regularly.
Pinning a headline or description will ensure it's displayed in the desired position.
Microsoft's responsive search ads can be created and managed via Microsoft Advertising online, Microsoft Advertising Editor, Google Import, and the bulk API.