Microsoft Advertising is in the process of redesigning its interface and is giving users a chance to join an early preview.
In an announcement, the company states:
"…we've been working on a series of changes to modernize the look, feel, and functionality of our product. Our key goal with these changes is to help you more easily and intuitively manage ads on one of the world's leading advertising platforms."
Here are some of the changes in the works for Microsoft Advertising.
Modern Design
Microsoft says this redesign "represents a new, principled design approach" that is based on user feedback and promotes a cross-platform design system.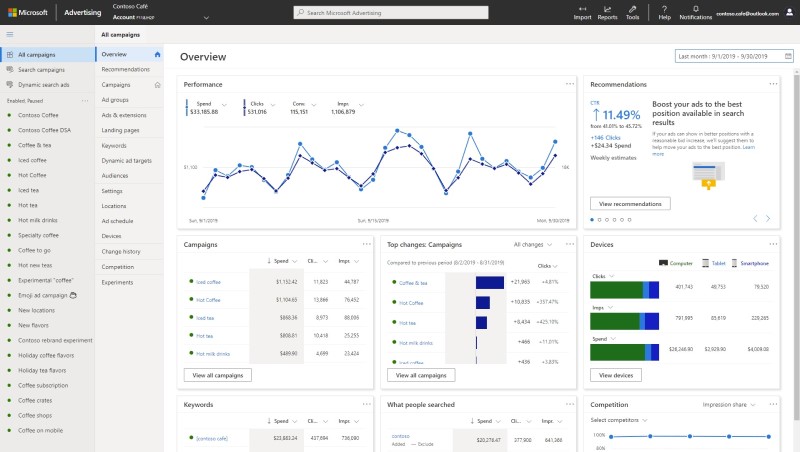 Microsoft Advertising has been redesigned to feel similar to other Microsoft products as well as other advertising platforms. Ultimately, it's designed to help people do more with fewer distractions.
Easy Access to Campaigns and Reports
Users will have easier access to important sections of their account via a new global menu bar that appears at the top of every page. The navigation menus have been reorganized with a focus on productivity.

From the menu bar, users can switch accounts and access tools like ad preview, conversion tracking, Google Import, and more. Or, users can find the tool they need with the integrated search bar.
On the far left is a menu that will allow users to quickly access their various campaigns. As users navigate between campaigns the page menus will adapt to only display the pages and data applicable to the campaign.
Updates to the 'Old' Microsoft Advertising Experience
Microsoft Advertising is also updating its previous interface, the one most people are currently using, with easier access to accounts.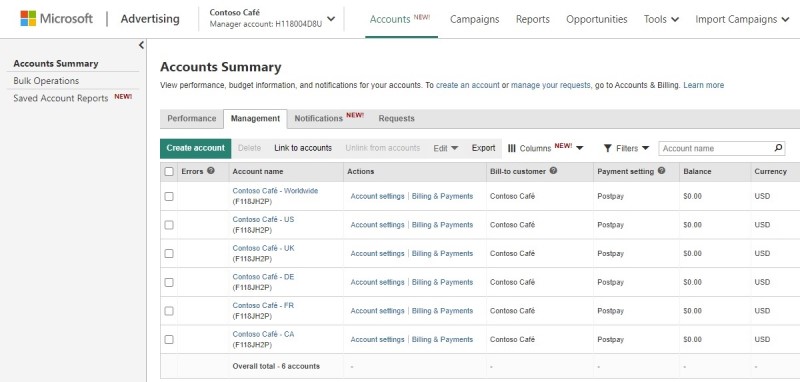 The 'Accounts & Billing' page has been scrapped in favor of a new 'Accounts' tab, which is the central hub for managing all accounts. Users will also find an updated drop down gear menu which can be used for easy access to billing and account setting.
To join the preview of the new experience, Microsoft Advertising asks that you content your account manager. If you do not work with an account manager, then you can fill out this form. The preview should become available within 7 – 14 days after contacting Microsoft.