After quickly gaining traction in consumer and political marketing, micro-niche targeting is now becoming increasingly popular in B2B settings as well.
Experienced professionals understand that the days of mass segmentation are gone. The one-to-many approach is rapidly becoming a thing of the past, replaced by one-to-one targeting.
Micro-niche targeting's success can be attributed to its focus on smaller audiences and more relevant messaging to produce higher conversion rates. It allows brands to significantly improve how they communicate with customers.
This trend is part of a larger shift in how B2B businesses are thinking about marketing.
Micro-targeting represents a data-driven analysis of customers' needs and desires to create relevant and impactful messaging across all marketing channels. This is especially applicable in the B2B market, as customers in this space require a higher level of trust before converting.
Rather than solely focusing on socio-economic interests, B2B marketers are leveraging customer insights to create and foster long-lasting relationships.
Micro-targeting, enabled by predictive analytics, is the best method to achieve these goals.
However, the majority of B2B marketers still don't understand the intricacies of micro-targeting and how they can apply it in their marketing practice. In the next sections, we explore the basics of this highly-effective approach.
What is Micro-targeting?
Micro-targeting is the use of both in-depth customer data and marketing automation to deliver highly-targeted and personalized messages across a multitude of channels. These campaigns are designed to appeal to specific people or small groups of customers.
By employing the possibilities of big data through innovations like predictive analytics, marketers can gain a deeper understanding of their audience, focusing on specific accounts rather than whole segments. This allows B2B brands to directly target customers and provide a uniquely personal and highly-relevant experience.
Given that personalization is a top priority for brands, micro-targeting is a tactic that your B2B business cannot afford to overlook.
Here are the most important factors that you should consider to maximize your digital marketing results.
Leverage Big Data & Predictive Analytics
The rise of big data has made hyper-personalization possible.
Collecting and analyzing data, such as historical campaign results, provides insight into customer behaviors at each stage of their buying journey.
While predictive analytics is nothing new, leveraging big data allows you to determine behavior patterns and identify your target audience at scale.
Tools like Google Analytics and Woopra allow you to gather real-time information about customers' behavior, transactions, spending patterns, clickstreams, and more.
You can also analyze information from social media, such as prospects' comments, likes, and interactions.
Some tools that can help you to analyze social data include Followerwonk, Audiense for Twitter, and Google Analytics.
Using big data for predictive analytics can help B2B marketers engage with customers more effectively, nurture the right leads, and increase conversion rates.
However, working with large-scale data is a big undertaking. If you're overwhelmed by the amount of information, you can work with a representative sample that will still ensure a high degree of accuracy.
Develop Unique Customer Experiences & Relationships
The recent paradigm shift in digital marketing represents a change in the way people consume products and services.
Customers have much higher expectations of brands; they demand relevance and authenticity. Therefore, to meet their demands, you need to develop meaningful relationships with your audience.
Providing a powerful and personalized experience is about acknowledging the uniqueness of each targeted individual and building a rapport with them. The way to achieve this is not by promoting your products and services, but rather by demonstrating that you understand the challenges of your customers and know how to help overcome them.
With hyper-personalization, brands can develop a profound understanding of everyone in their audience and use that knowledge to produce tailored offers for them.
Target uses a similar approach for its standalone app Cartwheel. It uses customer data from a centralized database along with information such as current location and recent purchases to offer Target customers personalized recommendations, discounts, and more. Users can easily build a shopping list (thus, allowing Target to learn even more about their preferences) by scanning the barcodes of products they need to replenish.
The success of Cartwheel demonstrates the potential personalization has for developing strong relations with customers. The app has been downloaded over 7 million times and its active users increase spending at Target by 30 percent on average.
Adapt Your Communication & Offers to Customers' Context
To achieve maximum results from hyper-personalization, you need to take it beyond simple segmentation.
It is important to understand the context of your audience when you're connecting with them and how that affects their behavior and the decisions they make.
Using contextualization is another key factor for effective micro-targeting.
Context marketing leverages situational information and visit history to determine the circumstances in which they're most likely to engage with or respond to your messages.
Leveraging customer context will allow you to create a custom experience for each person that engages with your brand. With the right set of tools and skills you can start doing that from the first interaction a customer has with your brand.
For example, the home screen of your website or mobile app can include a personalized welcome message: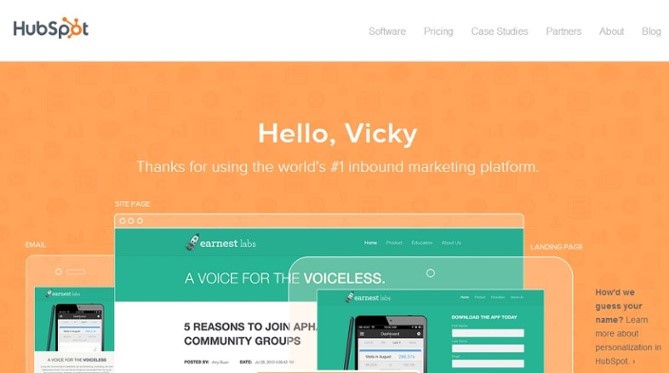 As a next step, you can offer personalized product recommendations, and use retargeting to display the most relevant ads based on visitors' preferences.
Brands like Segment have adopted a method called enrichment to craft a frictionless signup experience for their prospects without sacrificing precious customer data. The company employed Clearbit's enrichment API, which enabled them to ask users only for their emails when signing up on Segment's website.
Clearbit automatically populates the rest of the signup form, which reduces resistance and makes it easier to convert. At the same time, the data collected by the tool is immediately available to the team and can be used to re-engage a prospect that has abandoned the registration process.
Employing hyper-personalization is impossible without a solid marketing automation tool, as it will allow you to act on customer data and develop campaigns that trigger without manual input from your team.
At the same time, you will need a dedicated team of marketers who can work on creating and customizing your messaging for each customer segment you want to reach.
Maximize Your Returns from Hyper-personalized Micro-targeting
The key for success with micro-targeting is understanding that your prospects expect to be treated as unique individuals. The purpose of a hyper-personalization strategy is not to push brand-centric marketing messages, but to offer relevant information tailored specifically to each decision-maker at a target account.
Using the technical capabilities offered by Big Data to better understand your customers' contexts, you can offer unique experiences to each member of your audience. These experiences, in turn, drive stronger and more meaningful customer relationships, which will help B2B companies achieve macro returns.
---
Image Credits
Screenshot taken by author, October 2017