You can judge a low-conversion site from miles: Poor user experience. Mediocre content. Little to no social presence.
Interestingly enough, many start in a somewhat similar way, seeking to embark on a journey to being remarkable. Some succeed. And some, unfortunately, fail. Why does that happen? After all, who doesn't want to be like Apple? Or Google?
Today, we'll discuss five winning ways to think about your business and your marketing so you can rise head and shoulders above your competitors.
Marketing is important but doesn't make people love you – YOU DO
A simple example: Imagine you sell refrigerators – amazing refrigerators that don't pollute the environment, unlike all others in the market. They're made of clay, keep food healthier, require little to no maintenance, don't consume electricity, and cost way less.
Sounds (and probably seems, if you're able to imagine) like the most ideal product in the market – one that can sell itself and doesn't need a push – right? No. Wrong. To prove my point I can show you a number of books that should have been bestsellers but rather died a slow death on bookstore shelves. Marketing is necessary to tell people about your product.
But in a world where people are exposed to thousands of ads every passing day, how do you rise above the noise?
There are three ways:
Building a decent product that deserves to be bought
Make people feel they can trust you
Reassure client they're not alone if something happens to their product – that you'll be there to fix it
But what happens after they buy it? Well, what now? You've got your money. Enjoy. (YOU DON'T WANT TO DO THIS!)
Instead, now is the time to prove that you take your customers' trust to heart. It's time to stand up to your promise and deliver it. So that they come back to you and tell their friends about you. That's how you make people love you.
Be Market Driven
Being market driven lets you take care of what your target audience wants, rather than what you think is right. Take WWE, for example. Why are they so successful across the globe even as we know there's hardly any fighting? They could have their superstars fight like crazy zombies for 3 hours at a stretch. But they don't! That's because they know (and deliver) what their market wants: entertainment, entertainment, and entertainment.
Educate
Let's face the harsh truth: people dislike marketers. They don't want you to tell them how great you are or how great your products are. What attracts them is your knowledge about the industry you're in. That you can help them solve a problem or two and make their life easier.
If you sell marketing tools, for example, help people do better marketing. Believe it or not, it's the best way to get your tools sold. Moz does a great job at this. Not just through their tools, but also through offering some killer resources that their audience can access for free. Their resources are in the form of guides, Google algorithm change history, webinars, surveys, Whiteboard Fridays etc.
Focusing on education eventually makes you the authority. Growth, success, and money follow.
Tell a Story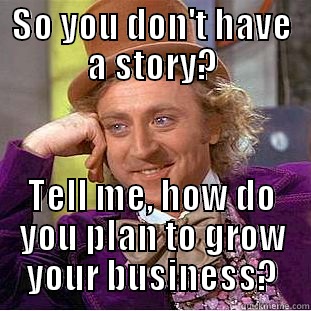 Stories are unforgettable. They stir emotion that eventually leads to the buying behavior. In fact, people don't buy a product, they buy a story. Story that resonates with them, helps them take the right decision and encourages them to do the right thing.
Get the Big Picture
Let's be honest: some businesses scarcely think about their long term objectives. They would rather focus on their short-term objectives and are quite okay with that – until their success starts fading away.
Just as a content marketer can't last long without a content strategy, your business needs to be thinking about the long run well in advance. Which means you need a solid business strategy right from the word go.
Over to you… What's your secret recipe for a successful business?
Images via quickmeme.com