Your content is constantly competing for attention. You come up with ideas, produce content, promote it, and repeat that process.
So why are you having such a difficult time standing out?
Because you aren't differentiating yourself.
Everyone says, "Hey, we publish great content 3x a week…come read our stuff!" If you want your content marketing efforts to matter, you have to emerge from the crowd.
But how, exactly, do you do that?
I'm here today to introduce a new acronym that can be a defining standout factor for any brand. It's called the Content Differentiation Factor (CDF).

What Is a Content Differentiation Factor (CDF)?
To put it simply, your CDF comes from your answer to the question:
"What is your unique, standout perspective in your content niche that makes you an expert that needs to be 'heard'?"
The answer to this question is often long.
Your job is to be as concise as possible while still getting your brand's story told. Because while readers love brand stories, they don't always want to read a novel.
As you work to craft your Content Differentiation Factor, there are a few things you'll want to keep in mind.
1. Know the 4 Keys of Your Base Content Marketing Strategy
Your base content strategy serves as the foundation for your content marketing efforts.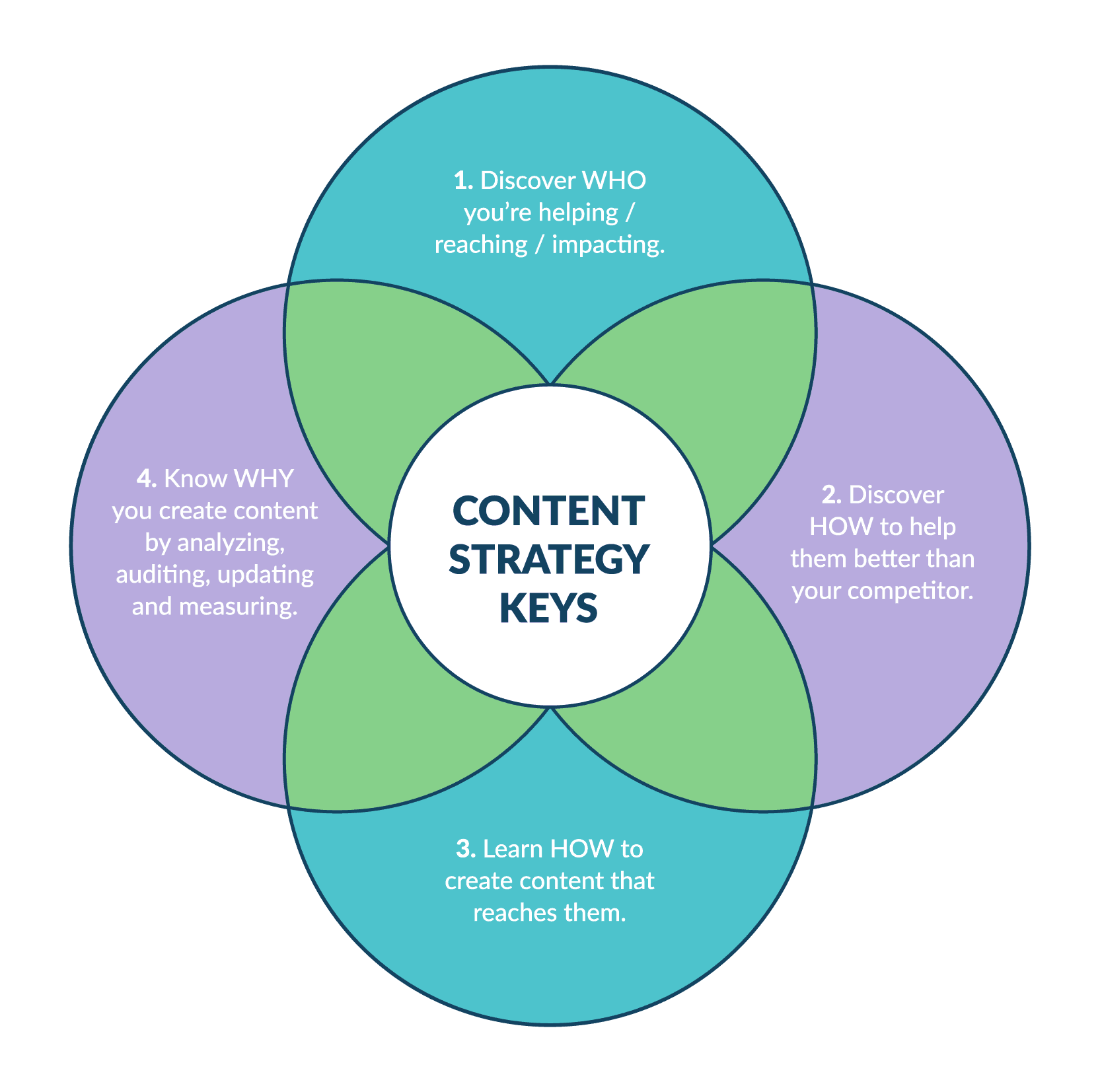 The four keys include:
Discover WHO you're helping/reaching/impacting. Know your customer's pain points. Know what you can and should be doing to have an impact on them.
Discover HOW to help them better than your competitor. Know the angle you're taking to deliver better, more useful content than your competition.
Learn HOW to create content that reaches them. Know the base strategies for promotion. Find long-tail keywords that can help your brand win with search rankings. Develop content that's worth the investment.
Know WHY you create content by analyzing, auditing, updating, and measuring. Know what you want to achieve through content marketing. Understand the secret to content marketing ROI.
2. Focus on True Benefits
You've already heard plenty about the importance of stressing benefits over features.
Features tell, benefits sell, right?
But not all benefits are the same.
Take this headline copy from a shaving company as an example:

Innovative and affordable?
Are these true benefits?
Would someone actually say, "Man, I really need innovative and affordable shaving essentials"?
Doubtful.
Now let's take a look at another shaving company, Dollar Shave Club, that nails this test.

So, would someone say, "Man, I really need to look and feel good about my shave without having to pay a fortune."
Much more likely.
3. KISS: Keep It Super Simple
Don't overthink this process. Determining your CDF isn't that difficult if you already know the who, how, and why of your content strategy.
As business tycoon Jack Welch says:
To make it as easy as possible, follow these two steps:
Determine what your position of authority is to write about online. What can your brand talk about to help, impact, and reach your intended audience?
Find out how you can do it differently from everyone else. What true benefits does your brand offer that are different than the rest? What can you do to stand out?
Case Study: How REI Makes Its Content Stand Out
REI has been dominating the content marketing game for quite awhile now. How? By having a CDF that their competition can't match.
Their Content Differentiation Factor is simple:
"At REI, we inspire, educate, and outfit for a lifetime of outdoor adventure and stewardship."
The important thing here is that REI doesn't just talk about inspiring, educating, and outfitting. They go out and do it.
How They Inspire
REI regularly posts videos, images, photographs, and inspirational copy to shed light on issues that affect the preservation of national parks and wildlife. These posts are then seen by their 1.7 million+ followers on social media.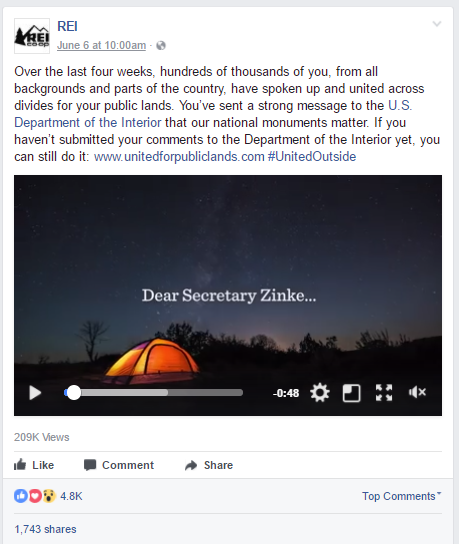 How They Educate
Their website features dozens of long-form guides providing expert advice on outdoor topics from camping and climbing to snowboarding and kayaking. These guides average 3,000 words and, according to Eric Hess, REI's senior program manager for content marketing, have an estimated engagement of 5.5 minutes.
Not only are their guides extremely useful, they drive massive amounts of search traffic. Take a look at where they rank when searching for [bike chain cleaning].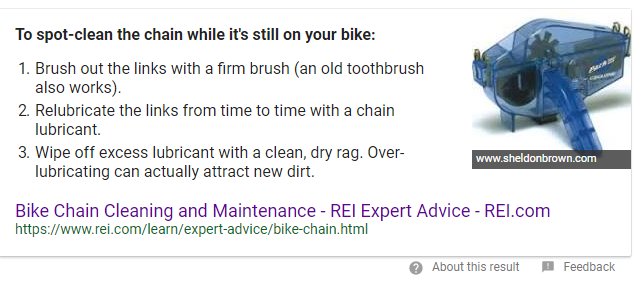 And for [how to choose a canoe].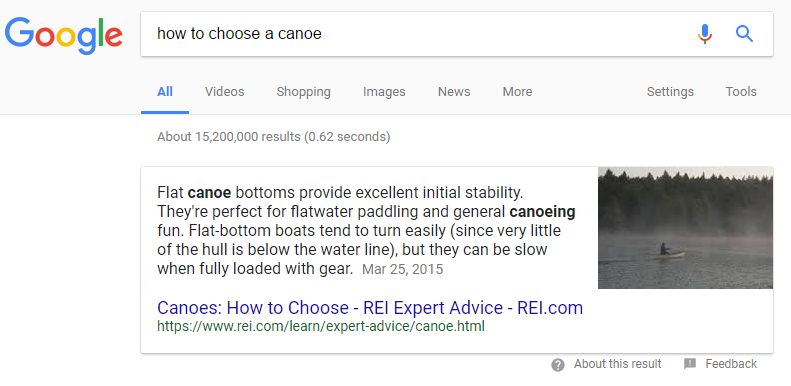 And that's just two of the dozens and dozens of keywords they rank for.
How They Outfit
Since they do such an incredible job inspiring and educating, the outfitting is the easy part. They've become one of the highest revenue outdoor equipment retailers in the world and they'd be the first to tell you that they owe it to their content marketing efforts.
Identify Your Content Differentiation Factor
An easy way to start getting comfortable with spelling out your CDF online is by writing out taglines, slogans, and CTAs for your brand (or a client's brand, if you're working on a client's marketing strategy).
Go back to the examples, especially Dollar Shave Club. How can you sum up in a few words what your core difference is compared to everyone else in your industry?
Once you identify your standout factor, you'll attract your ideal audience, grow a base of raving fans, and sell your products or services like hotcakes. But it all starts with the ability — and content discovery — of truly and authentically standing out in your niche.
Image Credits
Featured Image provided by author
In-post Images: CDF drawing and content strategy keys provided by author.
Screenshots taken June 9 by author.