Speculating on the coming year's trends is one of our favorite traditions in the SEO industry, and it almost wouldn't feel like the holiday season without our annual SEO trends predictions.
I love these annual predictions. You can ask 44 industry leaders the same question and get 44 unique and insightful answers. However, one trend I don't think a single expert would disagree with is that mobile optimization is going to be more important than ever in 2017.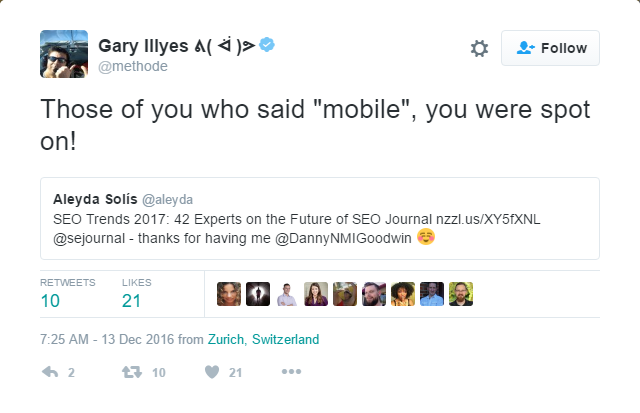 Of course, all you need to do is look at Google's major updates over the past few years to see that mobile SEO is more important than ever before. And after Google rolled out "Mobilegeddon" in April 2015 and the more recent mobile-friendly update in May 2016, I don't think it surprised anyone that they capped the year by announcing "mobile-first" indexing. To quote Google's Webmaster Blog:
"Although our search index will continue to be a single index of websites and apps, our algorithms will eventually primarily use the mobile version of a site's content to rank pages from that site, to understand structured data, and to show snippets from those pages in our results."
So how do you make your website mobile-first, instead of just mobile-friendly? Here are four essential tips to help you grow your mobile rankings in 2017:
1. Audit Your Site for Mobile-Friendliness
Your website needs to be mobile-friendly before you can focus on making it mobile-first, so the first logical step is to take the Mobile-Friendly Test to see if you meet Google's standards.

With that done, you'll want to run a comprehensive audit of your mobile site.
Whatever tool you decide to use, you'll want to make sure it can perform a full audit of your mobile website and also search for other SEO factors that affect ranking. Naturally, you'll need to keep all of your resources crawlable so your audit can detect potential problems, such as broken links, thin content, missing meta descriptions, redirect chains, etc. It might be helpful checking out the step-by-step instructions on how to audit your site for mobile-friendliness in this article by my colleague Masha Maksimava.
If you've run your website through the Mobile-Friendly Test and performed a site audit and you do not see the results you want, it's time to start isolating any and all issues you can work to correct. Common SEO mistakes include:
Slow mobile load times
Broken or incorrect redirects
Uncompressed images
Blocked resources including JavaScript, CSS, and images
Unsupported or unplayable content
Mobile-only 404 errors
As you correct mobile issues, you should use Google Search Console to monitor your progress. Go to Search Traffic > Mobile Usability to track the number of pages on your website that still have issues.
2. Optimize for Voice Search
Last March, at SMX West, Google told us that voice search is the fastest growing type of search. Then in May, during a Google I/O keynote speech, we learned that 20% of all searches are voice searches. These details corroborated what we already knew, that 55% of teens and 40% of adults were already using voice search on a daily basis back in 2014, and that number has continued to grow ever since.
So how do you optimize for voice search? I've already written about how to optimize your website for different virtual assistants, but the most important thing to remember is how and why people verbally query search engines differs from how they type queries:
How we use voice search: Queries typed into Google are often abbreviated (e.g. "local Italian restaurants"), whereas most people will use voice search by asking a full question (e.g. "What is the closest Italian restaurant?"). To ensure that customers using voice search find your business, your SEO needs to include long-tail keywords that address these questions.
Why we use voice search: According to Google's Micro Moments Guide, voice search is most commonly used to satisfy four different types of queries:

I want to know _______.
I want to go _______.
I want to do _______.
I want to buy _______.
As you can see, each of these queries (or "micro-moments") aims to satisfy an immediate need. This means the best way to answer these questions is with fast, accurate answers.
3. Prioritize Local Search
As voice search becomes more popular, local searches have also increased. In fact, Google's Micro Moments Guide tells us that searches for businesses "near me" have increased 2x in the past year and that 1 in 3 smartphone users purchase from a brand other than the one they intended to because that brand showed up at the moment they searched for more information.
In other words, if you truly want to be mobile-first, you need to be one of the top results whenever a potential customer searches for the services you offer. To do this you should:
Register with Google My Business
Include high-quality photos of your business
Keep your NAP (name, address, phone number) consistent across every website you're listed on
Include a detailed schema markup
Encourage reviews
4. Don't Forget About AMP
Google promotes AMPs (Accelerated Mobile Pages) above regular pages in response to mobile queries. These pages, denoted by a small lightning bolt, are designed to load almost instantaneously. According to Google, they're approximately 4x faster than a regular mobile page and offer many mobile users exactly what they're looking for: instant results that solve an immediate need.
AMP pages use stripped down HTML coding and custom tags to achieve this lightning-fast load time, meaning that most articles will require two versions:
An original version with full images and any multimedia you would normally include.
An AMP version without any JavaScript, embedded content, lead forms, etc.
AMP and WordPress sites are a match made in heaven; all you need to do is install the AMP plugin to enable the feature on your pages, and you're set. This thorough article by Julia McCoy will teach you everything you need to know about how to adapt your content to Google AMP.
The jury's still out on whether or not optimizing for Google AMP will eventually be a necessity for every website, but I can confidently say that there is currently no better way for publishers (especially big publishers) to give their articles and news posts a huge boost.
Final Thoughts
If 2016 has taught us anything, it's that the future is mobile. Smartphones are already responsible for 58% of all search queries, and now mobile-first indexing is right around the corner.
So where does that leave us? Well, as SMFB Engine's Kristjan Hauksson says in his 2017 prediction,
"Mobile is not a trend [anymore]. It's mandatory. But mobile might break many companies that are not keeping up. I am not sure AMP is the thing, but it's definitely the first step toward what is to come."
In 2017, having a mobile-friendly site is no longer going to cut it; your website needs to be mobile-first.
Image Credits
Featured image: ouh_desire/DepositPhotos.com
Screenshots by Aleh Barysevich. Taken December 2016.