OK, I get it. The December days are quickly getting checked off the calendar. Whatever "boom" in sales will quickly subside and everyone will abandon shopping for consuming copious amounts of food and ripping open their presents.
What if I said it's not all doom and gloom?
There is still time to (proverbially speaking) make hay while the sun shines.
The search engine marketplace is as healthy as ever. Shipping times for most retailers continue to shrink, which means customers can continue buying online right up to the 20th or so of December. And best of all, this means there is still time to optimize your search advertising campaigns!
Holiday Shopping Stats
First of all, let's quickly recap the 2017 holiday shopping craze thus far:
Of those shopping online over the span of Thanksgiving, Black Friday and Cyber Monday (11/23/17 – 11/27/17), 96 percent purchased something online. Wow.
According to Adobe, November 1 through 27 saw a 16.8 percent growth in online sales compared to the same period in 2016.
Online revenue attributed to mobile has increased 32 percent year-over-year – this mobile revenue accounts for 24 percent of all online revenue.
Search is still driving a big chunk of online revenue during the holidays and has had the strongest growth year-over-year thus far at 8.3 percent.
I work for Bing Ads. Let me share a little bit about what we've seen this holiday season:
The biggest trend of 2017 is seeing how Black Friday and Cyber Monday have become a global phenomenon. On the Bing Network, International markets saw a 20.4 percent growth in clicks YoY for 11/24/17 – 11/27/17. Click traffic grew 8.9 percent YoY for the U.S. Not too shabby.
Over the Black Friday weekend, mobile traffic on the Bing Network was 25.4 percent higher YoY. Yes, that mobile.
Bing's biggest areas of growth YoY by sub-vertical: computers & consumer electronics, home & garden, beauty & personal care.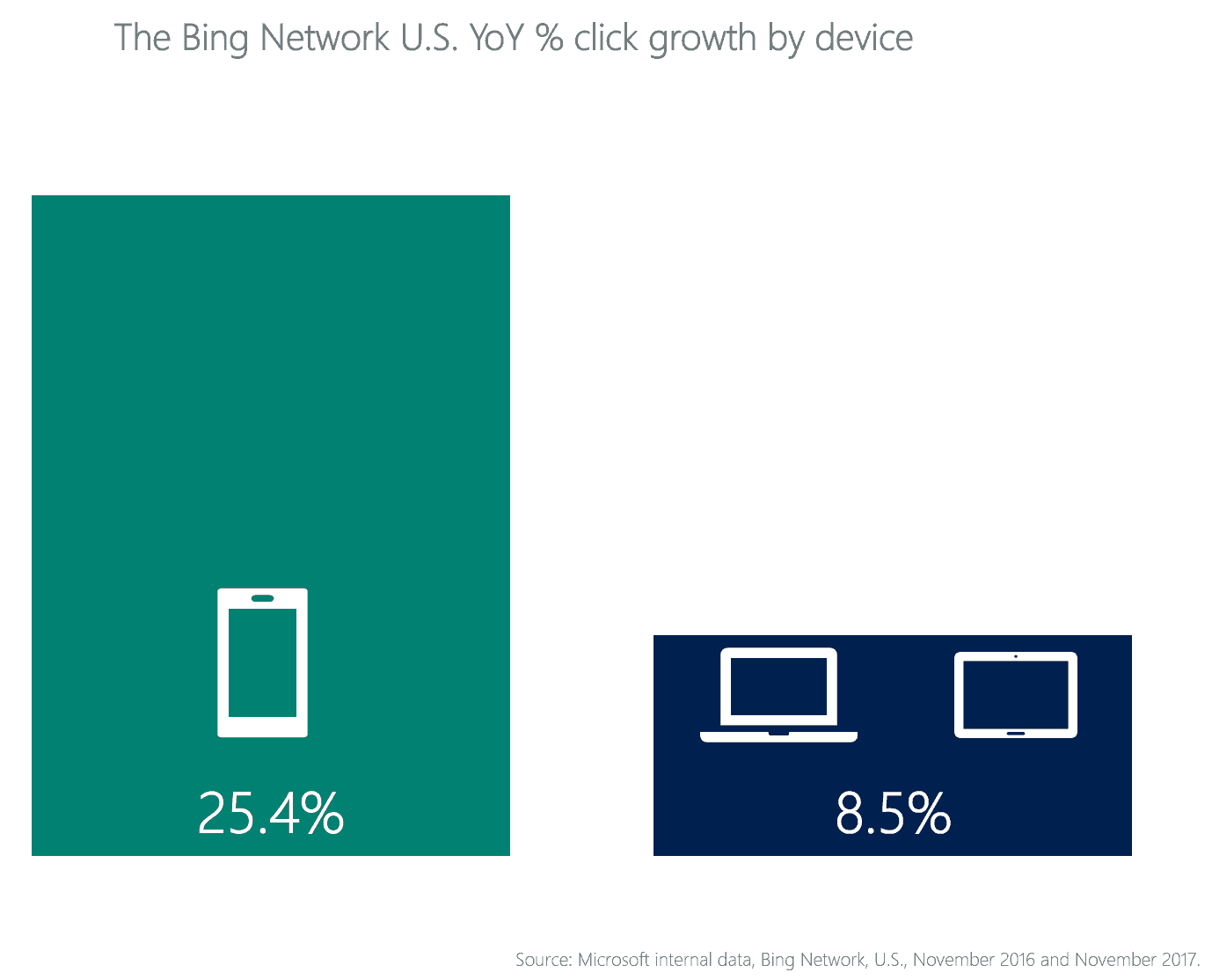 Now, back to the point. Is there still time to drive your own growth in December? Yes!
When you look back at 2016 data, 40 percent of U.S. shoppers did the bulk of their shopping after Cyber Monday. When you pair that stat with the prediction that U.S. online holiday sales may surpass $100 billion for the first time, there is nothing but opportunity.
Last-Minute PPC Campaign Holiday Optimization Tips
Here's a quick list for last-minute optimization to be sure your 2017 holiday PPC campaigns are the best that they can be.
1. Review Your Remarketing for Paid Search
Remember that shoppers have a lot of options for buying online. You aren't the only rodeo in town.
Understand that shoppers are going to compare prices, shipping options, etc. Capitalize on this tire-kicking by ensuring your remarketing is up-to-snuff.
Check audiences – capturing product page views? Shopping cart page views? Purchase activity?
Are your audiences applied to your campaigns and ad groups?
Do you have ample bid adjustments in place for your audiences?
2. Be Sure Your Ads & Keywords Reflect Urgency of Time
The clock is ticking. Time is running out!
Update your keyword lists to include variations such as "last minute" or "fast shipping".
Set proper expectations with regards to shipping cut-off dates. If a customer will not receive the product until after Christmas, tell them. Some shoppers will be OK with this. Most won't.
Test variations of your ads that include phrases stressing urgency, such as "hurry" or "don't wait".
3. Adjust Bids for Demographics
Yes, this is way in the weeds. Yes, I went there.
For the Black Friday weekend, older millennials were the biggest spenders. (Those between the ages of 25 and 34). Looks like someone isn't living at home with mom and dad anymore!
Seriously though, review your demographic performance over the past few weeks. What trends are you seeing? How can you accentuate the positive by setting age (and/or gender) bid adjustments?
4. Review & Adjust Daily Budgets, Bids
No brainer, right? Well, this is crunch time – attention to detail matters.
Compare your daily stats year-over-year, week-over-week, day-to-day. Are you setting your budgets high enough to capture the potential wave(s) of customers?
For Bing Ads campaigns in the month of December, based on YoY retail vertical trend data, we are suggesting the following:

3 percent budget increase for PC/desktop campaigns.
12 percent budget increase for mobile campaigns.

What about your bids? Check your average position, impression share and audience insights data each day. Make sure that you remain competitive all the way through the busy season.
Conclusion
Whew! I can't believe it is almost Christmas.
This year has flown by, for sure, but not without fanfare. It has been an amazing year for the search engine marketplace, and hopefully, your PPC campaigns.
Even though we can count the time until Christmas in days (vs. weeks, months), that doesn't mean it is too late to make your holiday 2017 campaigns even better.
Happy holidays from my family to yours. 2017 has been a blast – can't wait to experience 2018 with all of you, too!
More PPC Resources:
---
Image Credits
Featured Image: Milkos/iStock
Screenshots by John Lee. Taken December 2017.