Google Business Profile (GBP) attributes are a uniform way for businesses to share what they offer and what a customer can expect when using that business.
They are also a way for a business to optimize its local search presence. The more detailed a listing is with attributes, the more likely that listing could rank for a specific targeted search with an attribute modifier – for example, [accessible restaurants near me] or [miami hotels with free wifi].
In this blog post, you'll discover the different types of GBP attributes available to businesses depending on your primary business category, and how local marketers can best leverage these attributes.
Types of Google Business Profile Attributes
There are two types of attributes within a listing on GBP: factual or subjective.
Factual attributes are maintained by the business, while subjective attributes are sourced by Google through the opinions of users who visited the business. The business is not able to update or control these subjective attributes.
Subjective attributes that users may be asked about could be whether a business is popular, good for groups, casual, cozy, good for kids, etc.
This guide will focus primarily on factual attributes, as those are the ones your businesses can update in the GBP platform.
These attributes help you proactively provide answers to common searcher questions right on your local listing. Often, customers compare their options and make a decision without ever clicking through to call a business or visit their website.
If you want to be the venue or service provider of choice, make sure you're providing all possible information to help searchers choose your location.
Updating Attributes in GBP
Every GBP listing has the ability to update multiple attributes, and the ones available to each listing are decided by the primary category for the listing. Not all categories will offer the same attributes.
Attributes can also vary by which country your listings are in. Make sure to choose the primary category that is most applicable to the brand so the right attributes are available for your listing.
To make updates to your attributes, begin by logging in to your GBP account to see which attributes are available for your listings. Click the info tab on the left-hand panel.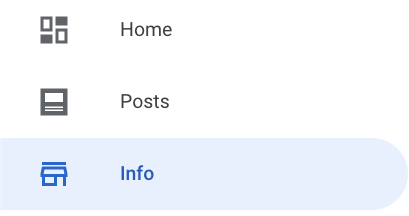 Click "From the business – Add attributes" within the Info section.

You will now be able to see the categories and specific attributes available for that listing.
The most common types of categories across GBP are accessibility, from the business, amenities, health and safety, highlights, payments, and service options.
Google also provides details on how to update, add, or edit attributes on GBP. You also have the ability to search for specific amenities when you click into the "From the business" section.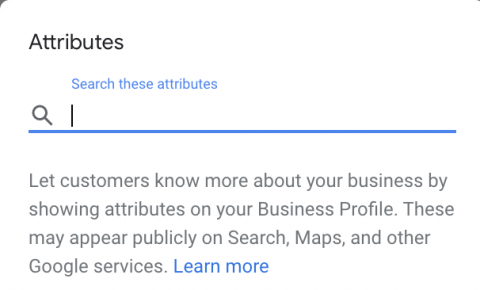 Accessibility
Accessibility attributes let businesses share with customers how they are set up to allow customers who may have certain needs.
The attributes available are wheelchair-accessible entrance, wheelchair-accessible restroom, wheelchair-accessible seating, wheelchair-accessible parking, and/or wheelchair-accessible elevator.
For specific definitions around these specific accessibility attributes, visit the GBP accessibility page.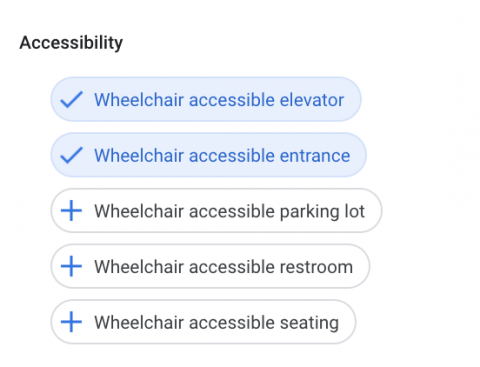 From The Business
"From the business" allows an owner to highlight if their business is Black, Women, or Veteran led.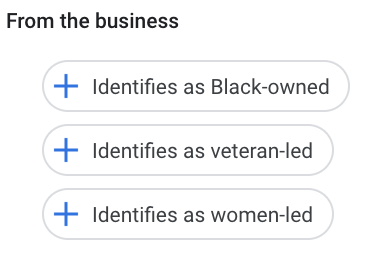 Health & Safety
Health & Safety attributes were added due to COVID-19. This allows a business to share what their mask and temperature check policy is for both their staff and guests.
It also says whether a business requires a reservation and if they disinfect surfaces between visits.
These attributes are particularly important as consumers in different regions get vaccinated and become more comfortable shopping in-store again.
Payments
Payment attributes are Cash-only, Checks, Credit cards (American Express, China Union Pay, Diners Club, Discover, JCB, MasterCard, and VISA), Debit cards, NFC mobile payments.
And no, bitcoin is not an option (yet).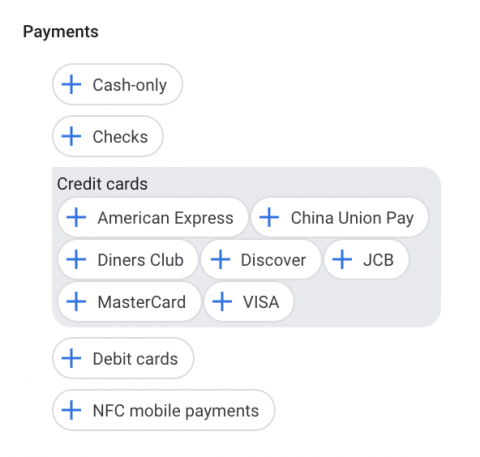 Hotels
Hotel attributes are set up completely differently in GBP versus other categories. Select "Hotel attributes" and it will take you to a new page where you can add all kinds of information people might consider as they're searching for their next hotel stay.

Hotel attributes are broken down by property details and room details. Property details categories are:
Health & safety.
COVID-19 responder policy.
Internet.
Food & drink.
Policies & payments.
Activities.
Services.
Children.
Pools.
Parking & transportation.
Wellness.
Accessibility.
Business & events.
Pets.
There are fairly detailed questions for each one of those categories. Room details are broken into general room features and food-related room features.
General room features include whether there is A/C, private bathroom, bathtub, and shower.
Food-related room features include whether there is a kitchen, refrigerator, microwave, coffee maker, and/or a minibar. You can find a more in-depth explanation of the specific attributes available for hotels from Google here.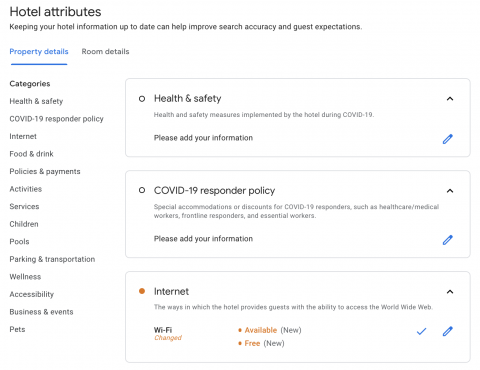 Restaurants
Though there are not as many attributes to update as with hotels, there are still quite a few options available for restaurants. The main categories available for restaurants are Amenities, Dining options, Offerings, and Service options.
Amenities allow for a restaurant to share if there is a bar on-site, good for kids, has high chairs, WiFi, and gender-neutral restroom.
Dining options allow a business to highlight their offerings like breakfast, catering, dessert, lunch, dinner, and if there is seating.
Offerings let customers know if a business offers alcohol or certain food offerings. The last category of service options focuses on how the food can be attained through options like curbside, delivery, dine-in, drive-through, takeout, and outdoor seating.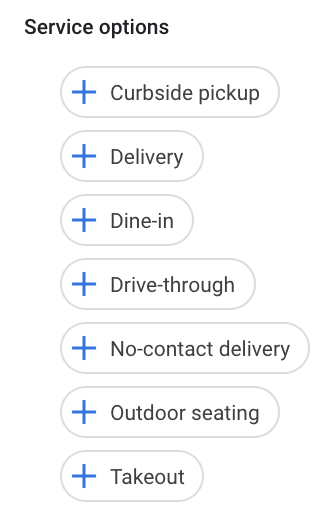 There is also the GBP API, which can be used to update attributes in bulk. If there are a large number of locations and data is changing often, then leveraging the API could make sense — especially if there is a validated source of truth.
Maintaining the proper attributes is essential for your brand. As local searches target specific queries like restaurants that accept checks or a wheelchair-accessible hotel with a pool and restaurant, your brand can stand out against your competitors if you leverage all the attributes applicable to you.
If you leave certain attributes left unmarked, you may miss out on relevant searches and the conversions that result.
Give local customers all of the information they need to make a decision in your local listing.
More Resources:
---
Image credits: All screenshots by author, June 2021