Ensuring that your business shows up in Google Maps is paramount to long-term viability.
Prospective customers are often skeptical of businesses with little or no online presence.
Fortunately, Google Maps provide one of the easiest and fastest ways to get online.
Business owners now have an opportunity to market their goods and services in real-time to anyone with a mobile device.
What Is Google Maps Marketing?
Google Maps marketing is simply the optimization of your business presence on Google Maps.
The goal is simple: by ranking higher in search, you have an opportunity to significantly increase your business.
The better your profile optimization, the better your chances are for showing up in a Google Maps search for your business type in your area.
Why Is Google Maps Marketing So Important?
Google handles about 3.5 billion searches per day and accounts for nearly 88% of all mobile searches.
Local Google searches also directly translate into sales with 76% of those searching for local products visiting a store within the day.
Google Maps marketing can impact the way Google views your business and how or if it appears in organic search in what is known as the local 3-pack.
Google Map Results (local 3-pack) appear at the top of the page in this Google Search.
Google Maps can channel thousands of potential customers toward your business.
Unless your business ranks in the 3-pack, your chance of being found is exponentially lower.
That is why Google Maps Marketing is generally considered the most important facet of local SEO work.
Setting up & Optimizing Your Google My Business (GMB) Listing
Creating a Google My Business (GMB) listing is totally free.
This is because it technically isn't an advertisement at all – you are simply letting Google know that your business exists.
That said, the end goal is to get your business to rank higher than your competitors.
Setting Up Google My Business
To set up your Google My Business listing:
Sign in to Google and go to https://www.google.com/business/
Then locate or create a listing for your business. Sometimes other factors or inputs have led to an impromptu assumption listing about your business. Make sure you claim and correct it if that happened.
Fill out all of the information to the best of your ability.
Make sure to select the correct category and to add a contact.
Verify your account. This can be done with Google via phone, email, or traditional mail.
Add quality photos.
Double-check all of your information.
Read this guide to learn how to completely optimize your GMB listing.
How to Rank Better in Google Maps
Google Maps take into account a number of factors when it decides how to rank results.
The geographic distance from the person conducting the search and the business category relevant to their search are the most obvious.
Perhaps more important is how complete and accurate your GMB listing is. This could be the tie-breaker among you and your competitors in determining who appears in the search.
Finally, positive sentiment (good reviews) can be a deciding factor.
Getting Good Reviews
Many companies have developed systems around cultivating positive reviews.
Some will ask customers directly, at the conclusion of a transaction, to give them a review.
Other businesses put a request for a review prominently, at checkout. Some even have used QR codes.
One effective method is to leave a review request, on a business card, attached to a "Thank You" memento. Something as simple as a complimentary air freshener can go a long way.
In all of your promotional materials, it's good business practice to provide a link for customers to leave a Google review.
What About Bad Reviews?
Handle bad reviews calmly. Work hard to overcome them with more good reviews.
When you get a bad review, apologize, accept responsibility and offer to make it right; even if it wasn't your fault.
It's a losing proposition to get defensive or aggressive in your reply.
A bad review give you the chance to demonstrate your professionalism, helping to mitigate any potential damage.
Posting on Google as Your Business
This is an underused feature.
Business owners can "publish … offers, events, products, and services directly to Google Search and maps."
This can be another effective way to stand apart from your competitors.
Google Maps Optimization Checklist
To give your business a better chance of showing up in Google Maps for relevant searches, just follow the checklist below.
Claim or create a listing for your business.
Fill out all of the information:

Correct service area and address.
Business hours / workdays.
Website / URL for them to make a purchase.
List your specific offerings. Clearly and simply. Try to add keywords in naturally when possible.

Pick the most relevant and common categories for your business.
Ensure information is consistent across the web.
Add high-quality photos.
Double-check all of your information.
Cultivate good reviews.
Talk about your business in Google My Business.
List your business in other directories.
Use analytics to adapt your strategies.
Paid Advertising & Local Search Ads
Google gives you the tools to target your local area with local search ads.
This is paid advertising that can help you appear at the top of the Google search page or Map App when someone searches for your relevant services.
If you are struggling to bring in customers and can't wait for your organic efforts to pay off, you may want to consider paid advertising.
Many businesses have had great success in employing local search ads on Google. It can be the perfect complement to organic marketing efforts.
Tracking Your Google Maps Marketing Performance
Tracking your performance on Google Maps is done via analytics offered with your Google My Business account.
This is necessary for evaluating your current web presence and optimizing it, moving forward
Following are the key metrics you should pay close attention to:
The Google Services That Customers Use to Find Your Business
An important metric to pay attention to is the type of searches leading to your website.
This will let you know the volume of users that are searching for you by name, vs those discovering you via the keywords relevant to your brand, location, and industry.
This may help you gauge the percentage of new versus repeat customers coming to your site via Google.
Where Customers View Your Business on Google
This section will let you know the frequency that you are being found on general search vs map listings.
Taken in conjunction with the first metric you can gauge the general success of your Google Map Listings in attracting new customers.
As you make changes, monitor these stats to ensure you are making the right decisions and moving in a positive direction.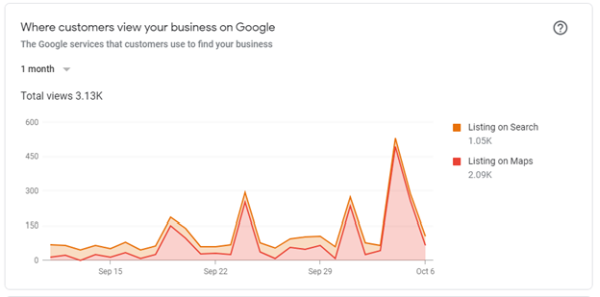 Listing Visitor Action Taken
"Customer actions" will show you what actions people are taking in response to your listing.
You will discover if your listing is helping people find your location, your website, or leading to some form of contact.
This is perhaps the most important metric as you embark on optimizing your listing.
Working to improve customer engagements and interactions is your best path to success.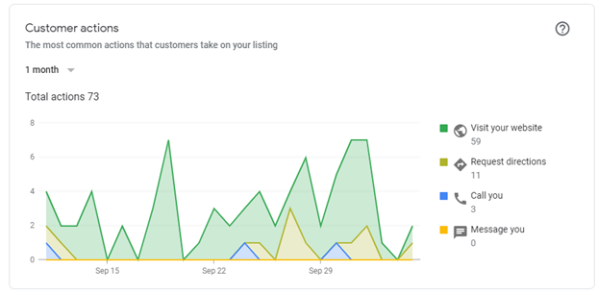 Where Customers Are Coming From
"Directions requests" shows where customers are requesting directions to your business from.
With this information, you can begin to localize and better target your other marketing ventures as well as perhaps adjust your target keywords.
The Performance of Your Photos
"Photo views and Photo quantity" shows how your photos are performing as compared to competing businesses.
It also shows the mix of photos coming from you versus those posted by your customers.
Humans react positively to appealing visuals, so you should take the time to capture the best possible photos of your business.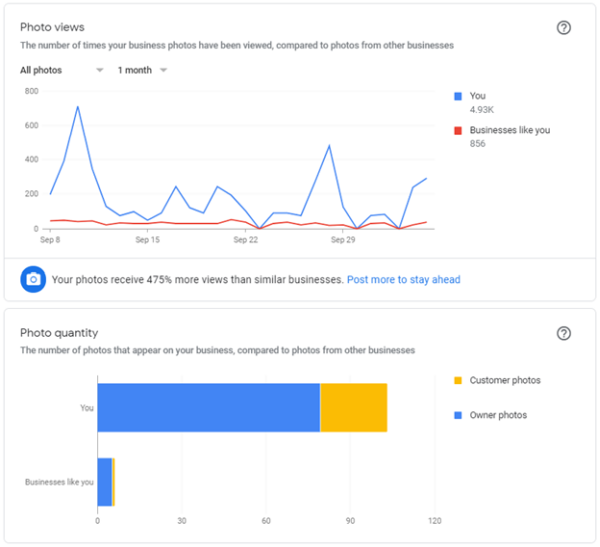 The Final Takeaway
While getting the basics right is simple enough, fine-tuning will set you apart from the competition.
Pay attention to your analytics.
The best way to market yourself across all Google apps is to:
Keep your information up to date.
Keep your social proof (customer reviews) positive.
Make certain that your visual presentation is always top-notch.
More Resources:
---
Image Credits
All screenshots taken by author, October 2019