We all know how important title tags are when it comes to SEO. Not only for ranking but it will also be the first piece of information a searcher will see about your site. I like to think of a title tag as a first date. You want to look better than you really are, and hope you can impress just enough to cover up future blemishes that someone might get to know.
So, the question is how do title tags translate on the local playing field? I am sure by now you have seen that when the integrated local results show up (aka the O-Pack) there are usually quite a few organic listings tied to a places pin like the followed…

When the O-Pack came out, it was a big enough change to the locosphere that I decided that I needed to do some extensive research into what makes the pack tick. So, I put together a study of the following over the past few months…
28 Google Places listings that are ranking 1-7

28 Google Places listings that are ranking 50-56
Listings were examined from the following keywords:
Chicago Personal Injury Lawyer
New York Divorce Lawyer
San Diego Dentist
Dallas Dentist
In all I took 56 listings in 4 cities across the country in the law and dental categories. I generally find that these are well optimized categories in local search that have very little "luck" involved in rankings. While the research covered 27 separate factors, one of the things I found most interesting has been the use of title tags.
Where Does Google Places Get the Title Tag From?
Generally speaking, the first 5 results in the O-Pack pull from the title tag of the website page that Google thinks is most relevant, and the remaining listings pull from the Business Name given in the Places account.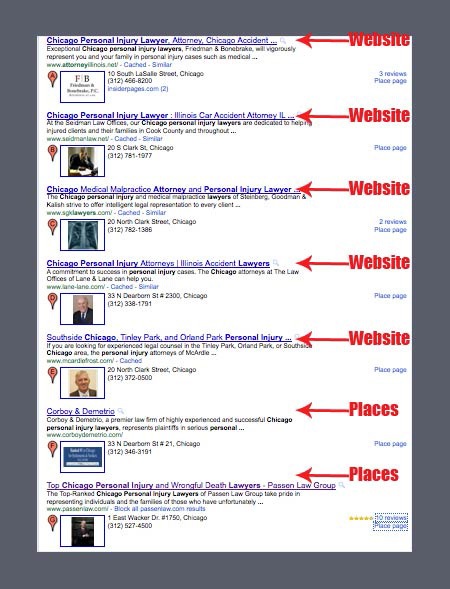 This was the case for all results that were examined in my research. I have seen a few exceptions to this, but only a few. So, bottom line, gone are the days where you could get by without a good website for a Google Places listing. You used to be able to rank a company who didn't have a website, and you could work wonders with companies that had a website (Even if it was built with website tonight). Now, not only does your title from your site populate on your Places listing, but it holds effect on rankings.
How Many Websites Had The Keyword Search Phrase In The Title Tag?
22 of the 28 High Ranking Places listings (79%) had the keywords in the website title tag. Whereas 12 of the 28 Low Ranking Places listings (43%) had the keywords in the website title tag.
16 of the 28 High Ranking Places listings (57%) had the keywords first in the Title Tag. 8 of the 28 High Ranking Places listings (29%) had the keywords first in the Title Tag.
How many Listings have the Business Name in the Title Tag?
17 of the 28 High Ranking listings (61%) have the Business Name in the website Title Tag. 15 of the 28 Low Ranking Places listings (53%) have the Business Name in the website Title Tag.
All of this data is shown in the graph below….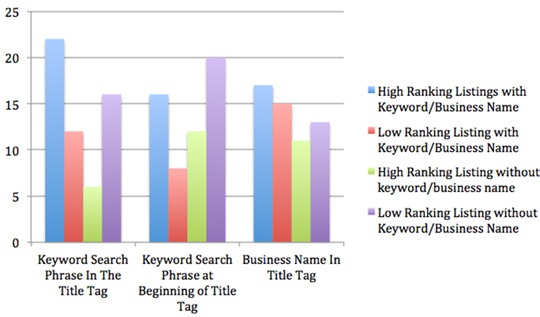 A few interesting observations…
When the O-Pack came out in late October, it didn't take very long to realize that normal SEO ranking factors were now a very large part of local search. My studies have verified that to me. But, I also felt that there were some factors that were being overlooked.
Local Search is all about proving your local prominence through your Business Name, Address, and Phone Number. I couldn't help but think that businesses would do well to include all of this information in a title tag. Only 1 business had their phone number in the Title Tag. None had their address. But, as I looked deep into the listings (past the top 7 in each category) I didn't see any listings that had this information. It simply hasn't been done on a large scale.
So, I ran a few tests and they seemed to look a lot like this….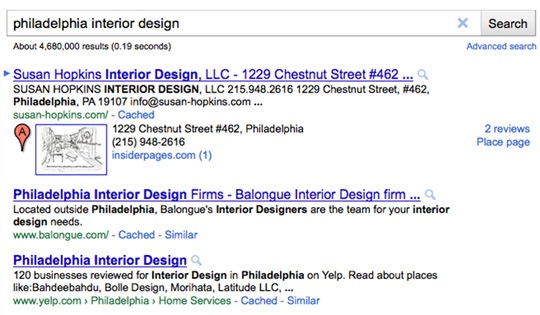 The site in the first position doesn't have a superior link profile, a higher pagerank, a crazy amount of citations, or anything else that would peg this listing in front of many others on this list. But they have the NAP information prominently displayed in a big way. I haven't shared this with many people as it isn't something I can prove or disprove with the little data I have, but the results are interesting to say the least.
My Thoughts On A Title Tag For Local Search
For rankings, I think it is very apparent that having the keyword phrase listed is extremely important and probably at the first. This is new in local but simply a transfer from our normal good ol' SEO factors.
For Recognition, I think that it is very important to include your business name on your home page title tag. Many people try to stuff a title with only keywords. But from a local search perspective, you should be advertising your business on a lot more places that just online and if they search, see your business name and recognize it from either friends, billboards, print, phone books, or anything else, then the chance of you getting the click/call will go up dramatically. Does a business name effect rankings? I don't know, but it doesn't hurt them and I definitely think it will help your click through rate if it is included in your Title.
For Best Results, if you are in the top 7 then you better get to the top 5. I would much rather have control over what a user sees as the title to my listing than letting Google show only the business name.
There is a lot more information that I have found interesting during my research of the O-Pack results from Link Profiles to Reviews, and Citations to Category choices. I will be publishing more in the coming weeks, and will probably release the data sheet for anyone to see what they can find as well.