There you go, what has been buzzing around for the couple of days is now finally official. Google has just rolled a new search feature for discovering millions of songs via the same simple Google music search interface.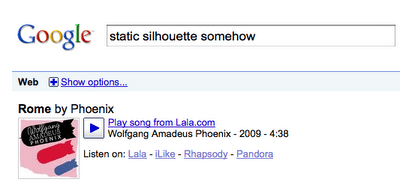 So now every music-related query that you do on Google's music search will give you search results with links to an audio preview those songs. This is made possible through Google's collaboration with major online music players MySpace, iLike and Lala. The feature will let you preview the song right on the Google SERPs. Links for purchasing the songs are also provided through MySpace and Lala.
Aside from this, if you don't know the specific details of a particular song, the Google music search feature will link you to relevant information found on Google's music content partners – Lala, Pandora, and Rhapsody. You just need to enter some lines in the lyrics of a song and Google will help you find that song. Google will index these sites and provide you with results related to your music-related query that are linked to the contents on those three sites.
Google's music search feature will be rolled gradually in the U.S. International users will have access to the same search feature later on. More details plus a demo vide can be found here.