Good quality content is incredibly important to modern SEO and providing user value.
That's why any copywriter, whether working on an agency or freelance level, should understand the importance of keywords and the research behind them.
I've met many good copywriters who don't understand keyword research – and I've also met not so good ones who do.
Regardless, successful SEO starts with keyword research.
It's worth taking the time out to teach and help a copywriter grasp the basic concepts of keyword research and why it's important to their work.
Understanding Long-Tail Value
Helping a copywriter understand high volume keywords is easy enough. After all, these keywords are more likely to drive the most traffic and attention.
Getting a copywriter to understand why long-tail keywords matter in SEO might be a little more difficult. At least until you explain that long-tail searches often are rich in intent.
Additionally, more people are using voice search.
In fact, roughly 20 percent of Google mobile searches are performed using voice search. This has changed the keyword landscape because people are searching using full sentences and asking questions, rather than just typing in short queries.
It's also worth pointing out that long-tail keywords are the savior for small and niche businesses, especially ones that rely on local SEO.
For instance, a taxidermy store probably won't perform well if it merely targets "taxidermy" or even "taxidermy stores", but a campaign that revolves around long-tail keywords such as "taxidermy stores in London" might not only get more traffic, but it might secure more business.
What's more, if you're a taxidermy business that's looking to undertake paid search marketing campaigns, the likelihood is that you're going to have a slower, but far less expensive campaign – not that your average copywriter needs to know this.
Getting a Copywriter to Research Long-Tail Keywords
The truth is that it's not in the usual remit of a freelance copywriter to do their own keyword research. This is often supplied by an agency or yourself if you happen to be working for a business carrying out its own SEO.
However, if you want to get an in-house copywriter more involved in the SEO process (something I encourage for the benefit of everyone), it's definitely worth introducing your average copywriter to keyword research.
For one, you'll be expanding someone with a "soft skill" and helping them progress a little into SEO, and for another, you'll know that if you need someone to get a task out of the way for you (for whatever reason), there'll be someone at hand who might just enjoy getting their head out of Microsoft Word for a bit.
The Beginner's Toolkit
When training a copywriter on keyword research, it's usually best to start with the most basic tools.
After all, it's better to learn how to drive a car before you get behind the wheel of a monster truck.
Google AdWords Keyword Planner
The first tool I go to when teaching people how to get started with keyword research is Google Adwords Keyword Planner.
Don't rely on this as your only training tool. However, for someone who's head isn't quite in an SEO sphere yet, it's probably one of the best places to start.
Like many tools and apps Google creates, it's easy to understand, offers a lot of support both in written and visual form, and takes you through a step-by-step process of setting up a campaign.
Often I take a person through the planner using an imaginary business, but I find it best to pretend we're setting up a campaign for the company at-hand, usually the agency I work for, so the person can really understand the ins and outs of what's needed.
SEMrush Keyword Analytics
The next keyword research tool to introduce your copywriter to is SEMrush. This great tool will give your copywriter a view of the bigger keyword picture.
SEMrush is pretty cool for multinational environments and when you want to find out what your competitors are up to and where they're getting ahead of you in search.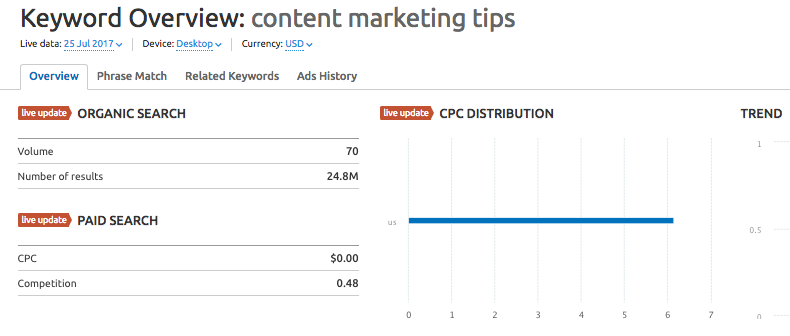 It's important not to forget about competitors when you're teaching someone about keyword research.
Although a copywriter will often look at competitors for content ideas, it's worth taking the time out to go through a set of competitors to get the juices flowing.
But going back to long-tail keywords, SEMrush has a talent for offering accurate and abundant keyword data for both local and international versions of Google and Bing.
Similar to Google Adwords Keyword Planner, once you've been about it for an hour or so, it's pretty easy to navigate and get into the meat of what you're searching for.
Cognitive SEO Keyword Tool
Cognitive SEO's tool stands apart from any other keyword planner.
Why?
Unlike other tools, this keyword tool doesn't just give you keyword suggestions. It also tells you what you should do next to improve your rankings.

The extra information that the tool supplies have so far been a great help and we're just beginning to implement them.
For that reason alone, you should include this tool in keyword research training with a copywriter, especially if you're dealing with a niche business or industry.
Others
Of course, there is a range of tools on the market that is perfectly good, but for something a bit more encompassing, these are the go to ones I would use when explaining the keyword process to copywriters, or any other people that are just breaking into the SEO business.
---
Image Credits
Screenshots taken by author, July 2017.