Search Engine Journal has been on WordPress for just over 10 years– we moved from Blogspot to our own hosted WordPress installation on April 22, 2004.
Since then we've become only further committed to what has since become the most popular CMS out there, and for good reason: WordPress is flexible, scalable and has a wonderful community of developers, users and evangelists.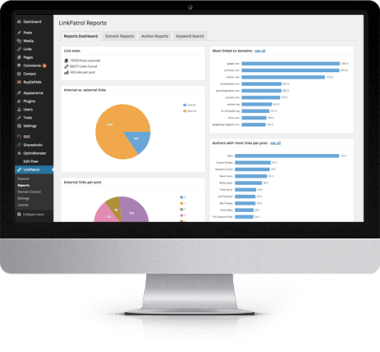 Today, a decade later, we've released our own WordPress plugin called LinkPatrol. LinkPatrol helps site owners find, review and clean up outgoing links in posts ​and ​pages.
Why did we create LinkPatrol?
SEJ is a large, complex blog that, over the years, has accumulated many guest authors and even more posts. However we have rarely resorted to customizing WordPress. Whenever we have a need for a utility or feature, there's always been a great selection of plugins out there that meet our requirements. Well, almost always…
In reviewing some older posts, we realized we had a problem: outbound links. Specifically, links with spammy anchor text or links to spammy domains.
Despite our best intentions, over the past 11 years some overly promotional links had slipped past editorial review. Other links were legit at the time they were included, but with many Panda and Penguin generations since passed, the domains had been penalized or were now totally different sites.
With the Google gods cracking down on links both incoming and outgoing, we knew we needed to assess our outgoing link profile, and take action accordingly.
With so many links and posts, manual review was going to be extremely tedious and possibly take longer than a tar pitch drop experiment. We turned to the WordPress plugin market to find a solution. A plugin that would ideally:
analyze our linking out profile
enable us to easily sort and search by keyword, domain and author
enable us to easily no-follow or strip links, all from a WordPress dashboard.
There was nothing.
We had a choice:
Conduct an exhaustive (and expensive) manual audit: eyeball every single post, examining all links and anchor text. Thereafter, conduct periodic audits on new posts.
Build our own WordPress plugin.
We decided to take the plunge and go for door #2. Our CTO Slobodan Manic has a lot of experience creating WordPress themes and plugins, so he was excited for the challenge.
We created a plugin that enabled us to run reports that showed…
all the domains we link out to
all the anchor text used
all the keywords and domains linked to, by author
search results for any of the above
Lastly, the plugin empowered us to take action: we could no-follow or remove links on an individual or domain basis.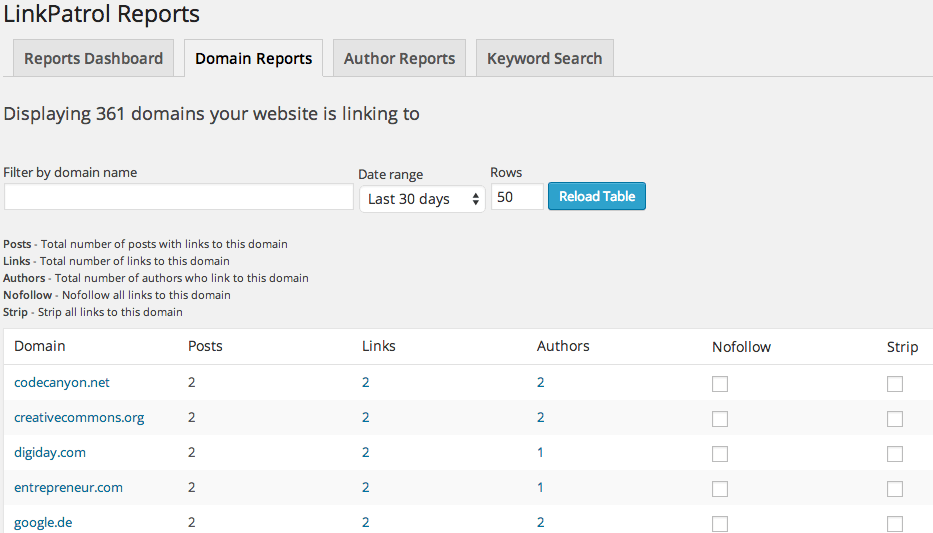 It was enlightening (and frankly somewhat entertaining) to go through the reports. We found:
Links with promotional anchor text. Coupons anyone?
Links to spammy domains… URLs withheld to protect the not-so-innocent
It was satisfying to fix dozens of problem links with a couple of clicks.
After using the plugin for a while, we realized others could find it useful.
What is LinkPatrol good for?
Single author blogs. You've written every post on your site, but who can remember every link, keyword and domain you've included in all your posts?
Blogs with multiple guest authors. If you've kept up with the times, your guest author linking policy has changed at an increasing rate. What was OK 2 years ago or even 2 months ago may need a re-visit. And examining outgoing link profiles on a per-guest author basis can be well, interesting.
Sites with new owners or new management. Just bought a website and need to clean up what's under the hood? Or perhaps you've just taken on an editorial role for your company blog, and need to clean house. Or, your client has asked that you manage their blog for them. Domainers, webmasters, marketing agencies: LinkPatrol can help.
What LinkPatrol doesn't do
LinkPatrol doesn't provide a qualitative assessment on links. That is, it doesn't pass judgment on domains or anchor text as being "good" or "bad". We leave that decision for the user to make based on their own SEO & linking strategy and their respective vertical.
For more info on what are good links or bad links, Moz has a terrific guide. Or, here's Google's own webmaster guidelines on links.
Also, LinkPatrol does not identify links that redirect or are broken links. For identification of broken outbound links, we suggest Xenu Link Sleuth or paid auditing tools such as Raven Tools or DeepCrawl.
LinkPatrol available for $25 until July 22
LinkPatrol launches today for an introductory price of $25 for a single website license. Price goes up to $50 on July 22.
The team and I would love your feedback, thoughts, questions in the comments below.