Ladies and gentlemen- Google Buzz has now been announced! It looks like Google inadvertently answered my "social hub" prayers today with everything that Buzz has to offer. First thing I noticed: does Buzz sound familiar? That's right, Y! Buzz already exists. It seems like Google is going to be direct competition to good old Yahoo.
Unfortunately it hasn't went through to everybody yet so I don't have any screen shots or usage notes to give you. I can, however, offer you a quick cheat sheet with all the juicy details!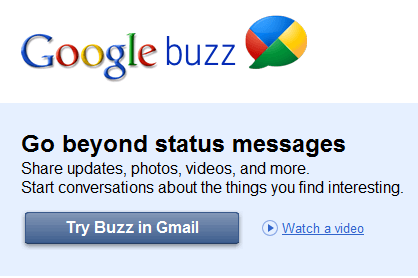 Automatic integration of your email and chat contacts.
You can decide whether you want your ideas to be private (secret diary style) or public.
Comments will be sent right to your inbox so you can have instant access to them.
You can now see thumbnails for photos or just browse full-screen images that are available from popular photo websites.
You can import your stuff from Google Reader, Flickr, Picasa and Twitter so you won't have to personalize everything again.
Updates will be in real-time. You won't have to worry about developing an automatic finger twitch from constant manual refreshing.
In true 21st century style, Buzz will adapt to you, funneling in interesting content and denying the content that will be most likely unappealing to you.
If you're curious and want to see a quick preview:
Buzz will also be available for your phone and will allow you to tag your posts with your current location. When available to you, you can access it directly by visiting buzz.google.com from your mobile device.
Please check back soon for a follow up post about my first hand experience.
…Now, do I get bragging rights to say that I'm psychic? I DID just publish that post about their social hub… 🙂