A recent survey found that 53 million Americans are freelancing – which is a total of 34% of the workforce in the US. (I suspect in the digital marketing field, that number is much higher.) This means that nearly a third of the working population is hustling and looking for work – likely on a regular basis.
I am part of that statistic. In February of 2014, I left my full-time corporate gig to work with a number of clients – including SEJ.
At the time it was terrifying. Today, I can't imagine living any other way.
If you are a freelancer, you know there are benefits and drawbacks. Sure, you can work at home in your pajamas, but you also have to be the master of your own schedule. There is no boss – but that also means there is no one setting deadlines but yourself.
If you are considering going freelance – either part-time or full-time – it can be a struggle to figure out where to look for work. This article will hopefully help you find a few more places to look for freelance marketing jobs.
If you are considering making the jump to full-time freelance, I highly suggest you give this podcast "How to Make the Leap to Full-Time Freelancing" with Kelsey Jones and I a listen.
If you are looking for freelance marketing jobs, here are the best places to look. Some are paid, some are free, some require a little bit of sifting to find the good jobs. All come personally recommended by SEJ staff members or by people we know. None of these sites paid to be included.
FlexJobs
This is a paid site, which I normally don't go for. But, this site came highly recommended by Kelsey Jones, Executive Editor here at SEJ. What I like about the site is that it focuses on flexible work, including remote and part-time work. You start by creating a profile and resume, and then you can sort jobs based on location, industry, category, amount of travel, etc.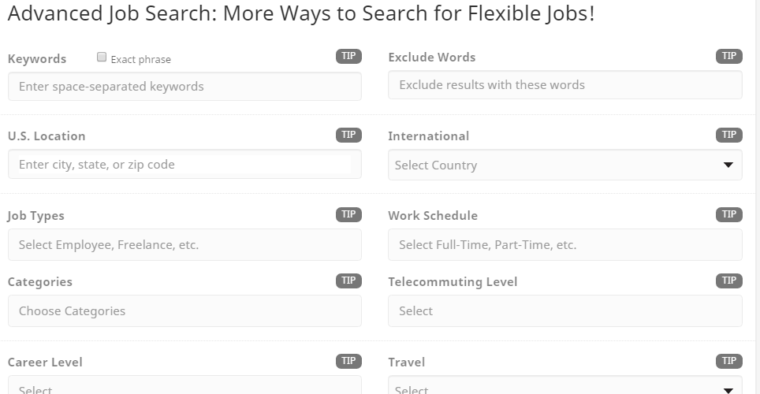 You can also take skills tests, research companies, and get tips and suggestions for your job search.
ClearVoice Marketplace
ClearVoice is a software that helps brands create better content, but they also have a marketplace where freelancers can connect with brands looking for high-quality content. Most of their leads are high-quality and pay pretty well (a few hundred dollars per article).
You can't browse opportunities, but the site does email you when a job that matches your skills comes available. ClearVoice takes a cut of the payment, but that is pretty normal. Articles are submitted through the site, which works as a CMS and project planning software combined.
I like the level of work I have gotten through the platform, but the jobs (for me, at least) tend to be few and far between. This likely isn't a place to find full-time work, but can help fill the gaps in your freelancing calendar and get your name out there.
Learn more about finding freelance work in this episode of freelancers forum:
LinkedIn Profinder
An off-shoot of the social network, Profinder helps match brands who need work done with freelancers who can do the work. So far, I haven't been super impressed with the matching, but it does seem to be getting better. I get a few emails a day with leads. I have applied for a few jobs, but have never heard back.
I do like the way it pulls info from your LinkedIn page to create an easy to look at resume.
The jobs are not open very long (which I like!), but you also don't get payment protection the way you do through other sites like UpWork. The site is just getting started, but I do recommend getting an account and keeping an eye on it. I suspect it will get better in the future.
Media Bistro
This site focuses on media jobs as a whole, which is great for freelancers who have skills in multiple areas (most of us, I am guessing!) It is more of a job board than a platform, but you can sort jobs easily using the function in the left sidebar. You can also set up a search and have them email you when jobs new jobs that meet your criteria come in.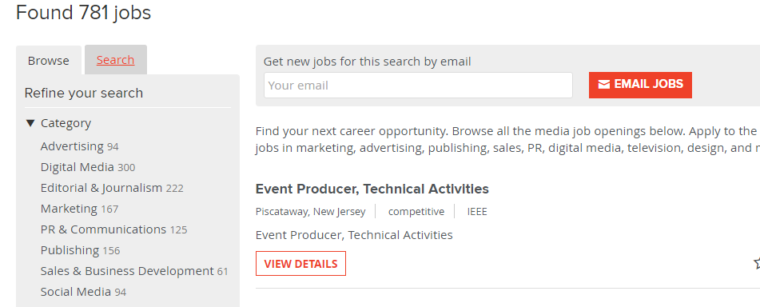 Problogger
This is one of the better job boards, although most jobs are for writers, bloggers, or content marketers. If that is your area of expertise, this is a great place to look. The board doesn't have any frills, you have to look through each job listing, and some of the jobs aren't super high paying, but definitely a good place for writers to find jobs. The companies who post have to pay, so there tends to be less low-end jobs.
UpWork
This platform has a special place in my heart because it is where I first connected with SEJ. There have been many changes over the years, but it is still a great place to find work. It offers payment protection; you can create a profile and take skills tests, and sort through job listings.
Detractors will point out there are a lot of low paying jobs on UpWork, which is true. But the platform makes it pretty easy to sort jobs by level, industry, keywords, etc. You do have to be careful, but I think there are still plenty of good jobs to be found in all the noise if you are willing to look.
Craigslist
Yep, good old Craigslist can be a great place to find high paying clients. If you don't live in a metropolitan area, I suggest looking in cities such as New York, Los Angeles, San Fransisco, and Chicago.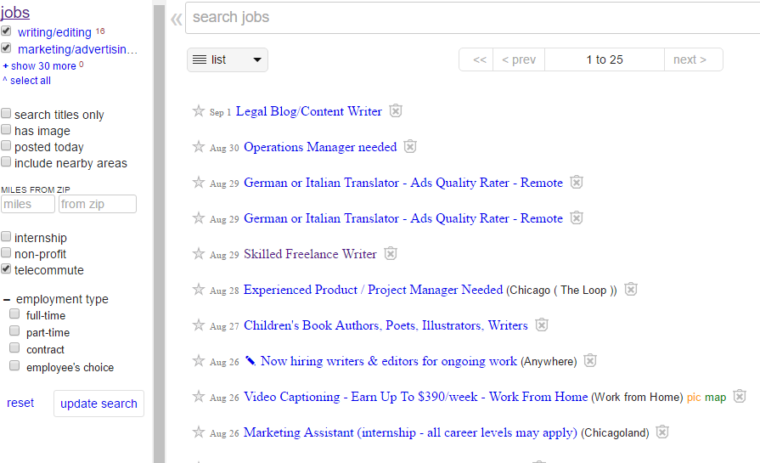 Many of the postings are for remote positions, but they post them in areas with the highest traffic. This article gives a great run through of how to navigate looking for a job on Craigslist without wasting a bunch of time. The site also has an easy to use filter function so you can choose "telecommuting" and the industry you are interested in.
Pro Tip: Don't forget about the "Gigs" section located right under "Jobs."
What Are Your Favorite Places to Find Freelance Marketing Jobs?
These are the best places for freelance marketers to find clients, at least in my opinion. Everyone has their favorite, so I want to know – what is your favorite place to find freelance jobs? Share your suggestions in the comments!
Image Credits:
Featured Image: Deposit Photos
In Post Images: Taken By Author