It seems like podcasts are everywhere today.
Ariel Stulberg of Vox wrote that podcasting is taking off now because of "the happy convergence of three big trends:"
Technology has made listening to podcasts easy

Talented professionals have flocked to the medium

The product is more polished than ever before — and

making money
There's also a low barrier to entry.
"You do not need to be a very technical person, nor do you require a lot of money to start a podcast," writes Corey Ferreira, a content creator at Shopify and author of "How to Start a Podcast: The Ultimate Step By Step Podcasting Guide."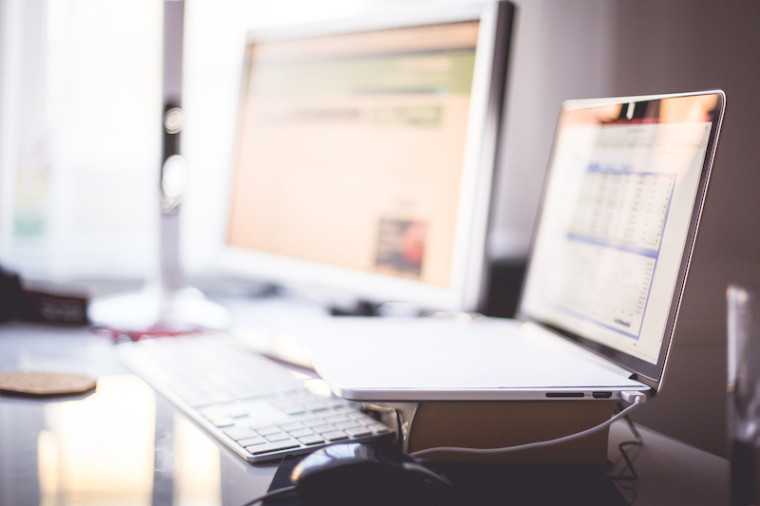 Podcasts are easy-to-consume content that you can listen to just about everywhere.
"[They] can be listened to on the go, while in the car, and even while working," adds Ferreira. "It's not a content medium that requires all of your audience's attention like a blog post or a video…. podcasts are on-demand, which means your audience can listen to what they want when they want it."
Podcasts: A Medium Becomes Mainstream

Where were you when you first listened to "Serial"?
OK — this might not be the most iconic of "Where were you when" questions. But the launch of the podcast in fall 2014 seemed to have the same unifying effect.
I was at my desk when I saw a tweet from a fellow SaaS content crafter talking about a captivating true-life show. The second episode was already live, so I listened to both back-to-back — and was hooked.
Word spread, and our marketing assistant, lead content marketer, and our senior salesman were soon listening and conspiring together. Each Thursday was more exciting than the last as another episode would debut. Spoofs appeared everywhere from Saturday Night Live to Funny or Die. A hit was born.
"Serial" became the fastest podcast to reach 5 million streams or downloads on iTunes. As of March 2015, the 12 episodes from season one had been downloaded 75 million times.
Podcast Fast Facts
Eight months ago, Pew Research Center published "Podcasting: Fact Sheet." Here are three major takeaways:
The percentage of Americans who listened to a podcast in the past month has

nearly doubled

since 2008, from

9% to 17%

.

One-third of Americans —

33%

— over the age of 12 have listened to a podcast.

Awareness of podcasts has

more than doubled

since 2006; nearly half (

49%

) of Americans 12 years of age and older are familiar with podcasting.
I spoke to Brendan McDonald, producer of the mega-popular "WTF with Marc Maron" podcast.
"I'm thrilled by the growth of podcasting. 2015 was a very exciting year," said McDonald. "But I'm a realist. The overall podcast audience is still fairly small compared to other forms of media, and, in fact, we've seen some of the growth lines flattening out over the last eight or nine months.

That's not to say podcasting is fading, but the growth is not jumping up as rapidly as it was for several years. Probably a correction, quite frankly. There may have been a bit of an inflated bubble for a while there."
Stephen Lacey echoed similar sentiments on audience numbers in his article for "The Timbre" (emphasis my own). While podcasting listening hours have increased, "the number of overall listeners increased modestly. This suggests a deeper challenge: the industry's growth is coming primarily from a small base of hardcore users, not from a surge of new listeners."
So how can podcasters reach a wider audience? Through a greater presence online and off.
How to Increase Your Podcast iTunes Reviews
Before we dive into how to increase reviews, let's answer the why.
iTunes reviews are important for your podcast to be discovered in the iTunes Store, for podcast feed apps, and to secure potential listeners. One obvious way to get positive reviews is to put out an excellent product. From there, positive reviews can sway a podcast window shopper.
"If someone visits your iTunes page and is on the fence about subscribing, your reviews act as social validation for the quality of your podcast," writes Ryan Hanley in his post for Ana Hoffman's Traffic Generation Cafe.
"iTunes reviews are hugely important," agrees Peter Starr Northrop, the Bounce Exchange webinar and podcast producer.
When it comes to securing reviews, Northrop shared three tips for tapping into your fanbase:
Get the right reviews:

"Don't be one of those shady weirdos who pays for [them]," he said. "Ask your audience to review your show and tell them why it's important they do so."

Invoke your squad:

Let your fans feel like part of the promotional process. "Let them know their reviews help build your community. Your review call-to-action (CTA) should tell your audience

why

you're asking."

Be upfront and have integrity:

"It always helps. You can deliver CTAs to people with honesty and integrity that still have effectiveness."
McDonald adds that being featured on the iTunes page in a banner or in the New and Noteworthy section can equal new listeners too. And while he understands a "high ranking makes a huge difference for a lot of shows, especially new ones," he also has a different approach to iTunes.
"Granted, I understand our show is in a privileged position because it's popular," he began. "But I know there's such a massive disparity between the number of actual downloads versus the position on the iTunes chart, that I really can't get too worked up about where any show falls on that leaderboard. Therefore, we don't bother asking our listeners to review or rate the show on iTunes, which I understand greatly weights the ranking."
For those with podcasts still trying to find their footing and gain a following, here are some ideas for you.
How to Grow Your Podcast Empire
You'll want to get settled with podcast hosting and RSS feeds. From there, publishing apps and networks exist to help promote podcasts.
Still looking to get noticed? Here are seven more ways to share your podcast and grow your community.
Podcast Directories
Submit your podcast to directories, beginning with two of the major ones:
Last October, rumblings started that Google Play Music would start hosting podcasts. As of Feb. 2016, this message is still displayed:

Here are more niche and general directories where you can submit your podcast.
YouTube
More than 1 billion users visit the video sharing website a day, and it's the second most popular search engine next to Google.
You can use your YouTube channel to upload entire episodes with a static image or rotating pictures. You can create a teaser video and then direct viewers to your podcast. Or, you could create a preview to an upcoming show.
(Social) Media
Charley Locke wrote about the need for podcasts to expand beyond audio in an article for WIRED. She cites how "shareable clips, photos, GIFs, interactive maps, and videos" help tell the story for the latest season of "Serial."
If your community or target audience flocks to social media to talk about podcasts, then establish pages and share your content across several platforms.
Serial has thriving communities on Facebook and Twitter. Jumping off Facebook, Jon Loomer breaks down how he promotes his podcast through ads. (This article is a year old so the steps might require some tweaking.)
The Nerdist podcast recently celebrated its sixth birthday. It spread the good news on Instagram and racked up over 4,000 likes.
And don't count out Pinterest. In her Entrepreneur article, "11 Clever Ways to Promote Your Podcast to the World," Joan Stewart suggests creating a pin with a short episode summary and relevant keywords, like this one from DollarsAndSenseShow.com. [Editor note: we do this with Marketing Nerds.]
"The best marketing tool is always going to be word-of-mouth, and social media really lends itself to that," says Delaney Simmons, social media director for WNYC, quoted in the same WIRED article.
Email Marketing
"For more business-oriented and hyper-targeted podcasts, email is the only sure thing," says Northrop. But, get your priorities straight.
"To paraphrase some anonymous person on Reddit: 'Art is how people decorate space, audio is how people decorate time.' Make sure what you're making isn't an ugly decoration. Then, establish a firm-but-non-obnoxious email marketing campaign to bring folks back," says Northrop.
Of course, you should also directly message colleagues and others in your network to help spread the word.
Digital Media
Make friends with others in the digital media space.
"Most of our growth corresponds with visibility on similar digital platforms," says McDonald. "When [Marc is] featured in a highly visible digital publication we have a significant audience increase."
So, seek out opportunities on other podcasts and interactive media.
Digital Marketing
Northrop says marketing automation is key.
"I've used Act-On and Marketo to promote audio. If you're creating something more broad, you'll need a social tool like Buffer or Hootsuite to start building that broad audience," he says.
Also, don't forget about traditional search engine optimization when it comes to using keywords and developing descriptions for your podcast episodes. Plus, on the page where you host your content.
Northrop adds, "Getting a lot of targeted articles on the site where your podcast is hosted will work wonders."
Here are three other tools and platforms Northrop uses for research and growth opportunities:
SEMrush:

A gateway to audience-building. "You can figure out which keywords your potential audience is searching for, find holes in your content, and write and publish articles that will drive that audience to your podcast."

BuzzSumo:

Good for finding up-and-coming thought leaders in the industry.

Tumblr:

Useful to promote niche content. "If you manage to break into a community that follows the theme of your show, you can do a fine bit of audience-building."
Content
Regularly produced — and scheduled — content is king.
"That's the best promotion," says McDonald. "People are still discovering podcasts, so as long as we are continuing to produce at our twice-weekly output, our reach to podcast users is substantial."
He adds: " There are no guarantees. With 'WTF,' even though we consistently exceeded our expectations for audience growth, it took a year before we were confident there was a sizable, regular audience that was not going away. We didn't chase that. We just kept our heads down and continued to deliver two shows every week, without fail."
That ties back into word-of-mouth: Is your content worth talking about? Using the "Serial" office example from earlier, we connected in-person about the show and referred others to check it out. It's a powerful tool not to overlook.
In Conclusion
Podcasting will continue to evolve this year due to technological advances and changes in listener behavior. And as they become more popular, it will be interesting to see if more people gravitate toward the medium.
The stage is set for 2016 to be a huge year in podcasting. Best of luck finding and growing your audience!
Do you have a podcast, or are you looking to start one? What changes are you most excited for this year? Let us know in the comments.
Image Credits
Featured Image: TheAngryTeddy/Pixabay.com
In-post Photo #1: Viktor Hanacek/Picjumbo.com
Screenshot by Kathleen Garvin. Taken February 2016.