With the recent release and popularity of Apple Pay, it's important to consider how it works and whether or not it offers an opportunity for your business. Apple Pay is a system developed by Apple that allows iPhone, iPad, and Apple iWatch users to store all of their credit cards and payment information on their mobile device. Apple claims his is actually a more secure way of paying than your traditional methods and that all of the user's cards can be accessed in one convenient location.
Sounds pretty good, right?
With more and more people signing on to using Apple Pay for their one-stop shopping liaison, it is important to consider some of the ways that this system may impact your business plan directly. Start with a breakdown of what Apple Pay is more specifically and what it can be used for, and then you can start getting into ways this impacts businesses, as well as e-commerce sites specifically.
What is Apple Pay?
As mentioned above the Apple Pay system is a digital wallet that allows users to keep track of all of their payment cards (credit or debit cards) in one place. The caveat is it is only available to users of the: iPhone 6, 6 Plus, 6S, 6S Plus, Apple Watch-compatible devices (iPhone 5 and later models), iPad Air 2, iPad Pro, and iPad Mini 3 and 4.
Apple does not specifically require people work only with their terminal system, but will also work with Visa's PayWave, MasterCard's PayPass, and American Express's ExpressPay terminals, so there is a lot of flexibility even though it is an Apple-specific system.
Ultimately, what this does is replace the chip-in pin or the magnetic strip at payment terminals. This utilizes wireless communication, similar to contactless payment that other countries already have in place. It is clear to see why this may be advantageous and preferred by many customers. At this point, it seems like the Apple Pay system can only be used at point-of-sale registers and on the app store with participating applications associated with various businesses. For those of you who operate an e-commerce site, my best guess is that it won't be long before Apple Pay can be used and incorporated with online merchant systems as well (or maybe it is time to discuss why developing an app is now worthwhile. More on that later).
For now, I will address Apple Pay as a business tactic for in-person purchases or through an app available through the App Store, while making some suggestions on how you can incorporate or promote this service in your online environment.
What Apple Pay Offers Your Clients
At this point, Apple Pay is really all about offering a service to your clients. It is convenient for them to operate and use, and knowing that your store has Apple Pay is bound to get them excited.
However, excitement aside—the Apple Pay readers are generally around $300-500, which can be a hefty cost for small businesses. Right now the system is being used by a great deal of corporate merchants including grocery stores, boutiques, restaurants, and hotels.
The entire list of Apple Pay retailers can be accessed here on Apple's site. Some e-commerce businesses (again, mostly larger corporations at this point) are also able to use Apple Pay when users make a purchase using their site's application.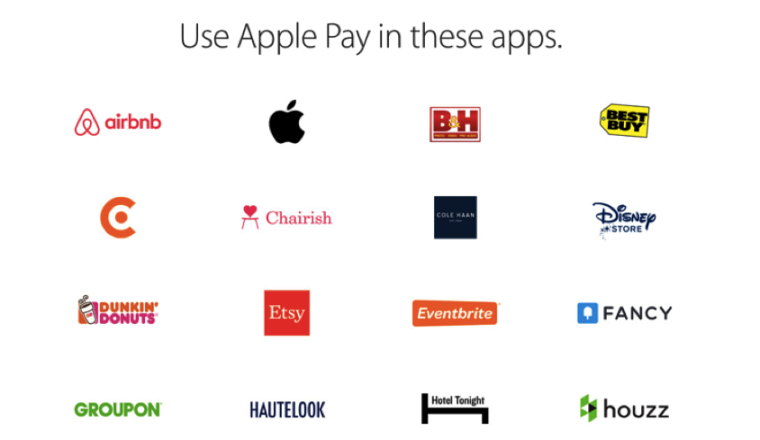 On American Express' Open Forum discussed whether or not Apple Pay was going to be worthwhile for small business. They mentioned 20% of Americans would likely have access to Apple Pay by the end of the year, that shoppers like the idea because it boosts their data security—but that ultimately the spread of Apple Pay is pretty uncertain, and it may not be worth the investment just yet.
On that note, I want to make some recommendations in the next section for small businesses and e-commerce sites who are thinking about incorporating Apple Pay into their business plan.
Franchises can also benefit from the advice I am going to provide below, and can especially benefit from the Apple Pay systems if you are willing to get multiple locations on board.
Apple Pay Advice Small Businesses, Franchises, and E-Commerce Sites
So, you have made the decision to implement an Apple Pay system in your current business plan. Here is some advice to get started:
Promote Apple Pay on your Website: Make sure you post that you have Apple Pay at your store locations on your website, that way site visitors know that they can use their contactless payment at your location. (This may sway them to shop with you over a competitor).
Develop a Mobile App: If developing an app is within reason, now is really the time to consider it. There are several developers and companies that can help you develop an application that would work well with your small business or e-commerce store, and relevant to this article, would also allow you to use Apple Pay.
Signs That You Offer Apple Pay: Make it clear at your retail location that you offer Apple Pay. While all of your customers may not be able to take advantage right away, many may be considering updating their mobile device, and this may encourage them to do so.
Take it to Social Media: If you are going to make an investment in the Apple Pay system for the convenience of your customers, make sure you let them know about it! Take some time to launch social media announcements.
Newsletters and Other Email Marketing: It is a good idea to indicate the Apple Pay logo at the end of newsletter and email marketing. Again, you are paying to have this system, so you want to let as many customers know as possible so that people can truly benefit from the service. I recommend placing the "We Offer Apple Pay" logo somewhere around your social media links.
The Takeaway
If you are going to take the time and effort (and funds) to incorporate Apple Pay into your business plan, I highly recommend you do so strategically. At the end of the day, this is something you are doing to benefit your customers, and thereby increase your business, so there is absolutely no reason not to make it clear that you offer the service, particularly if you are a small business owner.
Do you have experience using Apple Pay as a small business, franchise, or e-commerce company? Have you incorporated Apple Pay into an application that customers use regularly? Share your thoughts in the comments section below!
Image Credits
Featured Image: Denys Prykhodov/Shutterstock.com
Screenshot by Jason Hawkins. Taken September 2015.