This post was sponsored by WebCEO.
Chances are, if you're a local business, this has happened to you: You type your city and main keyword phrase into the Google search bar and think Darn it, I'm nowhere to be found. But, that's as far as it goes. Identifying how your local competitors are winning seemed to have been nearly impossible. Until now.
I just tested the WebCEO platform complete with 15 categories of SEO tools. With it, you can spy on your competitors, discover long-tail keyword opportunities, remove toxic backlinks, and so much more. It's pretty hard to believe this crazy awesome gadget collection is so easy to use. Laura Cruz said this tool could "Essentially run your SEO team."
They even let agencies put lead generation buttons on their websites that provide site visitors from certain "local" IP addresses with free SEO audits.
Now, let's be real for a moment: It's easy to procrastinate about conducting a comprehensive local SEO strategy when you're running a business or prioritizing only one or two SEO tasks.
But imagine this:
Work is tedious.
You're tired.
You want a strawberry frosted donut with sprinkles, too.
And, you want to turn your computer off so you can walk the dogs.
That's when you receive an email alert from Web CEO: one of your local competitors has bumped up a spot for a local long-tail keyword you were monitoring.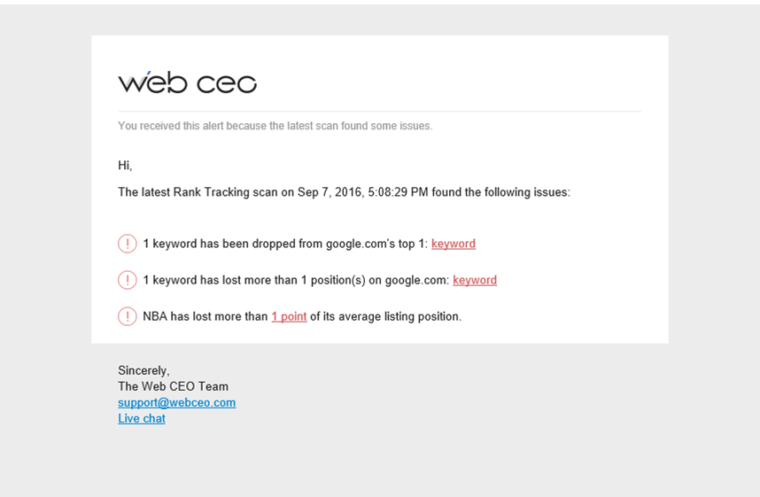 You feel tempted to ignore it. You think Meh, Google probably just crawled their site and this has nothing to do with me doing anything wrong and them doing something right.

But WebCEO can tell you otherwise.
Let's see WebCEO in action:
How to Set-Up Local SEO in Web CEO
Local SEO must be a fundamental pillar of your digital marketing strategy. While it's often viewed as a second-hand, one-time trick pony, the right local SEO strategy can have a substantial impact.
Your strategy needs to be customized to your company in a made-to-fit style that reflects who your company is, what you're doing, and what you care about. Auto submissions to directories are mostly a thing of the past.
By the way, the platform can be localized into any language via the Language Wiki, where it's already been largely translated into Spanish, French, Italian, Dutch, German, Chinese, Portugese, Arabic, Russian, Hebrew and Danish. If you or your customers use any of these languages, it takes only a few seconds to localize your interface.
Today, I'm going to walk you through how to use WebCEO as a tool to optimize your site for local SEO.
Keyword Research Tool:
For most beginner SEOs, learning how to do keyword research can feel like a rite of passage. Most of us will, at some stage in our SEO careers, stumble across a tool that takes away most of the painstaking effort involved with this. Yes, keywords still need to be selected with care and manually reviewed, but it's safe to say that WebCEO has become, to me, the "unicorn" of keyword tools.
Ideally, if your site content revolves around good keywords, you will have the opportunity to show up in the SERPs. As a baseline, let me uncover some of the cool keyword features at WebCEO:
Get Suggestions. Pretty self-explanatory, but super helpful when it comes to local SEO — this feature can help unearth some real local keyword gems you may not have discovered using Google's Keyword Planner. Just make sure you go to Settings and specify Google search statistics for the city, county, state, or country you are targeting.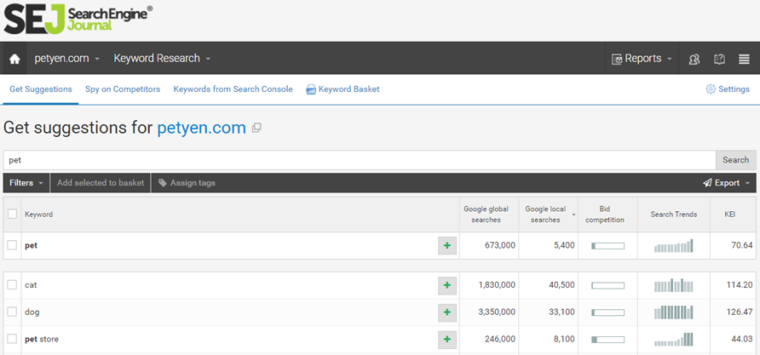 Spy on Competitors. My personal favorite part of the keyword research tool is that I can easily spy on my competitors. Just plug their URL into the tool and viola! I'm greeted with a lovely display of keywords I can optimize my own site for.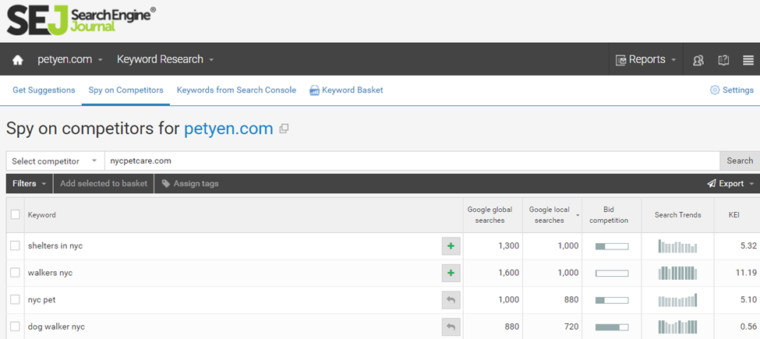 Keywords from Search Console. This is one less tab that needs to be opened on my browser. Web CEO connects to my Google Search Console so I can see what keywords people have actually been clicking on my site so far.
Keyword Basket. Here I can determine a list of all the keywords I will be considering for site optimization. I can use tags to segment the keywords based on what topics I'm targeting.
In addition to having all my keywords in one place, and being able to measure them, WebCEO connects my keywords to landing pages and reports. I can see what keywords are achieving what goals. No more assumptions.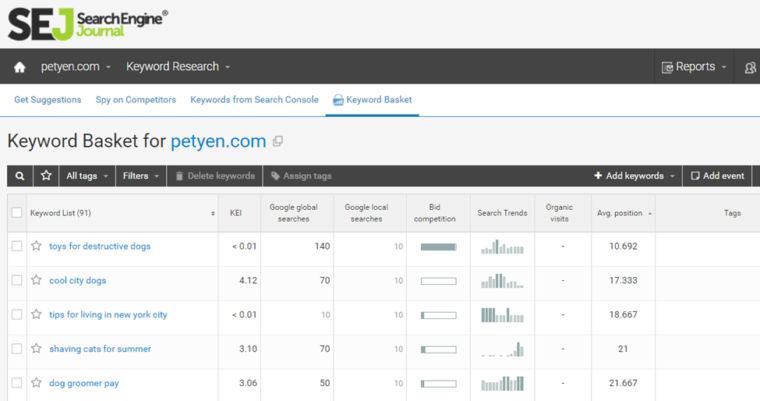 Rank Checker:
I'm an SEO consultant. Many people reading this are SEO consultants. You know the clients are always asking about how they rank locally. I want my clients to start thinking about local content creation for their blog and I've found that guiding them with keyword terms is a successful strategy.
WebCEO's Rank Tracker will show them if they're in the game or not with certain keyword terms and for which pages of their site. It will show which of their competitors are doing well for targeted terms and, from there, you can investigate why (such as by setting up extra projects to audit competitors or by going to the Competitor Backlink Spy tool to sort all the juicy backlinks competitors have bagged).
To start using Rank Tracker, go to Settings and click the search engines tab where you can add, among 300+ other search engines, Google city-specific search engines with mobile or desktop results to track. I can also get super granular with this and track by zip code. My particular client is targeting all the neighborhoods within New York City, so it's relevant for me with this client.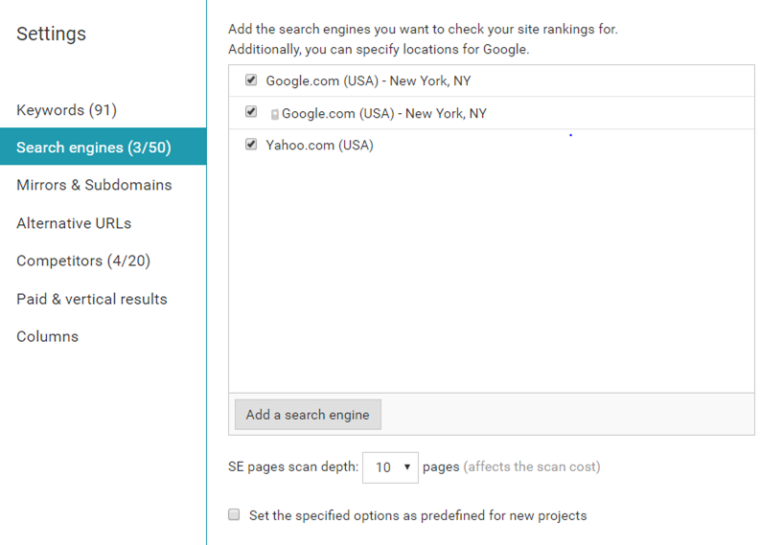 The results will show organic and vertical and paid results, all of which you can filter in various ways, with competitor rankings added via another tab. You can show a column for Global Monthly Search statistics next to a column showing the same statistics for your target zip code, city, county, region or country like this: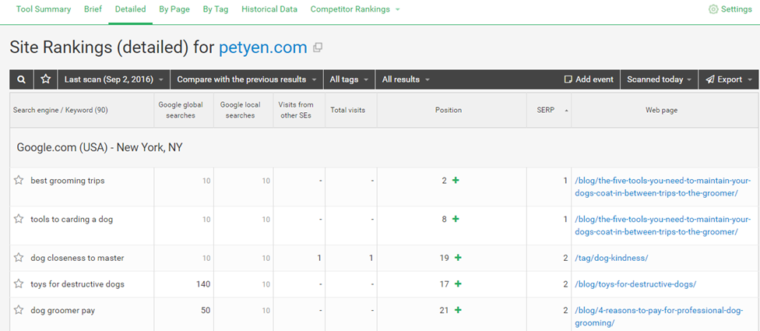 Content Submissions Tool:
If you've just launched a new site, one of the best things you can do is submit your website to local directories and review sites to win citations.
Why?
High-quality, relevant local citations improve your local SEO and overall organic results.
Mary Bowling at Ignitor Digital stated on Moz's 2015 Local Search Ranking Factors "Those who gain meaningful local links and couple it with strong on-page optimization, good site structure and useful content will thrive."
WebCEO allows me to connect to local citation sites right from the dashboard.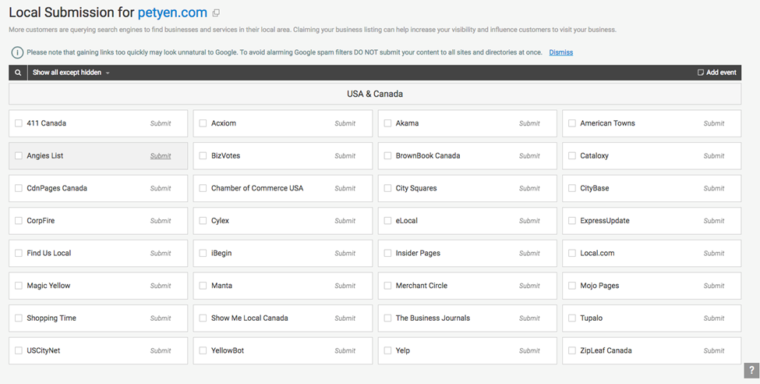 Next, I can review my submission results to see what actually went through and what didn't.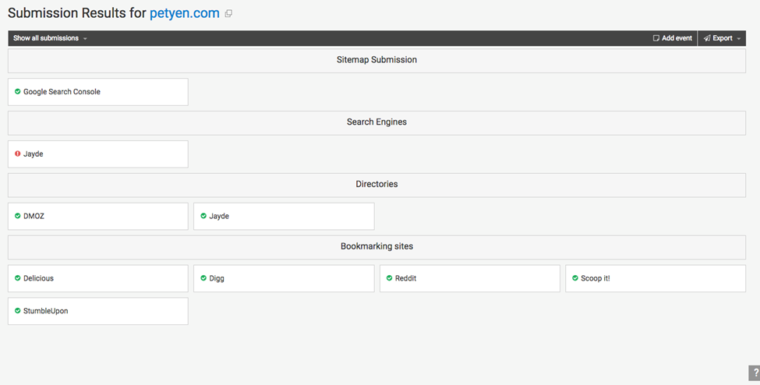 So now, I know what submission sites my client's website has been connected to and what I need to investigate further.
And, most importantly, I can use the Journal of Events to add a note for myself that I submitted my website to these specific listings on this day.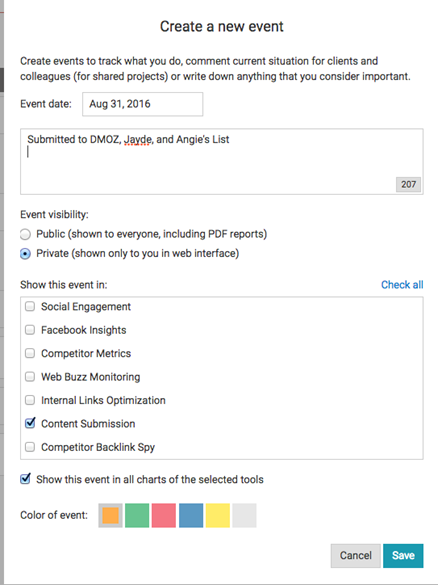 Competitor Backlink Spy:
Want to go the extra mile to beat your competitors in the search engines?
Well, that extra mile requires a little less work than usual with Web CEO's competitor backlink spy. Part of making sure you're building a high-quality backlink profile is also monitoring your competition, and measuring what type of content is providing the highest quality and quantity of backlinks for your competition. The Competitor Backlink Spy takes out that manual process for me.
SEO Analysis Tool:
An SEO audit might seem like a clinical way to approach local SEO, but there's a reason that SEO consultants like me start every project with them: they work.
Conducting a local SEO audit can help ensure that I'm ticking all of the right boxes for the most organic growth in the shortest time. For example, when I'm editing my top priority site pages for long-tail local specific keyword terms, I can use Web CEO to determine how well that page is performing for those keywords I'm targeting. Then, I can walk through the checklist of recommendations to make sure the page is optimized for the particular keyword topic.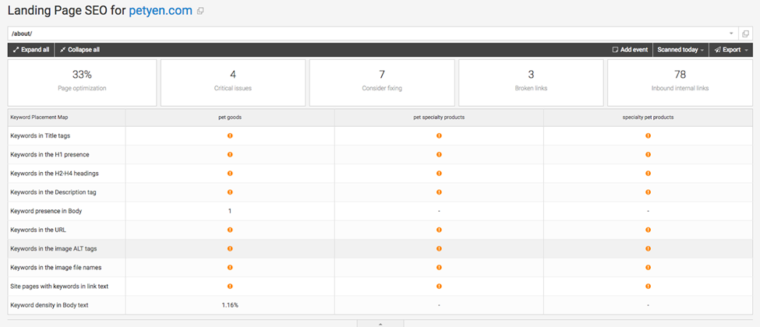 Of course, site auditing will expose general HTML mistakes that will surely hurt your rankings if you don't fix them quickly (see image below).
When doing a technical audit, luckily, my pet website was seen to suffer only some broken anchors but no broken links. I can still set alerts to warn me if any links break at any time.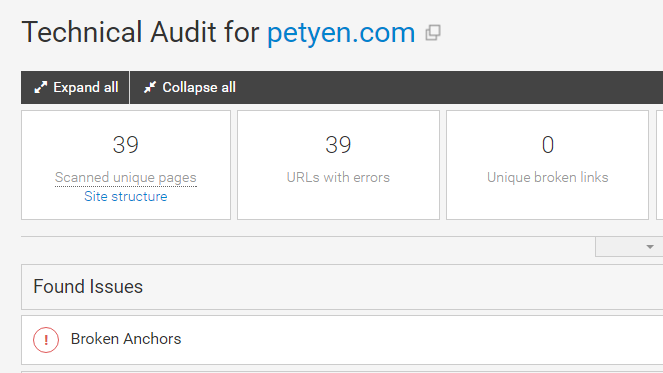 Internal Link Optimization Tool:
The other part of optimizing my client's website for local SEO is making sure my internal linking structure is optimized.
A client of mine, PetYen, is a pet startup company in New York City that is promoting dog boarding and training to the locals. In this chart I saw that, in all the pages of their website, they were only linking internally to a specific page via the anchor text "Manhattan dog boarding" one time.
With WebCEO's link text analysis I was able to see that I had opportunities to use that text to link to that specific page from more than one other page.
Making Every Tactic Count
Local SEO management is hard work, but I hope I've convinced you to commit to making every single tactic in your strategy count.
We're all human, we all need a little bit of help sometimes, and we all miss things.
But that doesn't mean that with some planning and aid from platforms like WebCEO, you can't make every local SEO tactic create value for long-term organic growth for your clients.
Image Credits
Featured Image: Image by WebCEO. Used with permission.
All screenshots by Anne Crowe. Taken August 2016.