When I ask a new client what they are looking for, the answer almost always involves either the phrase "low hanging fruit" or "quick wins". It makes sense too, we all want to find efforts that have a low cost associated with them (resource or monetary) and have a significant impact. Unfortunately quick wins frequently tend to be harder to find than high cost initiatives like revamping your entire site architecture.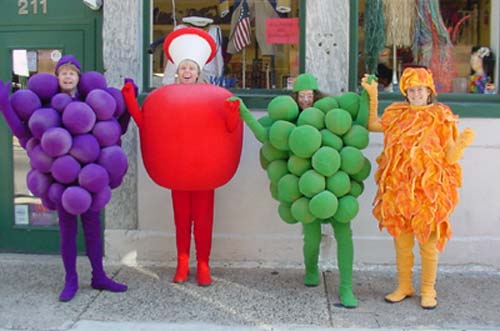 I went through some old reports and came up with the following list of Items to check that can provide quick wins:
404 Errors
While 404 errors aren't inherently bad, they can become a problem if there is a lot of link equity associated with these pages. Sometimes you can end up with several 404 error pages receiving a significant amount of links. This is frequently due to things like site redesigns (and not employing proper 301 redirects) or killing off old product inventory.
To fix this, 301 404 pages with link equity to the most similar page. If there isn't a similar page, the decision process becomes less black and white. In this circumstance, I like to redirect to a relevant parent or category page.
302 Redirects
These are bad. We all know that 302's don't pass link equity but 301's do. The good news is that these aren't your fault and you can look pretty good if you come in and have them fix a bunch of 302's and consolidate their link equity causing an increase in traffic. Easy.
Pages blocked by robots.txt
Are you orphaning link equity and prevent it from flowing to other pages? A lot of sites receive links to their privacy, TOS, and about pages but have them blocked by robots.txt. This blocks this link equity from flowing out to other pages and the link equity is stuck at a page Google can't access. Bad news.
To fix this, you should remove the page from your robots.txt file and link to important relevant pages. If you want to keep these pages out of the index, you can throw up a meta robots "noindex" tag.
Text in an image
A problem I saw quite frequently when working with small businesses was that many of their pages were done using a lot of images. The reason behind this was usually that they got the cheapest web designer they could find (or their friend's kid "does web design" and made them a site). The solution is pretty simple (but not always elegant for a small business to implement), get that text out of an image.
Having content stuck in Flash is another common iteration of this.
XML sitemaps
If your client has poor indexation but isn't submitting an XML sitemap, simply submitting a sitemap to Google Webmaster Tools can have a significant impact on indexation. It's important to understand that XML sitemaps aren't a replacement or solution for having poor site architecture.
While XML sitemaps help with indexation, they don't pass link equity so you may be able to get pages indexed but they won't rank (unless they are very long tail oriented pages). The fact that these pages aren't in the index is a sign that you currently don't have an optimal site architecture, so you should really look into improving your site architecture instead of just creating and submitting your XML sitemap in GWMT.
Meta robots noindex/nofollow
You should check to see if important pages (or sometimes all pages) are being kept out of the index. Sometimes a noindex tag will get carried over from a dev environment and will be overlooked or the tag might be mistakenly put into the code. Regardless of the reason, it happens. Check to make sure the tag is being applied appropriately.
Further, you should check to make sure the nofollow tag is applied appropriately. I've seen things like all internal links get nofollowed during a code push. Again, while it may not be common, check for it.
A great way to monitor this (as well as other significant errors) is through the SEOmoz Campaign app (warnings shown below).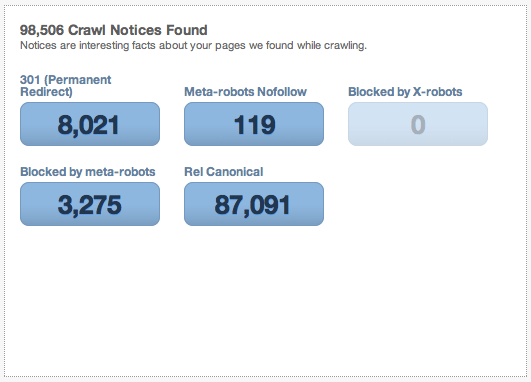 Internal anchor text
Is your content being linked well? If you aren't going to link to your own content with great keyword phrases, who will? Notice how Songsterr links to AC/DC tabs with their song name while Ultimate Guitar links to AC/DC songs with the song name + tab. Make sure you are using an optimal keyword phrase to link to your content/product.
Local businesses targeting national terms
I have seen a lot of local businesses targeting national phrases where they should really be targeting local phrases. Think about a local bike shop. Local bike shops should be targeting localized keywords like "Santa Barbara Bike Shop" versus simply bike shop or the name of the bike shop.
Canonicalization
Dispersion of link equity can be a significant problem for some sites, consolidating that link equity can have a a significant impact, depending on the severity of the Make sure that the site is canonicalized not only with the canonical link tag but also with 301s. Make sure that you use 301's to:
Establish the www or non www version of the site as canonical
Enforce a trailing slash (or not, just enforce one)
Redirect extensions of index files to the root (/index.html > /)