Remember how I mentioned why it is a good idea to find each person across several social media networks and befriend him everywhere? It's a good way to:
Grow your social media power across several networks simultaneously;
Better know your new friends and their interests;
Connect to friends of your friends across several networks.
Identify is a great FireFox extension (still experimental) that fetches social media information about the Twitter user you are currently viewing. It can be useful in two ways:
Get more information on the follower when considering if you want to follow back;
Add your new contact to friends across other social media networks.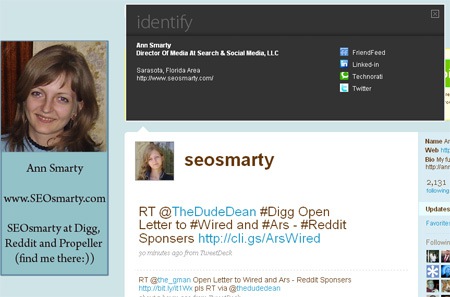 The addon is easy and quick:
Navigate to any Twitter profile;
Use the shortcut Alt+i (Windows) or Ctrl+i (Mac) to see more information about the user.
Networks that are supported (but not always work) include: Delicious, LinkedIn, Flickr, Identica, Last.fm, Technorati, Upcoming, FriendFeed, etc. Like you see on the screenshot above, with me it was only able to find 4 profiles including Twitter.