Today it is a common practice to join each and every social media network if not to participate then at least to prevent online identity theft. On the other hand, when building a new social connection it is essential to find a new friend across all known social media networks and befriend him everywhere – by doing that you will:
Grow your power across several social networks simultaneously: increase your friendship throughout a few social sites. That's why it is essential to interconnect / interlink all your social media profiles: to enable people to find you everywhere.
Make a new connection stronger: the more networks connect you and your new friends, the more likely it is that you will remember each other. It is so easy to forget people when you have about 500 friends at FaceBook, more than 1000 followers at Twitter and 2000+ fans at StumbleUpon. Those who share a few common social media communities are likely to maintain stronger connection.

A new "Social White Pages" tool Snitch.name searches for a name you specify across several popular social media sites: FaceBook, Vimeo, Flickr, Wadja, Twitter, MySpace, Hi5, Friendfeed, Netlog, and LinkedIn. As a result you will see snapshots of profile pages in an iFrame and will be able to befriend the person at all social sites from one page.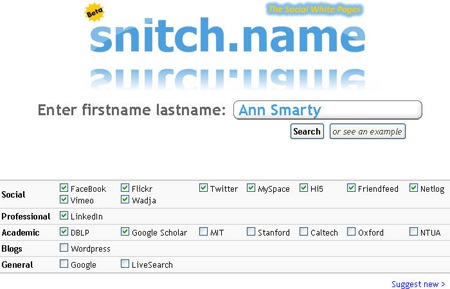 YoName.com has a bit different selection of social networks: Bebo, Blogger, Buzznet, Deviantart, IRC-Galleria, Last.fm, Webshots, Xanga, etc. However it seems to return fewer results than Snitch.name. But it is still worth checking out and search for both the person's name and username for more results.