The diversity of social media communities has brought one huge Internet marketing problem: online identity theft. If you are lucky enough to own a fairly popular unique brand name and smart enough to use it for social networking, you might have already fallen prey to this abuse (though you might be unaware of that).
Someone has most probably used your original well-branded name to register an account at a number of less known user-generated sites and talk to people online on your behalf.
The problem is neither new nor badly covered throughout Internet marketing blogs. We've all seen multiple case studies of companies dealing with this kind of abuse – let's remember SEOmoz fighting for its Twitter account as an example.
However no matter how often this problem is discussed, the main question remains: how to protect yourself from it? The obvious answer would be: register an account using your recognizable moniker at each and every social media site that exists. Of course, that's easier said than done.
At least I can suggest you a place where you should start: UsernameCheck (the better alternative: KnowEm) – that will check your username throughout multiple most popular social networks.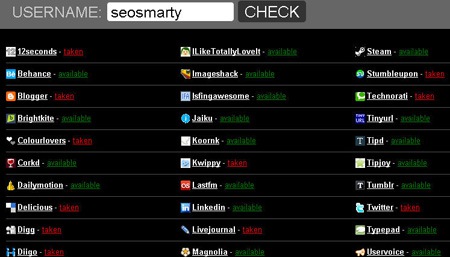 The site is a must to use in two situations:
Before launching a social media campaign: to make sure your chosen moniker is available at every social network (it might be wise to check the tool out even before registering a domain if you plan to accompany it with a number of social media profiles);
When looking for your online identity theft cases (to claim those names back before it is too late) and also to register an account everywhere where it is still available.