Just in time for the winter snowfall, Bing has rolled out two new features designed to give searchers more detailed answers to their weather questions.
Visually Rich Forecasts
Searching for the weather in your city will return an animated card based on real-time forecasts. Within the card there is an an hour-to-hour slider, which will cause the forecast and animation to change as you slide through. Major cities will have customized backgrounds — such as the New York City skyline, or the Eiffel Tower in Paris. Other cities will see a color based gradient.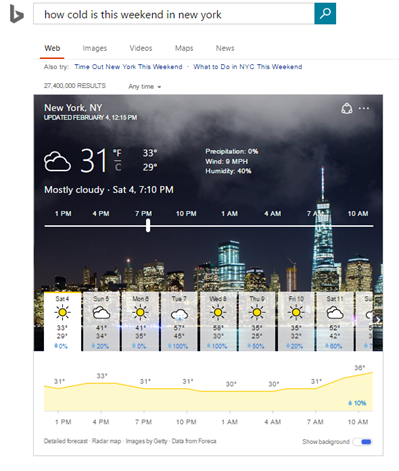 Weather information can be triggered by typing natural language queries into Bing search — such as "how is the weather in Toronto?" You can even ask follow up questions like "how about tomorrow?" and Bing will understand you're still referring to the city in the initial query.
Snow Conditions
In a feature primarily designed for those who engage in winter sports, like skiing and snowboarding, Bing can now return cards with information about snow conditions at a particular resort.
Bing won't just tell you how many inches of snow to expect, it will provide information on snow surface condition, snow depth, past and predicted snowfall, weather forecast, links to live web cams, and latest status of the lifts and trails in the ski resort.
Type in "[name of favorite resort] + conditions" and you'll see a card that looks like the one below: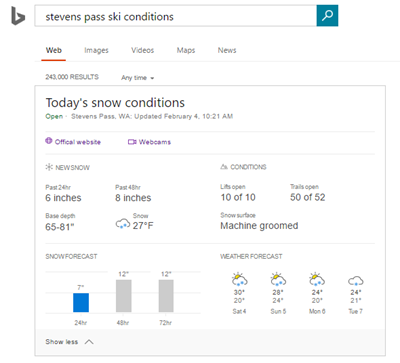 Currently, snow conditions are only available in the United States while the new visually rich weather cards are available worldwide.