The Google Display Planner is a great tool to expand the reach of your display campaigns while targeting relevant users for your business. The Google Display Planner has been rolled out recently and it has a very smart way to identify great display network keywords, placements, topics, and interests.
Getting started with the Google Display Planner
You can locate the Google display planner by logging into your AdWords account and selecting "Display Planner" under the "Tools and Analysis" menu.
In the Display Planner:
Tell Google what your customers are interested in. You can use a word, a phrase or a set of keywords separated by a comma.
Give Google your landing page URL to find relevant targeting suggestions.Please keep in mind that you can also decide to insert either the keywords or the landing page only if you prefer to not run both of the targeting settings above.
Select the country and language that you would like to target and click on "get ideas".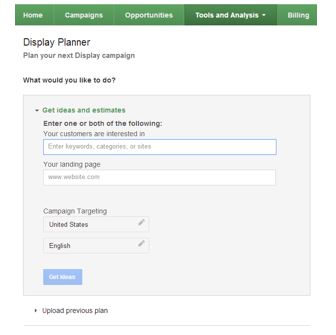 Once your request is processed you will get a great choice of keywords, placements, interests, and topics to target.
What can you do now?
Create new ad groups based on what the tool suggests. You will be able to customize the results to match your strategy
Filter results by text ads, square and rectangle images, skyscraper images, and leaderboard images
Filter results by mobile and video ads
Show only above the fold ad spaces
Filter the operating system of app placements
Find out more about age and gender of the available weekly inventory for your search results
Add the results directly to your account. They will be added as paused for you to work on them and create tailored advertising strategies.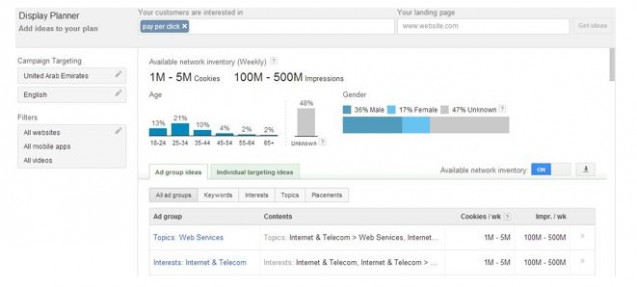 You can put together planned ad groups in the "your plan" part on the right sidebar by going on one or more of the "ad group ideas" or "individual targeting ideas". You may next assess the plan and get an approximation of impressions, unique visitors, and costs. Fiddle with it until it best fits your campaign objectives and then download the plan or add it directly to your campaign.
Some general rules to set up a top notch targeting on the display network
Create custom advertising messages for each ad group
Use as many image dimensions as possible to test various placements
Use both text and image ads
Customize bids by placement
Add negative placements when websites do not perform well
Change your display ads every 3 to 4 weeks to keep your content fresh and attractive
Use all of the targeting methods (keywords, placements, topics, interests)
Conclusion
The Display Planner is used to make your research for placements more. The Display Planner is easy to get to from the AdWords user interface and is consequently capable of importing chosen ideas and placements straight to your campaigns. The Display Planner is easy to use and a great tool that saves you time.
Featured Image: Deposit Photos
Screenshots Taken by Author