One of the most important aspects to consider for your AdWords strategy as we enter the holiday season is making sure users are only clicking on your ads if they are actually qualified leads. In other words, when the ad comes up, it was actually what the user was searching for in the first place.
To make sure searchers who land on your page are qualified, you need to use negative keywords.
The ultimate goals in monitoring your AdWords account are:
Raise click-through rates (CTR)
Lower cost per click (CPC)
Decrease cost per acquisition (CPA)
How can you do this most effectively? It can be tricky to know how to bid and adjust your keywords, but the AdWords Search Terms Report allows you to see additional information related to your keywords. This is invaluable regarding managing and adjusting your account on your own.
Google AdWords Search Terms Report
The Search Terms Report is a performance measure to see how your ads are doing in actual searches within the Search Network. By using this report, you can look at terms and phrases that are not relevant to your business and add them to your negative keywords list. This will help your budget be more effective and help you save on searches that are not converting.
Note: If you are new to the game, note there is a difference between a search term and a keyword. A search term is "the exact word or set of words a customer enters when searching on Google.com or one of our Search Network sites" according to Google AdWords. A keyword is "the word or set of words AdWords advertisers create for a given ad group to target your ads to customers."
To View Your Search Terms Report:
Sign into your AdWords account
Click the Campaigns tab
Click the Keywords tab
Click the Search terms button
Below is a screenshot of what you are looking for: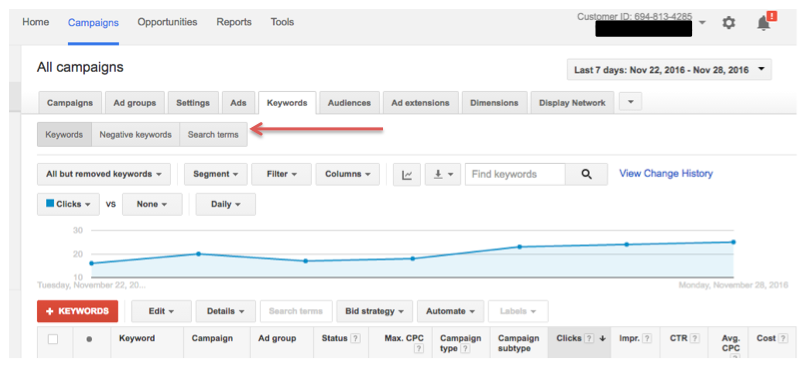 After you run this report, there are a few things you can use the data for, including:
Add search terms that are performing well to your ad group as keywords.
Adjust your bids — the search terms that appear in the search terms report are receiving traffic, so you will want to make the most of those.
If you realize a search term isn't relevant enough to the products or services you offer, add it as a negative keyword.
Select the correct match type (e.g. broad, phrase, exact, or negative) for existing keywords.
A Little Background on Match Types
You get to decide which keywords your ads appear for. Once you enter the keywords, you can choose from three different match types for each keyword. Here is a brief description of the three types:
Exact match: One or more words written in square brackets, for example, [Chicago photographer]. SERPs have to be the exact phrase you choose with nothing additional (or lesser than). In this case, Chicago photographer (only).
Broad match: One or more words written without any other punctuation, for example, Chicago photographer. SERPs include thousands of different similar results that can turn up your ad.
Phrase match: One or more words written in quotes, for example, "Chicago photographer." Fewer SERPs than broad match, as they have to contain the search phrase. In this case, Chicago photographer. For example:

best chicago photographer
closest chicago photographer
chicago photographer awards
3 Ways the Google AdWords Search Term Report Can Help
As mentioned, getting qualified leads over the holiday season is really a key factor in being successful. We can look at the data gathered from the search term report as helping in three critical ways for your AdWords advertisements. Let's take a look at these and discuss how you can use them to grow over the holidays.
#1: Consider New Keyword Adjustments
One thing that the search term report can really help you do is to consider new keyword opportunities. Use the report to figure out which terms are doing well and then include those terms in your search keywords.
Further, if you use broad- or phrase-match-type keywords, your ads can get in front of an even larger audience because they will have a btter opportunity to be displayed (although be careful with this because you can actually lose money in the long-run if the terms are not performing well with your company's ad). Ultimately, using the search terms report allows you to determine what is performing well and adjust accordingly.
#2: Understand How Your Audience is Actually Searching for You
There are some obvious search terms for every industry, and I would be remiss if I did not emphasize that you should include those in your keywords and search terms.
However, the most well-known or used keywords do not always characterize how people are actually searching for and finding your company. Many times high-conversion searches are repeat search terms that you wouldn't have expected without the search term report. One of the best uses of the search term report is actually including searches that people are making to find you and convert.
#3: Exclude Searches That Are NOT Relevant
Possibly the most important thing the search terms report does is allow you to exclude searches that are not relevant, thereby refining qualified leads and allowing you to expose the terms you want to avoid altogether. Sometimes your ads can be shown for searches that are not really relevant to your business, especially when you use broad and phrase-match keywords.
To get rid of unwanted clicks (and make your spending more effective), you can add these terms to your "negative keywords." As you try to drive profits over the holiday season, refining your marketing efforts on AdWords and making sure only the most qualified searches get through is an effective strategy to be even more successful this time of year.
The Takeaway
Over the holidays, marketers try to increase sales and decrease spending where they can tighten the budget to meet year-end goals. With AdWords being such an important part of digital marketing, it also winds up being a large portion of the marketing budget.
By looking at the search terms report, and figuring out what is working well and what keywords are not resulting in relevant searches, you can refine your marketing budget and make your advertisement campaigns more effective!
What lessons have you learned from the search terms report? Let us know in the comments section below.
Feature Image Credit: gustavofrazao/Deposit Photos
In-Post Image: Screenshot taken by author October, 2016