Sick and tired of BaseCamp, or other project management solutions that simply can't provide your online marketing team the level of organization and customization that you need?
I'm going to share one of my best kept secrets: Podio.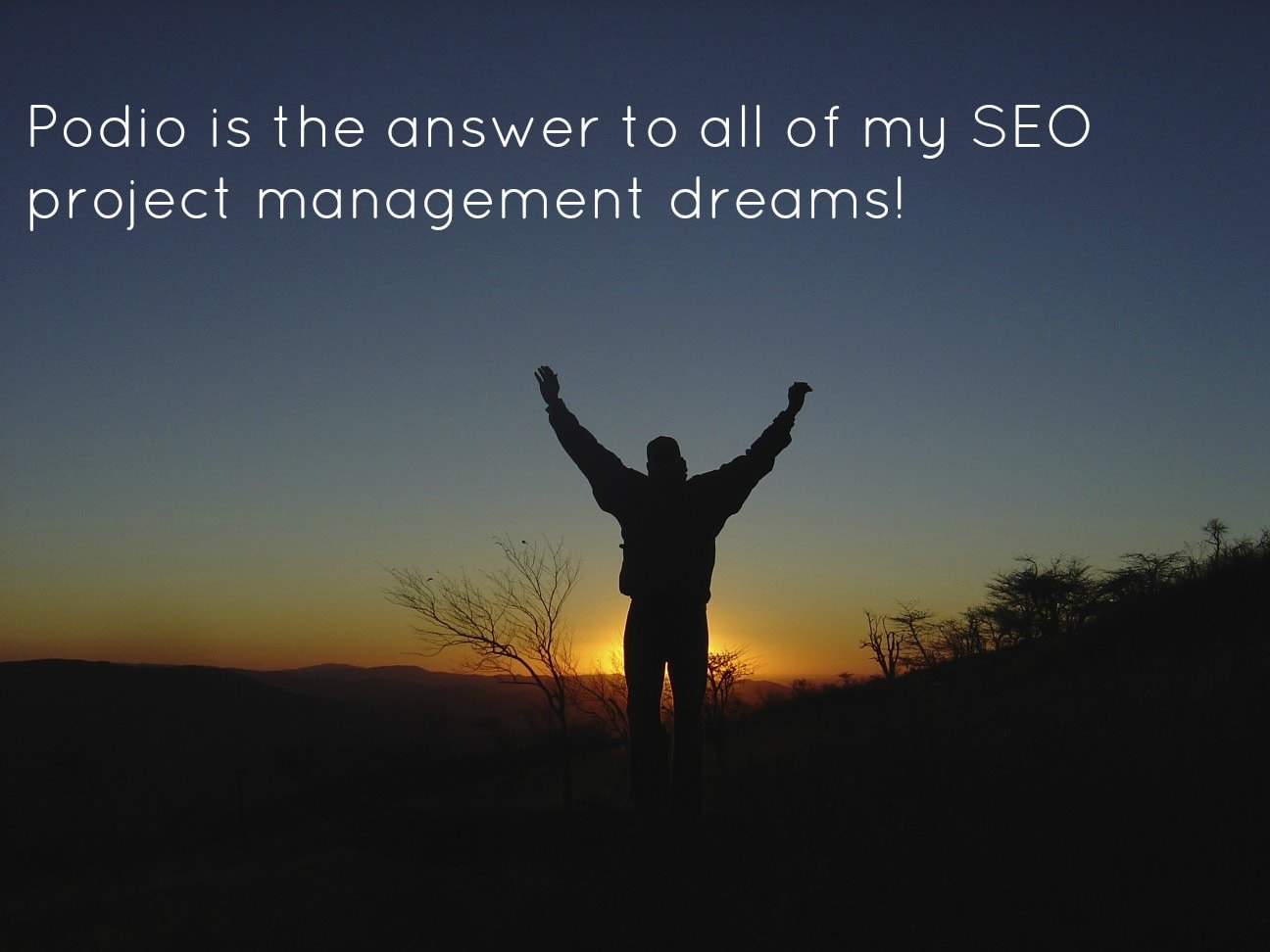 With Podio I can keep track of every single project, deliverable, and task that's involved in successful online marketing campaigns. I can keep clients involved in the process and provide them with an easy platform for reports. I can combine competitive research into actionable platform for our link builders to acquire links. And oh, so much more.
Want to take a peek at how Podio works? It won't take you long to figure out the immense potential hidden in this tool.
4 Ways to use Podio for your Online Marketing Campaigns
The first step is to create a smooth workflow for all of your teams, from your project managers to your writers to your link builders to the team in charge of client reports. Below I've pasted part of one of our content marketing apps, where you can see some of the fields we use in the content marketing workflow.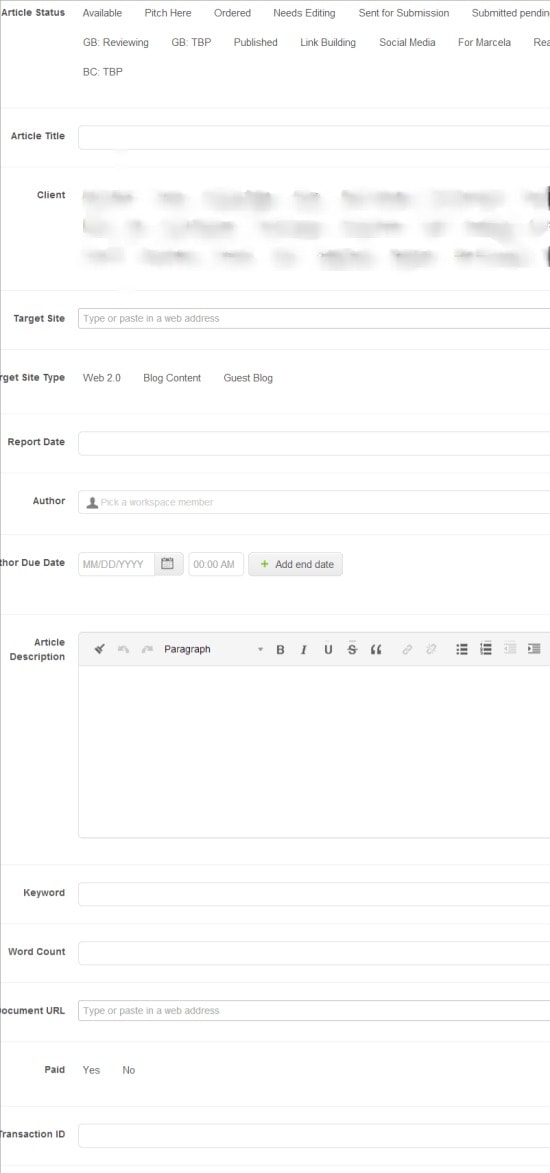 Once we have an approved title or pitch, we add it into the app, with statistics about the keyword including monthly volume, competitiveness, and more. From the app, we create a new task for the relevant writer, who will immediately receive an email and a Podio notification that he has a new article pending to be written.
The order includes the title and very detailed instructions about the article that needs to be written, as well as the target site, content type, and due date. When the article is written, the writer creates a task for the editor to review and/or edit the article in order to prepare it for publication. At this point we've had 3 people seamlessly involved in the project: the Keyword Researcher, Editor, and Writer.
Once the article is published, a task is created for our Link Building team to perform outreach and use the content asset as a link building opportunity.
The final stages of the article include social media and advertising. Depending on the target audience of the article, we will select an advertising platform like Adwords, Facebook, Stumbleupon or Twitter and run an advertising campaign. On the app we will make notes about where the articles was advertised. Social sharing follows, which is also marked as we bookmark the article and share it across all social platforms. All of these fields are available on the app so tasks can be created as the articles moves along the different stages.
Finally, when every task is completed, the article is marked as "Ready to Transfer" where our team will then add it to the Client's Report workspace, as well as our inventory apps. We created custom apps within Podio for different kinds of published content, including guest blogging, blog content, giveaways, etc.
By following this process within one dynamic page in Podio, we can keep track of the status of every single article at each stage of its process, from conception to publication and promotion.
What's amazing about Podio is the seamless integration between Project, Deliverable, and Task. Projects are created at the higher end, then for each project we create deliverables, and each deliverable requires certain tasks to be fulfilled. Every staff member will then have assigned tasks that they can organize by priority, due date, or tags. Any task list management app pales in comparison with the integration capacities of Podio.
Guest Blogging Campaigns
Before Podio, I used Google Docs and a combination of other tools to keep track of my guest blogging process. In fact I shared my exact methodology in a Youmoz article. Now, I use Podio as the foundation of our guest blogging outreach.
Once we've created a connection, pitched a title, and had it approved, we then move into the content creation stage. Once the article goes through the stages mentioned above, we can move it to the relevant inventory app.
The hardest aspect of guest blogging is keeping track of so many steps and stages. Using Podio you can keep everything under one roof, without needing multiple spreadsheets, thus reducing error margins. Everything is in the app for the project, and you will no longer find yourself with content all over the place, articles being forgotten or ignored, or losing opportunities because you forgot to follow up.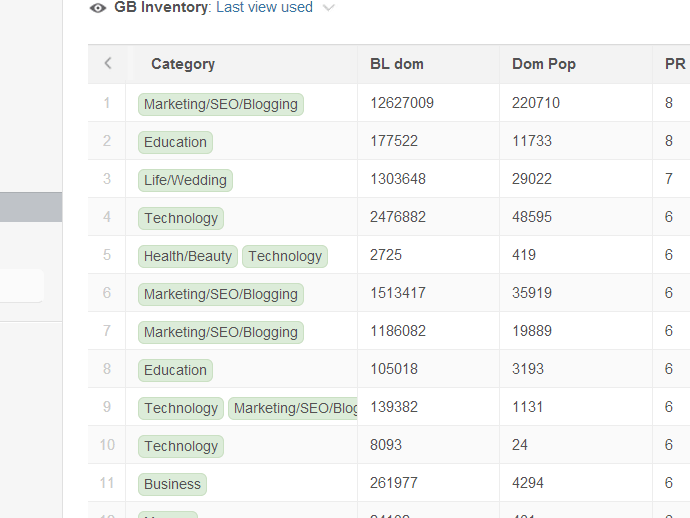 Above is an image of our Guest Blogging inventory app. We can search by category and scan based on their link stats in order to decide where to pitch for new clients.
Link Building
I start by identifying my top 20 competitors in a keyword niche. Once I've identified them, I run a backlink report for each and every one. Using their export feature, I will then take all of the documents and combine them into just one VERY LARGE document. This file can then be imported to Podio.
From Podio, I can have multiple link builders going through the combined set of backlinks. They can make notes about the status of each one and update the status as they work on each link. Finally, if acquiring the link requires further work or research, they can create tasks for the relevant person to create the content asset or follow up.
Once a link is acquired, that site becomes part of our link inventory so we can use it in the future for other relevant clients.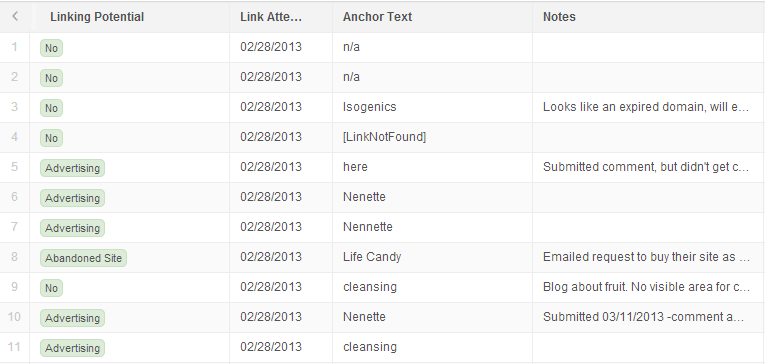 Client Reports
As soon as a client comes on board with us, we create a workspace for them, where we add all confirmed links, content assets, and any files relevant to their campaign.
Within the workspace, they can leave comments on different deliverables or tasks, interact with our team, and keep track of our process as we build their visibility. A benchmarking app is included in each client workspace where we track inbound links, social statistics, and other basic analytics.
Cliens love the organization and integration, as well as the ability to be involved in their process as it unfolds.
Social Media Marketing
Unfortunately Podio does not have the capacity to publish to social media sites (yet!). However, it can be used to support the process of social outreach.
Within our social media workspace we have several apps: Basic Setup, Advanced Setup, Daily Social, Weekly Social, and Monthly Social. Each app is custom created to mirror our flow of Listen, Share, Engage.
When working on an account, the first step is to create their social profiles and tools. We track all of them in our setup apps. Once the accounts and tools are setup, we move on to the active social media phase. For every client, we create daily, weekly, monthly tasks/reminders to perform the relevant tasks.
At the end of the month we can provide the client with a report based on our social activity, sites we've shared, and engagements across a variety of platforms.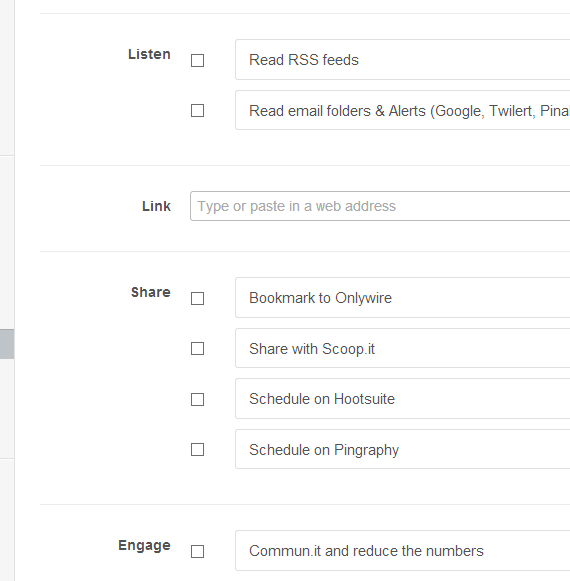 And did you know that Podio is FREE?
You get up to 5 users from your organization and 5 users from outside your organization for free in each workspace. If you are clever with how you organize your setup, you can get a lot of traction out of these 10 free user accounts for each workspace.
Instead of creating many apps in one workspace, we create unique workspaces for every client and every aspect of online marketing. From social media to PPC to content development, each category has a dedicated workspace, which allows us to minimize the number of accounts so we can stay under the paid limit.
Within Podio, you can also share your apps or install apps that others have created. Once you are comfortable with the system, dive in and create your own apps – it's super easy, I promise!
If you are thinking that you are happy with BaseCamp or other project management tools, I do hope you give Podio a try. There's definitely a learning curve, but one that is WELL worth it as you learn how to customize Podio to fit in with your organization.