While it remains unclear how many major search engines we will end up with, it is still wise to track and compare your (and your competitors') progress in all of the existing ones.
By comparing different SEs results you will:
get deeper understanding of how search engines work;
learn more about your competitors' SEO techniques;
tell which search engine is better (and necessary) to optimize for;
define what works better for each SE.
1. Prase – a handy simple tool that shows you the results for 3 SEs (Google, Yahoo and MSN) on one page. It also allows you to exclude any of search engines and sort results by Google Page Rank.
2. Yahoo vs. Google tool – offers a visual representation of the difference between the 2 SEs (Google and Yahoo):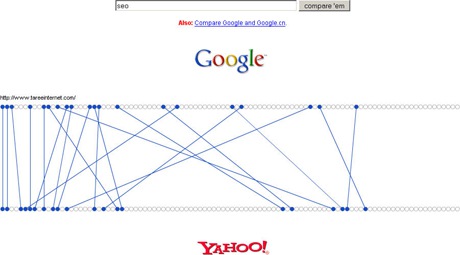 3. Thumbshots Ranking – similar to the above one but it also highlights the domain name you are most interested in: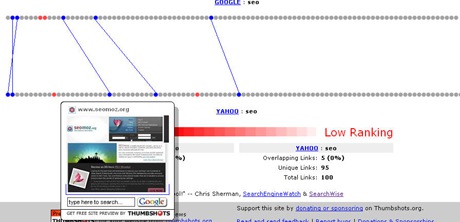 Two Bonus Tools:
Yoople! = Yahoo! + Google + People – the tool that claims to combine G and Y! data and to let you change the site rankings by dragging any site to your preferred position; besides the tool saves each site position history for you to see most stable (hence best) results.
Google Maps vs. Yahoo Maps – side by side local search comparison tool.