Task manager built-in with Raven tools is a handy feature that lets you effectively distribute tasks and monitor the whole process. It can be used as a standalone utility but it is also heavily integrated with other internal tools like Link Manger where you can create a task while adding a link prospect.
While I have mentioned the task managing feature while reviewing other tools that have it integrated, this post focuses on the standalone tool.
Task manager can be found in the very top bar of Raven tools:

Clicking the link takes you to your task dashboard. There you can see all the tasks, the type of each one and the corresponding website and the due date. You can filter that table by any of the columns. You can filter the table to see only tasks assigned to you or by a website profile. You can also filter the task by status (to see only completed or all open tasks).

Task types include:
High Priority (high, medium or low)
Overdue task
Link task
Scheduled task
To add a new task, click New Task link. There you will need to provide the following details:
The Title of a task is required and can also be used as the task description. However, if you need to include more details, you can enter them in the Description textarea.
All tasks are related to a website. You will need to choose the website that the task is related to. By default, it will automatically select the website you're currently managing.
Next set the Due Date and the Priority of the task. Additionally, if you have Task Administration rights, you will be able to assign tasks to other team members on your account.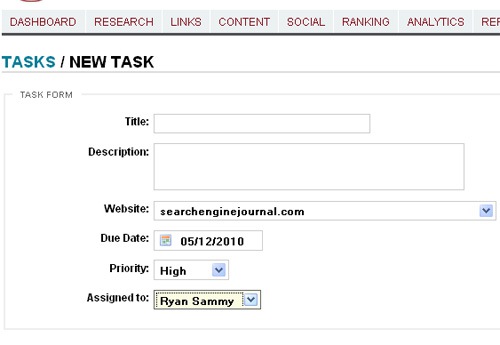 Tasks that happen in the future or are reoccurring, can be scheduled. To schedule a task, click on the Scheduled link. You will be taken to the Scheduled Tasks page. Click on the Schedule a Task link to create a new scheduled task.
You'll be taken to the form which is very similar to the above one with only one difference that it allows to set the task frequency. There you can adjust the Frequency, Day of the Month, and the Due settings. For example, you could set a task to appear monthly, on the first day of the month, and have it be due in 7 days.

You thus have a complete productivity toolset to manage and monitor SEO tasks and distribute them among your team members.