This is a sponsored post written by Ahrefs. The opinions expressed in this article are the sponsor's own.
As Sun Tzu famously said:
If you know the enemy and know yourself you need not fear the results of a hundred battles.
And even though he was speaking of real warfare, this concept can easily be applied to online marketing.
If you have a good understanding of what's happening around you–and are well-informed of the actions of your rivals–you'll always be one step ahead on the path to victory.
Let Ahrefs be your counselor:
Get Notified When Your Competitors Receive New Backlinks
If someone is linking to your competitor–he might as well be linking to you, too.
For any website you add to Ahrefs dashboard, you will receive a daily (or weekly) email notification with all their newly acquired backlinks: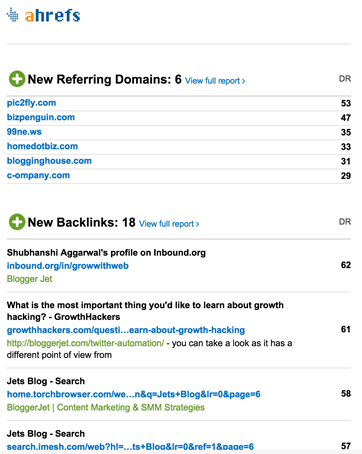 Think of this as a weekly list of prospects that you need to reach out to and be everywhere where your competitors are. It will also help you to uncover their link building patterns and determine their recurring backlink sources.
Know Yourself
Keeping an eye on newly acquired backlinks is something you should also be doing for your own site.
In addition to capitalizing on your wins and encouraging these people to link to your site more, you may also want to keep an eye on "shady" links and instantly remove or disavow them.
Monitor Changes in the Organic Search Traffic of Your Competitors
Another weekly report you'll get from Ahrefs is a list of new keywords that we saw your competitors ranking for in Google's search results:
This will give you an insight into which of their pages are gaining traction in search and the exact keywords that they are targeting. In fact, considering the rise of "not provided" in Google Analytics, you'll be better informed about your competitors' organic traffic patterns than they are themselves.
Know Yourself
With Google's shift towards semantic search, tracking a dozen individual keywords no longer gives you an accurate picture of how well the pages of your site perform in search.
We monitor your website's rankings across millions of keywords and report all notable changes to you, which helps you to shape your content marketing decisions.
Get Real-Time Alerts When Your Keywords are Mentioned Online
Quite often people will be talking about your topics of interest without linking to your competitors or your own site. With Ahrefs, you can track mentions of any keyword in real-time (much like Google Alerts, but better):

These real-time alerts allow you to reach out to a promising prospect before anyone else does.
You will find that if you reach out within 24 hours of publication an author will be much more likely to revisit their piece and add your link.
Afterword
Monitoring your competition, as well as your whole niche in general, is a must for any online marketing professional.
For more information on monitoring your niche, watch the video tutorial on Ahrefs YouTube channel, which provides additional, in-depth information:
Image Credits
Featured Image: Image by Ahrefs. Used with permission.
All screenshots by Ahrefs. Used with permission.