Facebook is the world's most famous social network site with over 2.1 billion active users every month.
It has not only become a venue for people to connect with friends and family, but also a place where businesses and organizations can build their brands and engage with customers.
Digital marketers are among the countless individuals who spend so much time on the site.
While using Facebook is necessary for personal and professional reasons, let's admit it, it can be a huge time-waster and productivity-killer.
We wanted to know how much time marketers spend on their personal Facebook accounts while at work, so we asked our Twitter community.
How Much Time Do Digital Marketers Spend on Personal Facebook at Work?
Here are the results from this #SEJSurveySays poll question. According to SEJ's Twitter audience:
73 percent of search and digital marketing pros said they typically spend 1 hour or less on personal Facebook while at work.
16 percent responded that they use their personal Facebook for 3 hours or less.
8 percent answered they are on their personal Facebook all day.
3 percent replied that they use their personal Facebook for about 6 hours or less.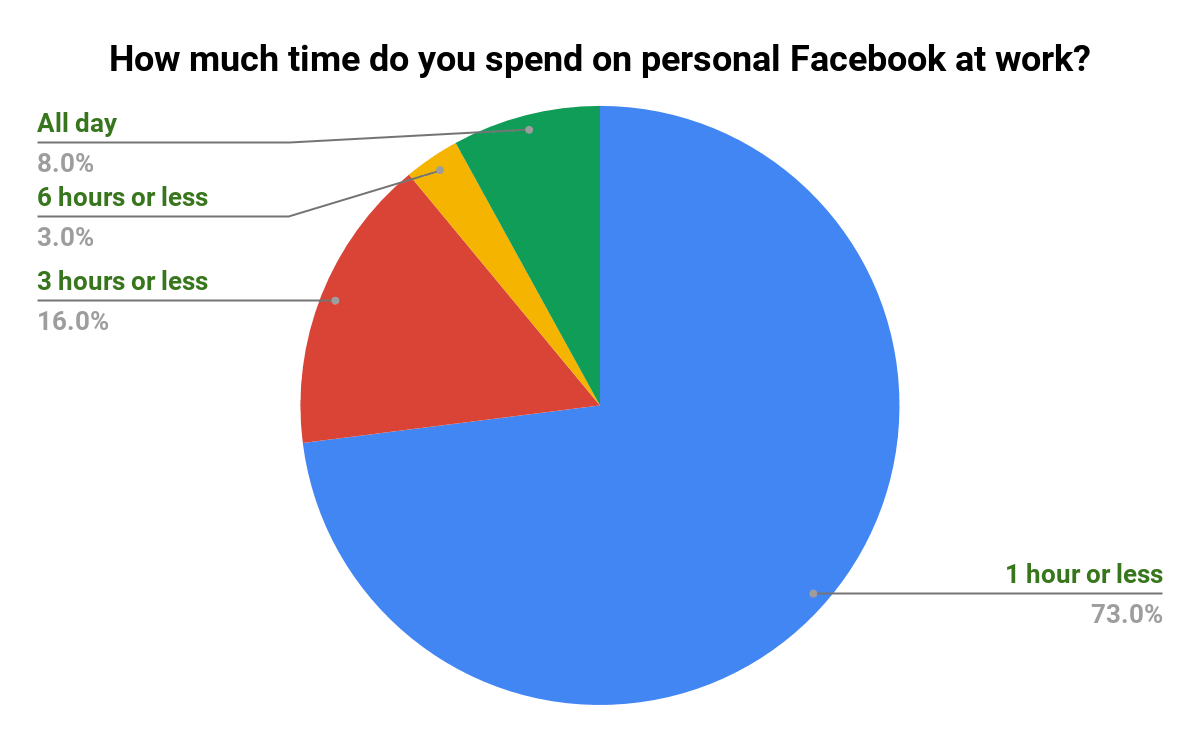 Here Are a Few Comments from Our Twitter Followers
Some followers noted they barely use Facebook at all.
There should have been a "zero" option

— Laurent Tescari (@ltescari) March 28, 2018
Zero

— Josh McCoy (@JoshuaMMcCoy) March 25, 2018
You could consider to add the option "None, I deleted Facebook"

— Ricardo A. Muacho (@RicMuacho) March 25, 2018
I think should add one more option as not at all

— Devangi Dodiya (@DevangiDodiya) March 25, 2018
None. 😊

— Neon Maximillian (@StanNeon) March 26, 2018

And some are surprised to find out that most respondents claim that they only use Facebook for an hour or less.
I wonder how many people THINK they spend less than 1 hour but actually spend more

— Scott Redrup (@skardrup) March 27, 2018
Hear hear – maybe since the whole Analytica thing but we see you all lying 😉

— Scott Redrup (@skardrup) March 27, 2018
Using Facebook for Social Marketing
Facebook currently faces a backlash due to the Cambridge Analytica data scandal, on top of its recent news feed algorithm change. Despite these issues, the social network is still an undeniable force to be reckoned with in the digital marketing space – at least for now.
Want to know alternative strategies that can help you win at social? Check out this list of articles from our SEJ contributors and get helpful social media tips:
Have Your Say
How many hours do you spend on personal Facebook at work? Tag us on social media to let us know.
Be sure to have your say in the next survey – check out the #SEJSurveySays hashtag on Twitter for future polls and data.
---
Image Credits
Featured Image: LightField Studios / Shutterstock.com
Chart: Shayne Zalameda