The City of Boston's response to the bombings at the 117 Boston Marathon serves as a model for how communities and emergency responders deploy coherent systems of communication during times of disaster. During such tragedies, the ability to connect and communicate with those who are potentially missing or hurt, is critical to ensuring that one's family and friends are safe or able to receive medical attention.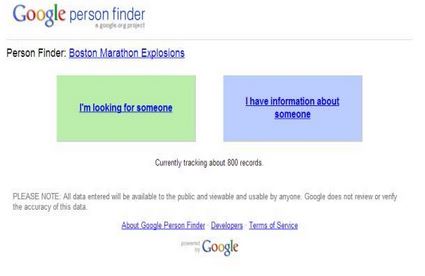 Familiarity with existing tools that that allow direct communication to take place between lost or dispersed individuals makes it so that in the event of a disaster, people are able to respond in both a calm and under control manner.
Google Person Finder is a free tool that allows users to either enter the name of a person they are looking for or their own personal information for those who searching. At the time of the explosions, dozens of family and friends of Boston Marathon runners immediately jumped onto Google Person Finder to search for potentially injured or lost participants and spectators.
Kelly Manning of Saratoga Springs, NY, used the application to track the progression and whereabouts of her daughter Samantha when the explosions went off. Google Person Finder immediately located Samantha and let Kelly know that her daughter was still moving before finally connecting an hour later.
"The police had cut off cell phones from making any calls," Manning said.
"We tried calling her for a half hour without any luck. If it wasn't for Google Person Finder, we would have had no idea if she was ok and safe."
What is Google Person Finder?
Developed as a response to the Haiti earthquake in 2010, Google Person Finder is an open source web application that allows individuals to register and search for lost loved ones affected by a natural disaster or catastrophic event.
The application is a part of the 'Google.org Project' that aims to enhance digital technology in ways that make critical information and communication more accessible in times of disaster. Along with enabling individuals to search for potentially missing or injured persons, the application also provides images and information on specific locations for shelters, road conditions, and power outages. All submitted information, including photos and personal bio descriptions, are manually transcribed and indexed in Google Person Finder.
Is It Actually Helpful?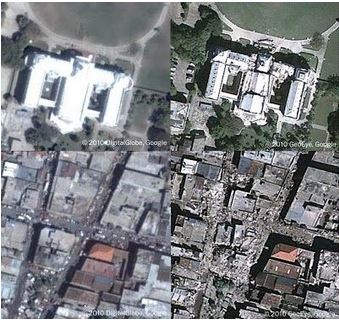 After the two bombs detonated near the finish line of the Boston Marathon, Google Person Finder immediately began tracking over 5,000 lost individuals. Since its debut in 2010, it has served over 800,000 lost individuals throughout the world from South America to Asia.
A number of high-profile disasters that Google Person Finder is connected to are:
Haiti Earthquake, 2010 – Magnitude 7 earthquake that killed over 220,000 individuals

Chili Earthquake, 2010 – Magnitude 8.8 earthquake struck the coast of central Chile causing blackouts for 93% of the country and causing over $30 billion in damages

Christchurch Earthquake, 2011 – Magnitude 6.3 earthquake in New Zealand that took the lives of over 185 individuals; one of the country's deadliest peacetime disasters

Japan Earthquake and Tsunami, 2011 – Massive earthquake off the coast of Japan caused significant damage and tsunami flooding and displaced over 340,000 individuals
How do you use it?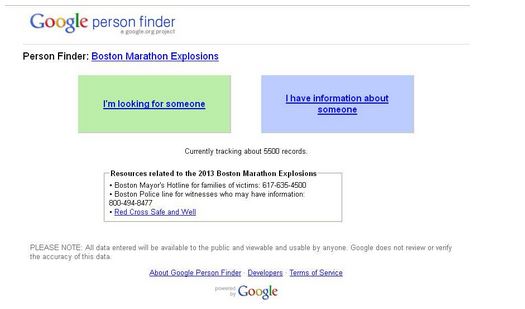 Using Google Person Finder during a crisis situation is easy for the most casual internet browser.
How to search for missing person(s)
1. For those who are searching for someone lost, simply type in either the exact or partial name of the person.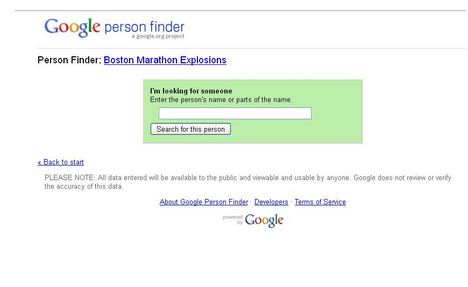 2. Once a name has been entered, a message will instantly appear alerting you to whether the person has been located or not.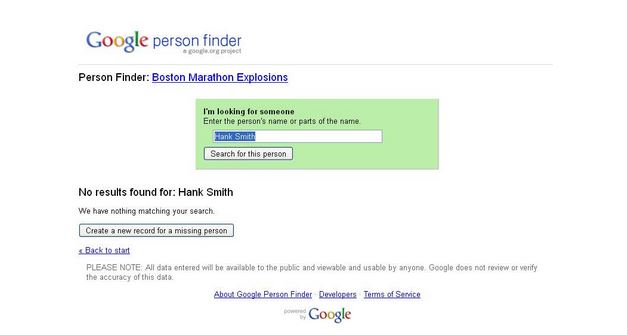 How to alert others of missing person(s)
1. If someone has information on the whereabouts or health of a missing person, users can click on the icon labeled, "I have information about someone."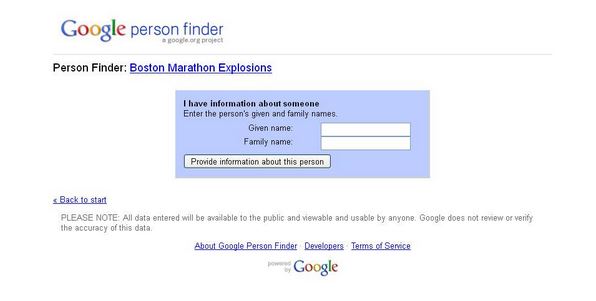 2. They are then directed to a landing page where information about the missing person, their health, and/or their location is submitted into a global registry.