After the tsunami hit northeast Japan last year, Google launched its Person Finder service, to help people reconnect with friends and loved ones in the aftermath of natural and humanitarian disasters. Not long ago, Google launched a Memories for the Future ("Mirai e no kioku") site, to showcase Japan before and after the March 11, 2011 9.0 earthquake and tsunami. This disaster killed nearly 20,000 people and triggered the world's worst nuclear crisis in 25 years.
Sadly, Japan has been hit again by disaster, when a magnitude 7.3 quake struck offshore at 5:18 p.m. (0818 GMT) on Friday December 7, 2012. Although there were no immediate reports of damage, there were reports of hurt people, and Japan's Meteorological Agency issued a tsunami warning. The one-meter tsunami hit not far from the area devastated by last year's disaster, at Ishinomaki, in Miyagi. Google has activated a Person Finder 2012 Miyagi coast earthquake feature, to help assist those affected with finding their loved ones.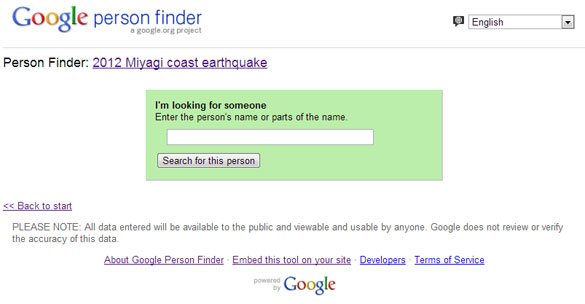 There are currently two Google Person Finder services active – one useful for those affected by Typhoon Pablo, in Philippines. Typhoon Pablo is Philippines worst typhoon this year, and has already claimed over 470 lives since it hit on December 4, 2012.
The second Person Finder service helps those affected by the earthquake and tsunami that hit Japan today, in the northeastern prefecture of Miyagi. This was one of the areas that suffered the most back in 2011, and although today there were no reports of damage or deaths, the memory of last year's 9.0-magnitude quake and resulting tsunami is still fresh, and the public interest in justified. With Person Finder, Google provides a much needed service.