Disclaimer: I own a copywriting and content agency, Express Writers, so the views presented are from my stance on outsourcing.
Which should you choose for content production: outsource it or do it in-house? These are two terms with the same end; to deliver quality content that is ready for web publishing.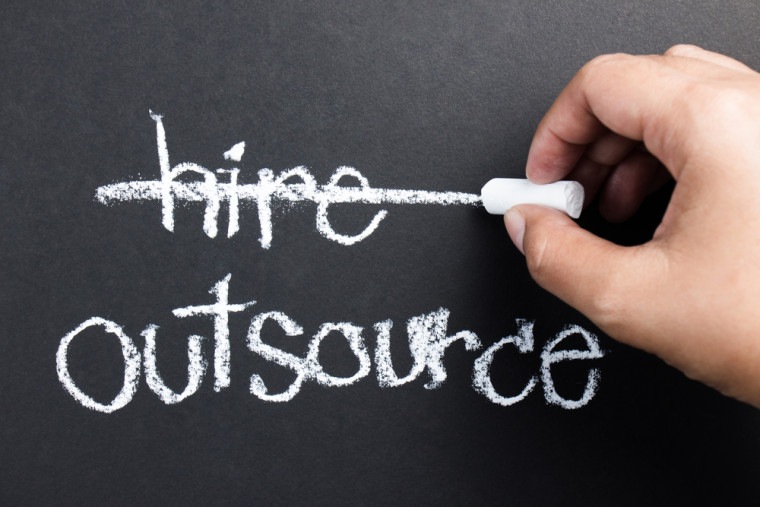 Hiring in-house is when you hire and train an in-house content production team. You might have one writer, or five, but they are all under your roof, in your office. You might have a staff editor or leading writer. Outsourcing is when you rely on an outside agency to create, quality check (or edit), and deliver your content.
What's better?
There has been debate. An Inc.com piece authored by Drew Hendricks says that in-house negatives are a huge budget (you have to pay an office staff more), while the dilemma for outsourcing is quality control.
I'm here to say that with the changing times, the truth of the matter is outsourcing is the better method for your Internet content needs.
Why? Briefly, in-house production facilities tend to take some time to get rolling and unless you're willing to wait a couple of years before your in-house department is able to deliver high quality content comparable to content creation agencies, you'll have a pretty rough time on your hands. Content creation and marketing is not an easy task and there are numerous technical details that need to be concentrated on for a content marketing campaign to succeed profitably.
Let's look at more reasons why outsourcing can be a good fit.
Top 3 Reasons Why Outsourcing is a Better Idea
So why is outsourcing an easier method to go about content creation and marketing?
Content marketing strategies are unique to every company and it can take a lot of research and trial and error to formulate the perfect marketing strategy for content for a particular company. But this isn't the most important reason why outsourcing content production and marketing is a win-win situation for any company.
The list of benefits that outsourcing brings to the table includes:
High Quality Content: From a buyer's perspective, the content you get should be of the highest quality. Usually, the writers hired by these content production companies are well-trained and highly experienced in any number of content creation disciplines. Combined with a professional work ethic and a long-term dedication to the art of writing, it's no wonder why these companies tend to crank out brilliant content repeatedly.
Delivery on Time: Outsourced content agencies tend to be stricter with their delivery times than in-house or freelance individuals. The reason behind this lies with the level of professionalism that is inherent in a company that seeks to deliver quality content to its clients. Once the client comes first then it is only logical to assume that the content needs to be delivered on time in order to meet the clients' needs.
A Wide Range of Expertise: It is hard to see the forest is when you stand too close to the trees. This analogy is especially true of businesses that have a dedicated in-house content department that focuses on a single angle. Hiring an external agency allows for you to gain perspective on the field. It also guarantees that the writer will have a lot of expertise that can enhance or add to the content that they produce as opposed to the narrow world view of an in-house department.
Not Everyone is Created Equal: Dealing With Content Agencies
Content agencies are not all created equal. Some content agencies can be quite unprofessional at times and it is important that you avoid the agencies that have a less than stellar reputation. There are quite a few content production and marketing agencies that serve as a one-stop-shop for a company looking to get its foot into the proverbial marketing door. Starting off with one of these content agencies requires little aside from contacting a sales representative to start on the details of what you want done. Remember, content agencies are designed to produce exactly what you need to further your business, whether this means a blog post or a content audit.
Bad Agency Content: A Brief Case Study
In the world of content agencies it can be very easy to be misled. Many content agencies talk a great game but fall short when it comes to delivering on it. Recently, we had the opportunity to try out a content agency that was not among the top-tier companies, but still had a decent amount of clients to its name, or so they claimed.
We were looking to fill our own content needs (not for our clients, for our own blogging). After contacting the agency, the initial rapport was good and set the stage for great things in the future. The customer service was instantaneous. These "great things" failed to materialize as the piece of content was delivered two weeks after the original order, and only after a large amount of pestering of the company. The content ordered was one article—and it took two weeks! What's even worse, the final piece was of the poorest quality English imaginable and was basically unusable.
How to Avoid? Review Their Examples (More Than One) And Their Blog First
This is a very real problem in the field of content creation and in order to avoid this it is essential to do thorough research on the content agency you are leaning towards choosing for your business needs. This can include reading their own blog, and asking for a lot of samples before you order.
Quality > Quantity
The thing that sets a professional content production company above its competitors is its ability to produce high quality content consistently. We define high quality content as content that adds value to the reader's life. Ideally, a skilled content agency researches the relevant keywords that make up a business' core demographic.
By developing an ideal buyer or audience, content creation professionals are able to build different types of content that may engage the core demographic. These content pieces are then sent out into the relevant distribution channels, finding the target audience and bringing value to their lives, either by teaching a new skill, bringing updates about goods and services that may affect the reader or giving the reader a new take on existing ideas. Agencies that are worth their salt promote the idea of quality being better than quantity in content production, a fact that many less-successful content agencies quickly forget.
4 Reasons You Should Invest in Outsourced Content
Simply put, outsourced content is better. It does what in-house content would do, but on a massively different scale. Outsourced content is better because of the way it is created. Where in-house content only does the bare minimum required of it, outsourced content usually has quite a few hours of research put into creating it and directing it at a target audience.
Teetering on the edge of doing it or not?
Content agencies invest a lot of time in learning the best ways to approach and engage a number of different demographics across the board so as to cater to any company that desires their services. Outsourced content usually results in a number of benefits to a business such as:
Wider Reach: Content agencies are able to develop a content marketing plan that covers all the major facets of content production and delivery. By combining what is known about the company and its target demographic an agency can pinpoint the most effective method of establishing a rapport with the reader and engage them in such a way that they are able to spread the message.
Expert Opinions in Clear Language: Communication can be a major problem for some companies. In order to get their message out to the wider public, it must be done in a clear, concise way to cut down on misunderstandings. In some cases it can be as simple as breaking down the complex jargon into simpler to understand words and phrases, at other times it requires a complete re-imagining of an analogy. Content agencies are skilled in doing this and getting the message across to the user in a manner that ensures the reader will understand what is being said to them.
Independent Production: In a medium to large company it can be tedious to constantly have to check up on a department to ensure that it's doing what it's supposed to do. When you outsource your content to an agency, the team that is dedicated to your content is extremely self-sufficient and able to work independently of your supervision. This frees up time for you to dedicate to other tasks.
Cost Effective: For a business, the bottom line is always a concern. Outsourcing content can be very cost-effective both in the short and long-term. Developing a dedicated department for content is something major corporations can afford to do. Small to medium-sized businesses often don't have the money needed to keep a dedicated content department running and remain profitable. The obvious solution is to hire a company that does these things professionally, thereby removing the obligation to keeping a long-term content department alive.
Outsourced content is developed to mesh with whatever ideas your company has in mind for their content. In order to fill the required niche, content agencies have authors that pen articles on such varied topics that there is rarely any worry about finding a competent writer to create high quality content for a client. The best content agencies have a strict hiring policy that requires their writers to prove their knowledge in writing in general, ensuring all content is at the highest quality imaginable.
The Moral of My Story: Outsourcing Beats In-House Any Day
The sheer number of positives that outsourced content has compared with in-house content is testament to exactly how much ahead of the game outsourcing is. Developing content can be time-consuming and there's no way a small to medium-sized business can hope to compete with the likes of a large corporation simply through in-house means. That means investing time and money into outsourced content.
However, you must be wary in doing so, since it is easy to be misled into thinking a content agency is far better than it really is. Customer testimonies and consumer reports help to determine how trustworthy an agency is, but the number one way to determine the skill of an agency is to examine some examples of their past work. The truly brilliant agencies will be the ones that produce high quality content consistently, and those are the people you want working to craft your content.
Image Credits
Featured Image: Filipe Frazao via Shutterstock
Image #1: patpitchaya via Shutterstock