Winter is coming!
You know what that means: holiday season is upon us.
If you haven't already planned your holiday strategy, now is the time!
Don't fret, we've got you covered with the steps that you need to take to ensure that you're ready to hit the ground running with your holiday efforts.
1. Review Last Year's Results
Performing a post-mortem on last year's results can be a great place to start.
Which channels and campaign types worked that should be revisited?
Which creative was most impactful?
What audiences performed best?
Which promotions drove the most purchases?
Where did you outperform competitors? Where did they outperform you? (Customer service? Promos? Reliability? Experience?)

If you don't have this data from last year, it might be a little late to acquire it but a great time to start gathering intel on how competitors are performing now for present and future purposes.
If something worked really well last year, then there's no need to fix what isn't broke.
That said, it's still worth testing new tactics, in addition and in replacement of those things that didn't work.
2. Choose Your Channels and Plan Some Tests
Although looking at last year's results is a great place to start, re-orchestrating the same plan over and over is sort of like jogging in place when all other retailers are running forward.
Every year, digital marketing grows and evolves very quickly.
While there are parts of last year's campaigns that you should keep (or grow and evolve), it would likely be a big mistake to rely solely on the success of things that have worked in the past.
I'd suggest allocating some small percentage of your budget (say 5-10%) on testing new platforms, channels, strategies, tools, or tactics.
You just might find something worth incorporating into your strategy year-round.
3. Plan Your Funnels
There's no time like the present to start preparing your campaign mix.
As you think about the campaigns that you'd like to run, consider how you'll move each prospect all the way through the funnel.
Since some of the folks that you might want to target may not be regular shoppers but rather gift-givers, and since the holidays are typically a huge opportunity to grab revenue; there will likely be a fair amount of prospecting.
With this, you'll want to consider how you can create funnels so that the prospecting campaigns will drive volume and build remarketing pools without losing your shirt as cold audiences are likely to have lower conversion rates.
For instance, with Facebook and Instagram ads, make sure you're thinking outside of the box with the ways that you choose your campaign objectives at each stage of the funnel in order to drive the highest ROAS possible.
I also highly recommend that you have a good methodology for connecting the dots between campaigns.
Re-engaging and warming new prospects is a critical piece to ensure your prospecting investment isn't wasted.
Audiences are a great way to connect the dots between campaigns and there are ample audiences and targeting options that can be used to create a multi-channel funnel.
4. Start Building Your Audiences
Think about the audiences that you already have – as well as the ones that you would like to build over the next few months.
Examples could include but are certainly not limited to:
Visitors that viewed a wishlist (and the subsequent content that they viewed, if you have a big enough pool to further segment).
Visitors that viewed a gift guide (and the subsequent content that they viewed, if you have a big enough pool to further segment).
Logins to loyalty programs.
Past purchasers.
Repeat purchasers.
High-value customers.
Recent visitors – potentially qualified by content viewed, time on site, or the number of recent visits.
Wishlist creators, especially if you are able to connect that with data around whether or not their wishlist has been fulfilled or not.
Friends of those that like your Facebook page.
Those that engaged with content (on Facebook or Instagram).
Lookalikes of any & all of the above.
Combinations of any of the above.
Beyond building audiences, it's a good time to start thinking about how audiences will be leveraged across platforms and how to track that performance.
Tip: Check out the Audience report within Google Analytics to see how Google-Analytics audiences perform across your whole ecosystem – not just as part of your paid search campaigns.
Granted, this report only tracks audiences that have already visited and will not track all high funnel audiences for that reason, however, it does give great insight into the middle and bottom of the funnel.
This is a great way to see if your audiences are driving sales and, if not, to adjust your campaigns accordingly.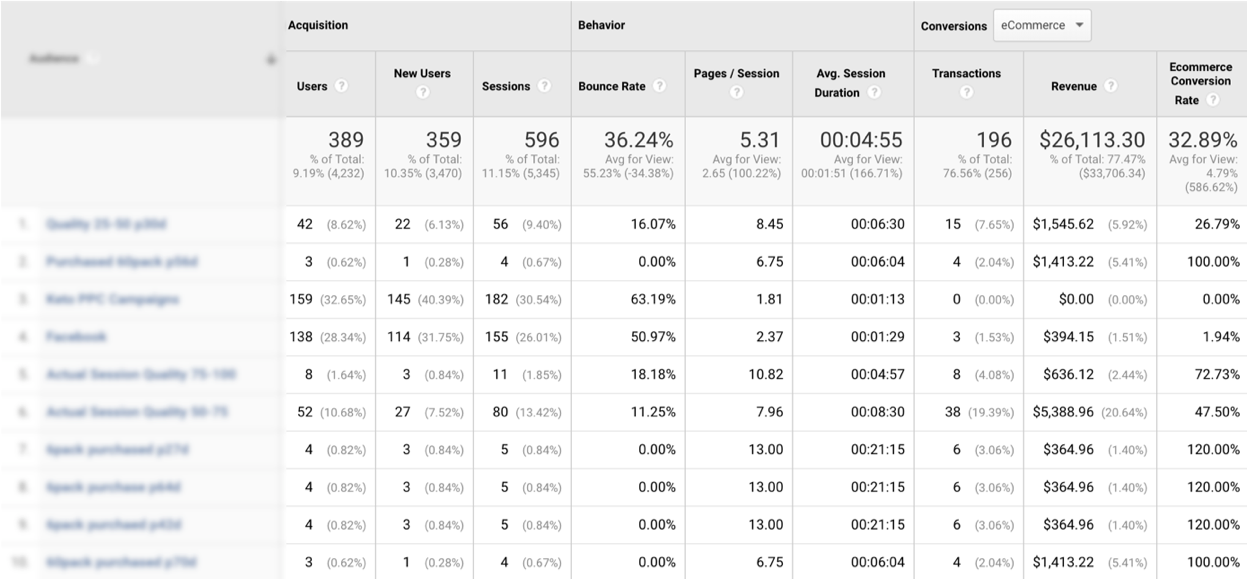 5. Re-engage Lists of Yore
Speaking of audiences, since the holidays bring in traffic and purchases from people that aren't typically in our target market, those people are less likely to become repeat purchasers and may fall into dormant lists.
Heading into the holiday season, it's a great time to dust off lists of people that purchased last year – even if they aren't frequent purchasers.
6. Get in Front of Gift-Givers
As you already know, when the holidays roll around, your targeting widens to also include those that might buy your target market gifts.
It can be daunting to think about reaching a new audience but there are a few ways that you can do that without completely losing your shirt on a high-funnel campaign.
With the audiences that you've built, you can expand your keyword lists into broader areas than you were likely previously targeting.
For instance, you could include relevant gift-oriented keywords that might not make your non-holiday keyword list and pair them with an audience that you've identified as gift-givers.
With social ads, you can target friends of page likes to effectively (but efficiently) extend your reach to your target market's friends and loved ones.
For example, you could promote a holiday-gift-oriented piece of UGC to friends of those that like your page.
Those that clicked through, could be added to a site-based audience while those that didn't click through but did engage could be remarketed with additional gifting options in order to get them to the site.
With third-party targeting options, you have additional options for reaching gift-givers. You could target in-market audiences that are relevant to the holidays or gift-giving.
For most retailers, these aren't specific enough to be a standalone basis for targeting but they could be added to search campaigns as observation-only as an indication that the person had recently been shopping holiday-related items and, therefore is in the mindset.
You could also create custom affinity audiences and pair those with demographics to target on the display network.
7. Drive Brand Engagement
With the holidays around the corner, it's a great time to start building some momentum around your brand.
There are two types of gift-givers:
Those that like to surprise recipients.
Those that want a wishlist to purchase from.
Our challenge is to find ways to reach both types.
Drive User Generated Content (UGC)
UGC is a great way to drive buzz around your brand any time of the year but especially leading into the holiday season because it has numerous benefits including:
Capturing the attention of the content creator's friends that may have similar interests.
And capturing the attention of those that are planning to purchase gifts for that group.
Drive Wishlist Creation
Creating campaigns around wishlist creation can be a useful tool for supporting those gifters that prefer specific instructions.
Target your loyalists, which could include audiences built from repeat purchasers, loyalty program logins or email lists, and social media followers.
Propose items to add based upon their browsing and purchase habits and make it super simple for them to share.
Bonus points if you sweeten the deal with a promo for wishlist creators and wishlist-item purchasers.
8. Get Creative with Your Ads & Landing Pages
Ad creative is always important but it becomes especially important when you're attempting to convince someone who is unfamiliar with your brand and outside of your target market to purchase something for someone else.
If you play your cards right, there are some great opportunities for creatives to help build trust in your brand.
For example, if you push UGC, then you build an arsenal of assets from actual customers.
For those folks that want to buy the perfect gift, but keep it a surprise, this type of creative can be both attractive and reassuring.
The content can be used across ad creative and landing pages.
Creative can be fun and clever – inviting the audience to drop hints by sharing the ad to signify that they'd like to receive your product as a gift.
To drive more traffic through these campaigns, you can also build engagement campaigns with the goal of driving engagement from loyalists, previous purchasers, and your target market.
Beyond initial audience targeting, building out gift guides creates an opportunity to distinguish gift-givers while also providing useful content for those that are relatively new to the brand.
Last but certainly not least, you can customize search ads to improve engagement. You could customize the ads with:
Countdown information for promos, or shipping dates.
Promotional information. For example, promos vary on Black Friday. You could use ad customizers to manage that.
Audience data to help provide the most relevant information. For example, you could distinguish between your target market and gift-givers to ensure that you're delivering the best content for their interests.
9. Start Thinking About Your Promo Strategy
It's a good time to start thinking about how you'll compete with other retailers. Will you put on a promotion?
There are several different discount structures and strategies that can be applied but not all promotions require discounting items.
In fact, some are upsells!
Others offer a promise of reliability.
Understanding what your market cares about is key to determinizing which promotion type is preferable.
For example, there are people that love to save money and spend as little as possible – they are truly driven by cost savings.
There are others that don't mind spending money but want to receive as much as possible in return – they are driven not by cost savings but by perceived value.
Example promotions could include:
Time-stamped promotions such as early bird specials and doorbusters.
A percentage off of the whole store, or certain items.
A dollar amount off, which could be qualified by a spend threshold. (Example: get $20 off when you spend $50 or more.)
A free gift, which could be promoted or kept as a surprise.
An add-on gift. (Example: spend $50 and be eligible to purchase a gift basket worth $100 for $20.)
Free shipping.
Shipping guaranteed by a certain date.
A wider return window than usual. (In this case, the message is: go ahead and shop now – the recipient will still be able to return it if they don't like it.)
Special deals for those that join or are part of a free loyalty member. (This is largely helpful for tracking purposes – we'll get to that!)
10. Simplify Gift Shopping
It's all fun and games until somebody gets frustrated.
A 2017 holiday recap by Bain cited a clear drop in Net Promoter Score (NPS) throughout December from shoppers dissatisfied with their experience in physical stores.
Customers cited "limited selection" or that the store "didn't have what I wanted" as reasons for the decrease in NPS.
The customers' perception of the same stores' websites remained flat for the same time period.
Despite that, 2018 in-store holiday stores increased, according to Bain's 2018 holiday recap.
Bain credited this increase in online sales to many factors including (and not limited to) an increase in omnichannel strategies leading customers in-store.
The study notes that Adobe Analytics estimated that 2018 had a record number of in-store pickups.
Target reported a 60% increase in in-store pickups in 2018.
Although ecommerce has grown in sales – and last year was no exception – in-store sales accounted for over 70% of total holiday sales.
This means that there is still value in bringing people in-store.
Businesses with brick-and-mortar locations should consider building site-to-store strategies, which might include incentives for in-store pickups, such as:
Free-site-to-store shipping.
A coupon or shopping pass.
A free gift.
Frustrations aren't exclusive to in-store shoppers, though.
A 2018 Pitney Bowes study showed that 56% of online shoppers reported frustration with everything from shipping, to returns, to lost products and miscalculated duties and taxes.
There's ample opportunity to improve the shopping experience and reduce frustration in an already stressful time of year.
Here are some steps retailers can take to improve the holiday shopping experience.
Inventory & Selection
One of the primary frustrations cited by the Bain study can be partially mitigated by making it easy for your customers to see your inventory.
This can be achieved through on-site item inventory checks, on-site purchase and same-day store pickup, and local inventory ads.
Consistency
As a holiday shopper, I'm always a little surprised by the major differences in on-site vs. in-store experience.
Some of that is hard to control, what with large crowds of people in-store and all.
However, there are some things that can be controlled like the price of items online vs. in-store, promo strategies, and general ease of navigation and checkout.
Stores and sites both have their pros and cons as far as experience is concerned, but unless you're intentionally trying to incentivize a certain action, creating consistency tends to decrease confusion and less confusion usually means less frustration.
Relieving Barriers to Purchase
Common objections to online shopping – reiterated by the Bain study – continue to revolve around shipping (cost, time, reliability) and the uncertainty of whether the product will be liked and, if not, the ease of returns.
Those concerns are likely amplified for gift-givers, as there's more pressure to ensure that the gift is liked or can be easily returned and to ensure that the package arrives on time.
Taking steps to ease concerns around shipping cost and speed, and ease of returns can boost conversion rates.
11. Sometimes Things Don't Go as Planned
No pressure, but according to the Pitney Bowes study referenced above, 36% of consumers will shop elsewhere after one poor experience and 60% of millennials share their bad post-purchase experience with others.
What does that mean for retailers?
Even with the best planning and the best of intention – some things likely will go wrong.
Create plans for how to handle customers that have had poor experiences.
Roughly 13% of people take to the web when they have a poor experience, with 9% of people leaving negative reviews and 4% posting on social media.
Plan to have staff prepared to monitor social media and review sites, ready to respond to and assist dissatisfied consumers.
Addressing issues in a quick and timely manner (bonus points for creative ways to go above and beyond to resolve issues) is a good way to curb negative reviews – and possibly even turn negative reviews into positive reviews.
---
Image Credits
Featured Image: Paulo Bobita
Screenshot taken by author