Adding email to your holiday marketing mix is a must.
Email continues to generate the highest ROI of all digital channels, with some sources reporting averages as high as $44 for every dollar spent.
But competition for consumers' attention in the inbox is fierce year-round, and never more so than over the holidays.
With the promotional period kicking off earlier each year (cue the Christmas music in October), it's never too soon to start strategizing for holiday.
1. Review Past Years' Wins & Losses
Who better to tell you what resonates with your audience than your own audience?
Before looking ahead, look back at the last couple of years' worth of holiday engagement and conversion data to identify wins to replicate and areas of opportunity to course correct.
Key into trends in top-performing subject lines, calls to action, and promotions and use these learnings to make data-driven decisions for the upcoming season.
2. Conduct a Competitive Analysis
While looking at your own past performance is a great starting point, it's important to know what you're up against.
Identify your top competitors and review their holiday marketing strategies.
If you weren't subscribed to their mailing lists last year, tools like Milled or MailCharts can offer a comprehensive look back at your competitors' cadence and promotional strategy.
Consider how your plans compare and ratchet up your strategy as needed to lay claim to a greater share of wallet.
3. Run Pre-Holiday Testing
It's generally best to avoid testing during holiday as the volume, make-up, and intent of your audience isn't typical and can skew results.
Instead, utilize A/B tests in Q3 to glean actionable insights pre-holiday that can be carried through your holiday strategy.
A few testing opportunities sure to yield good bang for the buck include:
Subject Line: Short vs. long, personalized vs. generic, offer vs. no offer. Don't forget to test on triggers like cart/browse abandon; these behavioral messages will see a spike in volume with increased traffic, representing a big opportunity to turn window shoppers into customers.
Promo Type: $ off vs. % off, buy-more-save-more, gift with purchase, free shipping, etc.
Timing/Logic for Triggers and Series: Test time between behavior and first mailing, time between follow-ups, and how many touches are included.
Average Order Value: Test the number of products, inclusion of dynamic recommendations, or promotion of complementary product to lift AOV.
4. Scrutinize Your Promotional Strategy
Black Friday/Cyber Monday no longer define the season.
With steep discounts and holiday messaging spanning 8 weeks or more, it's important to mix up promos and content to keep your audience engaged.
Your Black Friday/Cyber Monday offers should be outstanding; consumers are expecting deep discounts, so be cognizant of the offers you're running before these key dates to ensure major promos remain impactful.
Use the holiday season as an opportunity to treat your VIP customers to special promotions or early access to sales, prompting them to consider your brand first for gifting, or treating themselves.
Utilize VIP messaging to stand out in the inbox and offer an additional promo or gift with purchase during holiday sales to further build affinity amongst this already loyal group of customers.
Just look at this VIP Early Access email from Carved: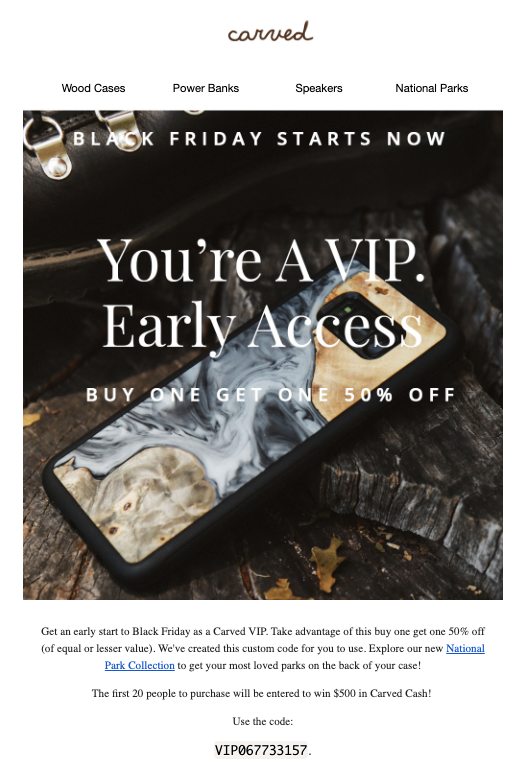 5. Hone Your Message
Make sure your emails capture attention and generate clicks by keeping creative simple and to-the-point.
Focus on one main story per message to help users process information quickly.
Utilize clear and prominent offers that catch the eye.
In short, don't make your readers think too much.
Take a look at this clean, simple and outstanding Black Friday offer from J.Crew:

Above all, make sure your messages are timely and play up urgency.
Highlight sell-out risk, end of promotions, and shipping deadlines for holiday delivery to motivate consumers to complete transactions immediately rather than shopping around.
See this shipping deadline email: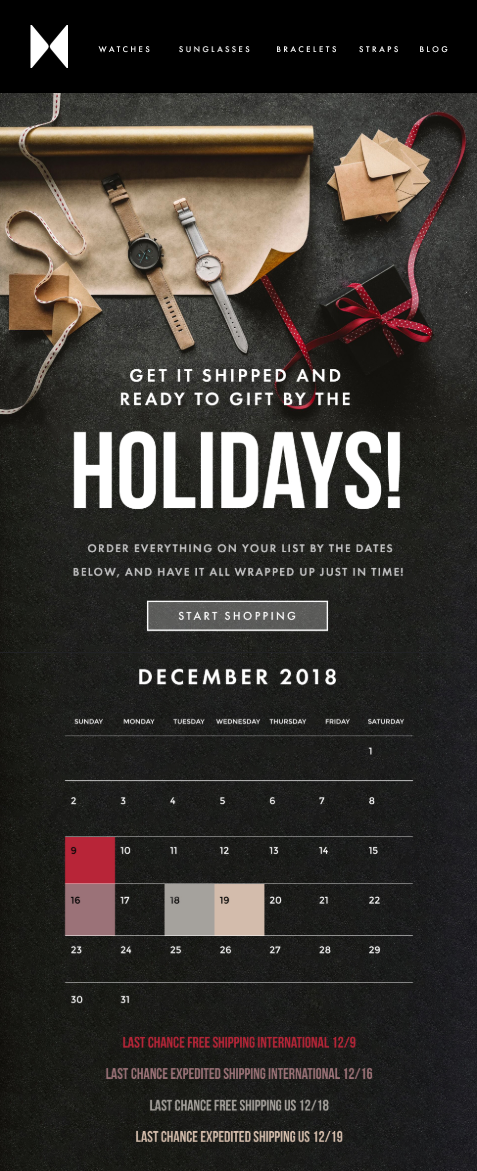 6. Ramp Up Your Mailing Cadence
Email subscribers have a higher tolerance for an increased mailing cadence throughout the holiday.
If your brand typically mails a couple of times a week or less, up your cadence to keep your brand top-of-mind and allow for timely messages during every seasonal milestone.
In some cases, you'll want to send more than one email per day (Thanksgiving morning + after dinner when people are sitting around on their phones too stuffed to move, for instance).
Any increase in mailing should be approached thoughtfully to avoid upsetting subscribers, leading to contact loss or, worse yet, spam complaints that could impact deliverability for your entire program.
Get started with a steady ramp-up in late October, keeping a close eye on open and contact loss rates for a read on how your audience is reacting.
Plan to decrease cadence in early January to soften the expected spike in unsubscribes that follow holiday.
7. Audit Your Segmentation Strategy
To mitigate fatigue from an increased mailing cadence, review your segmentation strategy and limit how often you mail to your full list. Consider re-sends of the same promotion only to non-openers or non-converters.
As always, unengaged subscribers should be suppressed to prevent issues with deliverability, which could cripple your entire program during the busiest time of year.
On the other side of the segmentation coin, determine where it might be appropriate to lift suppressions.
If you normally suppress contacts in the welcome series, they might miss some of your best holiday offers.
Try lifting these types of suppressions over Black Friday/Cyber Monday, if not throughout the entirety of November and December.
8. Grow Your List with Increased Traffic
The increase in traffic from holiday shopping represents a great opportunity to build up your email list for retargeting throughout the year.
Pre-Holiday
Tease sign up as a way to gain early access to sales or "VIP only" promotions. This can be carried through onsite capture points, transactional emails, and social campaigns.
During Holiday
If you're running an incentive for email sign-up onsite, reassess the depth of the discount on offer.
Consider sign-up promotions that sweeten the deal for new subscribers, like:
Free shipping or shipping upgrades.
Gifts with purchase.
An additional percentage off of already spectacular holiday savings.
Update the imagery and messaging to speak to holiday to get shoppers in the holiday spirit, and keep gifting top of mind.
A few examples:
Business as Usual Creative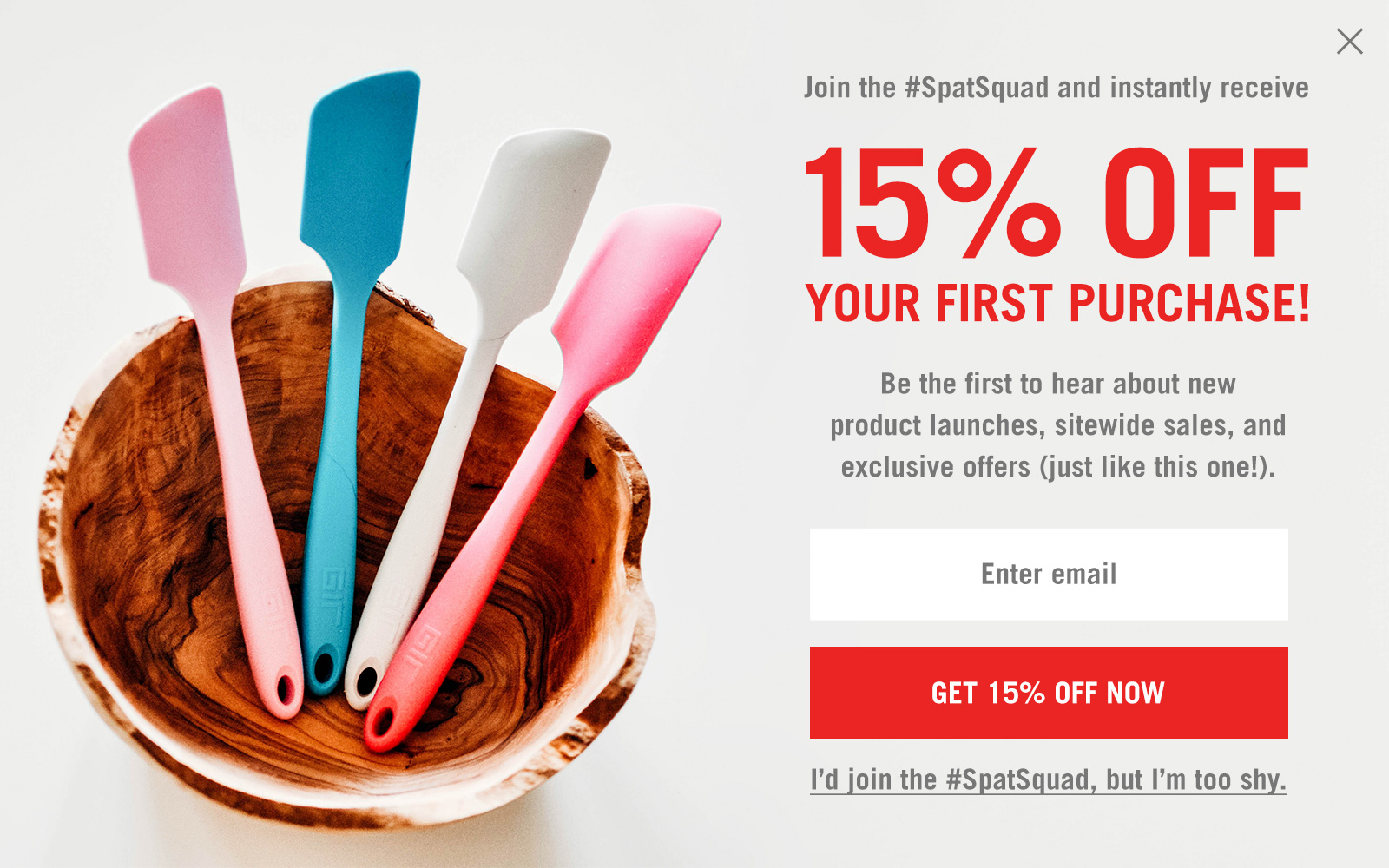 Holiday Creative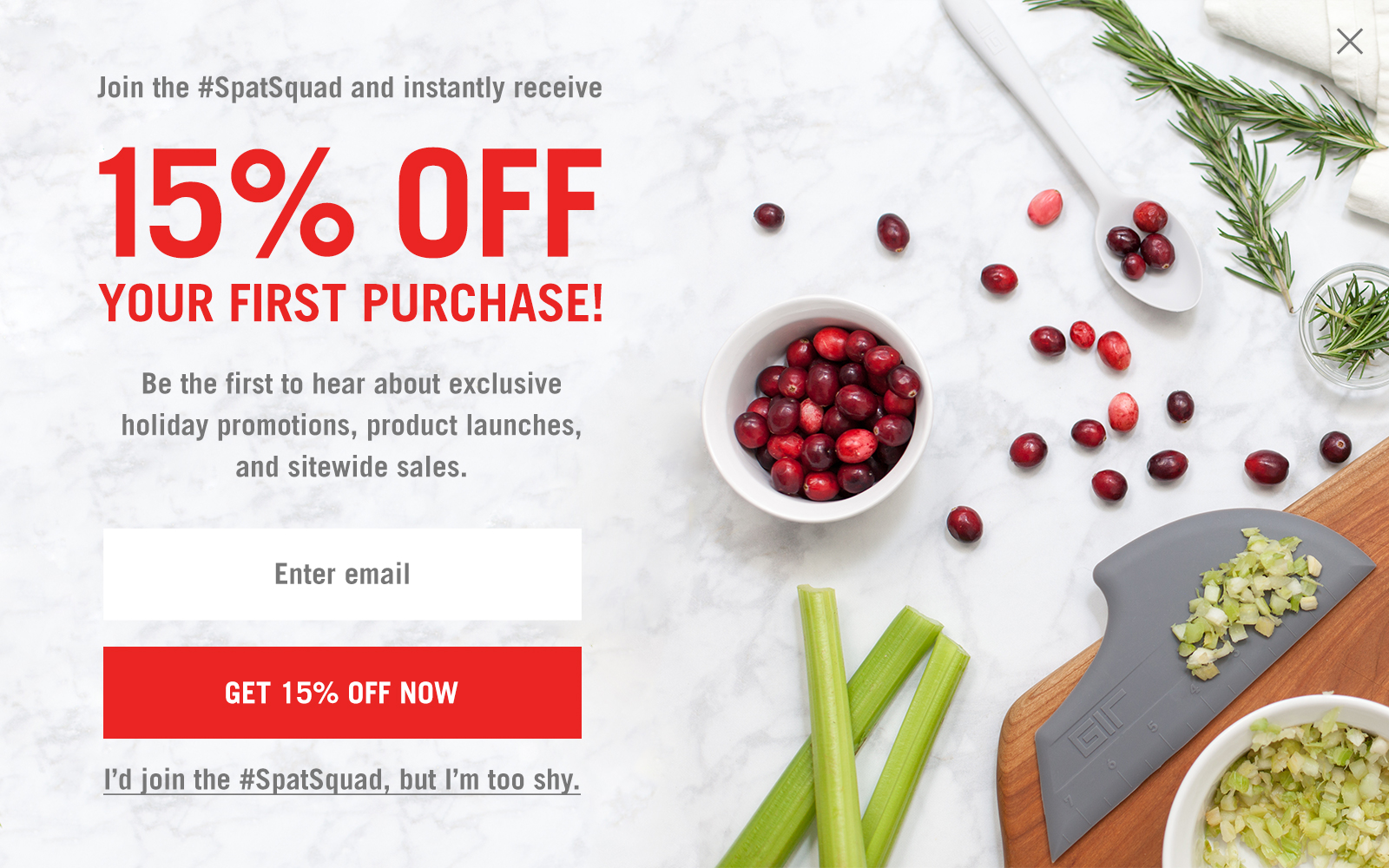 9. Don't Neglect Your Triggers
Some marketers tend to think of triggered messages as a set-it-and-forget-it.
While there's a myriad of reasons to regularly revisit these messages, holiday is a crucial time of year to entertain changes to automation:
Lift suppressions to ensure contacts are able to take advantage of the best deals possible, regardless of where they are in their subscriber journey.
Update cart/browse abandon messaging to have holiday look and feel and speak to gifting others or yourself.
Tighten up the timing (trigger earlier, decrease the duration between touches) to take a more aggressive approach.
Launch re-engagement / win-back automation pre-holiday to stem the tide of unsubscribes likely to come in Q1.
Business as Usual Cart Abandon:

Holiday Cart Abandon:
10. Have a Contingency Plan
If you want to make the retail gods laugh, tell them your plans.
But seriously, even the best-laid plans sometimes go awry.
It's in your best interest to plan for the worst by building out contingency plans for a few key scenarios:
Your Offer Tanks
If your Black Friday/Cyber Monday campaigns don't perform as expected, it's helpful to have back-up campaigns at the ready.
Have a steeper discount, compelling add-on, or "offer extended" email in your back pocket and ready to deploy as needed.
Your Offer Does Better Than Expected
This is a good problem to have, but you might want to give shoppers more time to take advantage.
Have an "offer extended" message ready to go to capitalize on surprise successes.
You Send an Email with an Error / Have Site Issues
Take some time to map out the criteria for sending an "oops" email.
Only mail an apology if the issue prevented customers from shopping or caused a negative customer experience (site outage, wrong promo code, broken link).
If the issue is a typo, however cringe-worthy it might feel, you're only going to annoy subscribers with a follow-up.
Have the bones of an apology email built out and ready to customize with specifics.
Wrapping Up
There's no shortage of opportunities to optimize your email program for the holiday season, so don't feel like you have to do it all.
Pick out the strategies above that are relevant to your business and score them based on the level of effort and the potential return to guide prioritization of projects.
Get a holiday postmortem on the books for January to review analytics, celebrate wins, identify opportunities to improve in future years, and streamline your planning efforts for holiday 2020 when we do it all over again…
Happy mailing!
---
Image Credits
Featured Image: Paulo Bobita
All screenshots taken by author